"Have courage and be kind."
These five words really resonated with me when I heard them come out of Cinderella's dying mother's mouth. Courage and kindness were the two things she wanted her daughter to remember in life. According to Cinderella's mother, if she could cultivate these two things, she would have no fear, worry or stress.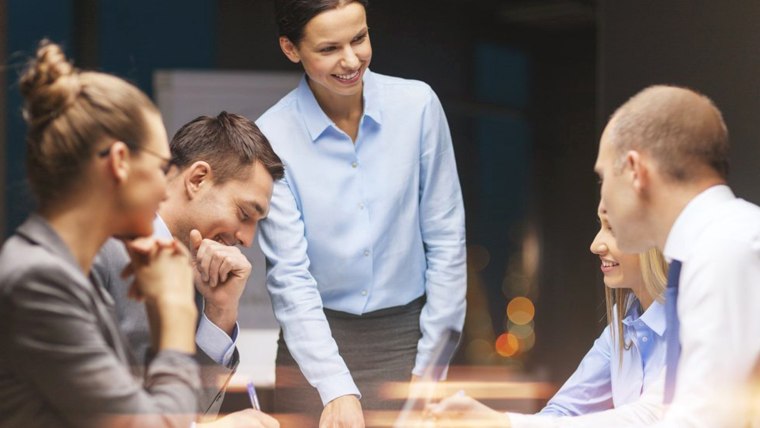 This advice also holds true in the workplace. If you can have the courage to follow your dreams, believe in yourself and speak your truth, you have won half the battle. If you can be kind to others and show compassion while doing it all, you have won the other half.
Here are 7 tips for using courage and kindness in the workplace — not only to survive, but to be happy throughout all of it.
1. Meditate.
This is number one for a reason. It all starts with you. The sooner you realize that, the happier you and everyone else around you will be. Take time out of your day either before work, in the car, or in the bathroom to be silent and still.
Set your timer on your phone to two minutes, close your eyes and sit with your palms facing up on your knees and just be. You will take that stillness and silence with you in every encounter you have throughout your day.
You will see that your intentions will begin to manifest, you will have less perceived stress in your day and people will want to be in your presence more.
Related: Could our social media connections actually hurt our relationships?
2. Digest your thoughts creatively.
So many times we immediately jump to conclusions about a colleague or people in management and assume that they are only out for themselves. If you choose not to do this, however, all of the negativity that occurred in your mind and body would not have happened, and that negativity would have been replaced with feelings of fulfillment, appreciation, and happiness.
As with food, swallowing our interactions whole without chewing them isn't the healthiest way to digest them. Our interactions can end up having a positive impact and be very positive experiences — or have a decidedly detrimental impact and be a very negative one.
3. Lose the agenda.
Be open to serendipity and accept that the universe is not conspiring against you. So many times we have an agenda so that we can "win" and be "chosen" in the workplace.
What we don't realize is that by creating that agenda we are closing ourselves off to what could be something even better and more fulfilling. The person you are trying to step over or on could actually propel you to dizzy heights. Let go.
4. Connect with others authentically.
An authentic person is a person who has a very strong sense of self, is engaging, and actively listens when communicating with someone.
Having a strong sense of self means that these people accept themselves for who they are and they know who that person is.
A person who's engaged asks questions in a conversation and makes sure it's not all about them.
A person who actively listens is truly present for the conversation — they have no other agenda and nowhere else to be. Even if the conversation has nothing "in it for them."
5. Remember that everything happening to you is happening for you.
When we accept this, we become kinder to ourselves and to everyone around us. The very thing that seems like the bane of our existence or the thorn in our side could be the thing that catapults us into another stratosphere with a new opportunity or connection.
6. Share real space with a colleague, thereby creating a new space.
One great way to do this is to eat together once a week — even if it's at each other's desks.
"Food has this incredible way of bridging any gaps, softening any hard feelings and feeding our souls while nourishing our bodies," said my late father when I asked him why he chose the restaurant business.
I have to say, I agree.
When you're eating with another person you're experiencing the flavors of the food and satisfying your hunger. At the same time, you're also creating a space for sharing each other's thoughts and ideas in a very unstructured manner, which allows creativity to blossom.
7. Give freely and be grateful.
Our higher-selves know that giving is not "giving-in." Giving is actually the biggest gift to yourself because when you give you end up with more than you ever had before.
Give freely and have gratitude for everything you see coming back to you.
Alka Dhillon is the author of "The Om Factor: A Woman's Spiritual Guide to Leadership - 7 Essential Tools and 7 Key Traits to Cultivate for Your Success and Well-Being." For more go to www.alkadhillon.com. Connect with her on Twitter; Facebook; Instagram; Blog; Website; and Linkedin.
This story is part of NBCU's Season of Kindness. Follow the series on Facebook, Twitter and Instagram. #ShareKindness