One 3-year-old boy's birthday present is making his neighbors very happy this winter season.
Sam Curry asked his parents, Carrie and Brian Curry, for a bulldozer for his third birthday.
On Dec. 11, friends and family gathered to celebrate Sam at his Kingston, Tennessee, home, which was covered in bulldozer decorations to match the theme of the party. From a black-and-yellow bulldozer cake to a new set of Stanley Tools, you'd think he was bulldozer-ed out.
RELATED: Ready for the snow? How to prevent injury while shoveling
At the end of the party, a kid-sized bulldozer — a gift from his grandparents that Sam could actually drive around — was waiting for him in the garage.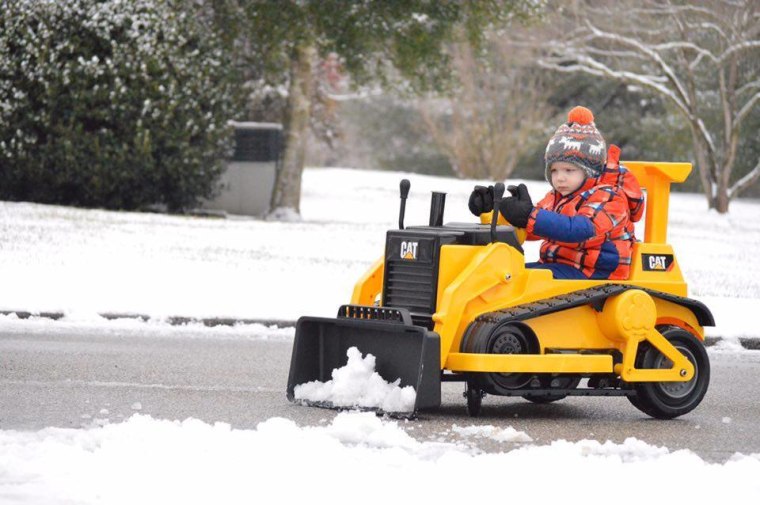 RELATED: These kids fled Syria's war: See their pure joy playing in snow for the first time
"I've never seen him more excited about anything before," Carrie Curry told TODAY.com. "He was so happy that he asked for one again for Christmas."
Sam hasn't left the play truck since. On days when it's been icy, Curry, along with Sam's 4-year-old sister, Charlie Ann, follow behind him.
RELATED: Blizzards aren't so bad: 3 snowstorm moments that will make you smile
Neighbors took notice and started coming over to ask if Sam could plow their driveways as well.
"He's convinced he's actually getting rid of the snow," Curry said. "It's OK though because the neighbors can't get enough of watching him in action."
RELATED: Life's a beach! 5 movies to help you survive the blizzard of 2016
If you do want to approach Sam to ask him to plow your driveway, you're going to have to call him Peter Parker.
"He's all boy," Curry said. "I tried calling him by his name this morning and he said, 'Mom, I told you I'm Spider-Man now!'"
This story was originally published on January 22, 2016.