When Zachary Hougland helped a struggling opponent cross the finish line, the 18-year-old Iowan never imagined that the act of good sportsmanship would cost him his only cross-country title — or that more than 111,000 petitioners would attempt to get his win reinstated.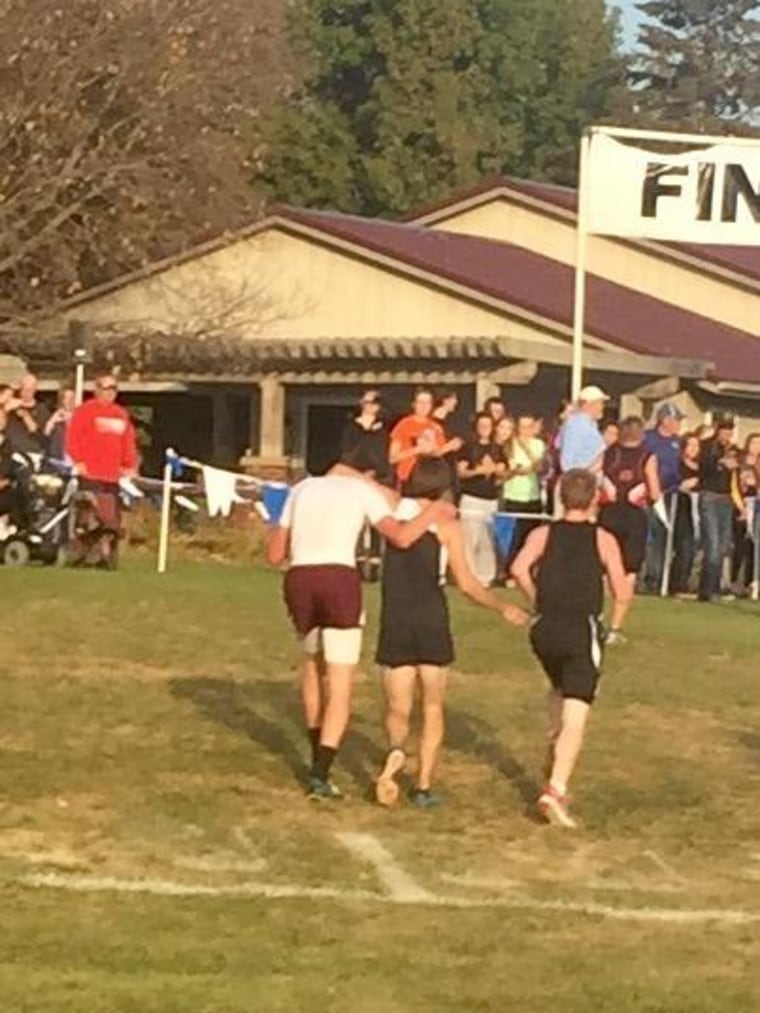 "It's a little overwhelming, but I'm just trying to play it cool," Hougland told TODAY.com on Monday. "I'm just trying to remind everyone about what you're supposed to learn from athletics."
When Hougland was first to cross a 5K finish line Oct. 22, it appeared he'd just delivered Davis County High School's first cross-country district championship. That changed about five minutes later, when he noticed an opponent, Garrett Hinson, struggling to finish the race, and put his arm around Hinson's shoulder. "It was about 15 meters from the finish line," Hougland told an NBC News affiliate in Iowa. "I [helped him] for seven meters, so he had about eight left. I knew I couldn't help him finish so I just gave him a push and told him you can do it. … And right after I did it, Garrett's mom came up to me and said, 'Thanks,' and I though that was very nice of her."
But when news of Hougland's act reached the Iowa High School Athletic Association, the IHSAA upheld an official's harsh ruling — that both runners were disqualified. Hougland told TODAY.com the ruling reduced him to tears, and he needed to find a quiet place away from the rest of the meet to discuss it with his mother and coaches.
"I said, 'All that work, for nothing,'" he said. "But then, [my mother] told me, 'Well, what you did there was amazing, and I just want you to be thinking about that.'"
Hours after the disqualification, IHSAA representative Bud Legg issued a statement to defend the decision. "An athlete who receives or gives assistance to another runner in the same race is disqualified," the statement reads. "While it was a sportsmanlike act to help someone in distress it remained a violation and the official had no choice but to enforce the rule."
The IHSAA's reasoning doesn't fly with Ohio resident Kelly Hall, an accountant who doesn't know Hougland personally but was so inspired by his story that she created the Change.org petition seeking the reinstatement of his title. As of early Monday evening, her online campaign, titled "Don't take championship away for an act of kindness," had more than 111,000 supporters.
"I think someone should look into changing that rule," Hall told TODAY.com, adding that she started with a petition goal of 500 supporters. "There should be a good Samaritan clause."
As someone who played baseball in her youth and as a mother whose adult sons played football in high school, Hall was impressed by Hougland's actions, 600 miles away from her Ohio home. "I just want to encourage people in sports to help each other when they're hurt," she added. "I would have been very proud if my son did the same thing."
Part of her petition reads, "The IHSAA claims it was only following the national rule that states you can't assist another runner. But that rule exists to prevent competitors from cheating, which Zach was certainly not doing in this case. When a rule is used to punish an act of human decency, you undermine the very sportsmanship you are trying to protect. … Good works should be rewarded, not punished."
Hougland called Hall's petition "phenomenal" and thanked her and the petition's 110,000 supporters for thinking of him.
Davis County High School's activities director, Richard Evans, told TODAY.com that the disqualification runs counter to the spirit of the rule, whose violation could result in athletes unfairly qualifying for state competitions. Hougland's assistance of Hinson, whose time wouldn't have qualified him for the next round anyway, didn't yield results that would have prevented other athletes from advancing, Evans argued.
Jared Chizek, an IHSAA representative who handles matters pertaining to cross-country and awards, told TODAY.com that while the organization's ruling was "not an easy decision," he emphasized that the matter would not be reconsidered.
"The official [at the meet] is the one that made the decision, and he contacted our office," said Chizek, who declined to name the official in question. "We're following national federation rules, as we do here in Iowa. It was just one of those situations where we asked ourselves, 'Where was an adult in this situation, if the young man truly was struggling?' But there were 105 competitors in that race, and 104 other people could not help that young man who was struggling — and we're not questioning if he was or was not [struggling]. At that point, once he was assisted, [both Hougland and Hinson] would be disqualified."
Davis County High School's head track coach, Josh Husted, objected to the IHSAA ruling, saying it doesn't just fly in the face of sportsmanship: It's discouraging potentially life-saving action. "If there's a medical emergency on the course, I don't want people to be afraid to help a runner," added Husted, who said Hinson wound up being OK, but had been transported to a hospital after the race. "[Hougland] did what any other good person would do. I could understand [the ruling] if it benefited the other kid's team, but it did not."
When TODAY.com asked Chizek if he, personally, agrees with the IHSAA's decision, he referred back to the rule book, cited a precedent in a 2014 Minnesota race whose acts of sportsmanship yielded similar disqualifications, and noted Hougland had other opportunities to compete before the season ended. "I feel that there are rules in place [for a reason]," he added. "I don't want to sound cold-hearted here."
Although Hougland did compete in subsequent meets, his season ended without another first-place finish. With graduation just months away, it appears he won't have another chance to win that high-school title.
While waiting to hear back from colleges about his applications, Hougland expressed plans to continue cross-country as an undergrad while pursuing majors relating to world history, education and athletic training. In the meantime, another thing his mother told him back in October continues to stick with him.
"She asked me, 'Would you rather have a medal or would you rather have this story?'" Hougland said. "At first, I had to think about that for a little bit, but I'd rather have the story — especially because of all the support I got after it."
Follow TODAY.com writer Chris Serico on Twitter.