/ Source: msnbc.com contributor
Remember those great comedic moments in television history, the ones that still make you smile today?Lucy working the conveyor belt at the chocolate factory? Norm and Cliff talking politics at the bar? Jerry and George comparing superheroes at Monks Diner? And now, of course, seeing Rex drop dead of a heart attack and watching his wife, Bree, go into mourning.What, you weren't busting a gut during last season's final episode of "Desperate Housewives"? Well, the Emmys — on behest of Disney (the production company behind "Housewives") — categorized ABC's breakout hit as a comedy as evidenced by the show's 15 nominations in that genre announced this morning by the TV Academy in North Hollywood, Calif.
Like everything else in Hollywood, it's a numbers game. There were so few genuinely funny comedies eligible for Emmys: recently departed "Everybody Loves Raymond," "Arrested Development," HBO's terrific showbiz satire "Entourage" (which didn't even get a series nomination but don't get me started on that) and, um …  Since "Housewives" does offer a few laughs, Disney figured the show had a better chance of racking up nominations if slotted as comedy.Though it certainly would've been in contention as a drama, that race was too close to call for Disney's sake. "Deadwood," a rejuvenated "West Wing," other noms (along with passed over series "Nip/Tuck," "Rescue Me," "Grey's Anatomy," "CSI" and "Without a Trace") all made it too tough for "Housewives."So when next season rolls around and somebody else meets the Grim Reaper on Wisteria Lane, think of all the millions of viewers out there laughing til they're blue in the face.
Drama seriesWhat they got right: After being snubbed last year, HBO's western saga "Deadwood" rightfully moseyed its way onto the list and can be considered a front-runner along with ABC's freshman hit "Lost." Though there is still a lot of anti-"West Wing" sentiment out there after winning four years in a row, the series did have a creative turnaround last season and is a worthy inclusion.
What they got wrong: "Six Feet Under" started sensationally but the last two seasons have been dreadful. When the Fisher folks — especially Claire — aren't depressed, they're whining or feeling unloved. Woe is them. As previously mentioned, this was the toughest category on the board so there were bound to be unfair exclusions but in a perfect TV universe, "The Wire" and "Rescue Me" should've made the cut.
Comedy seriesWhat they got right: "Desperate Housewives" was a no-brainer but the big winner in this category is "Scrubs," which has been a critical darling after premiering in 2001 but never finding its way into Emmy's hearts. The loss of "Curb Your Enthusiasm," "Frasier" and "Sex and the City" certainly helped.
What they got wrong: OK, like everyone else, we really enjoyed "Will & Grace" when it started seven years ago but if, according to the TV Academy, this is still the best comedy on the air (it tied with "Housewives" with 15 nominations), then there's something terribly amiss. In its heyday, the most nominations it ever amassed in one year was 13 but does anyone out there think it's better now? Lead actor, drama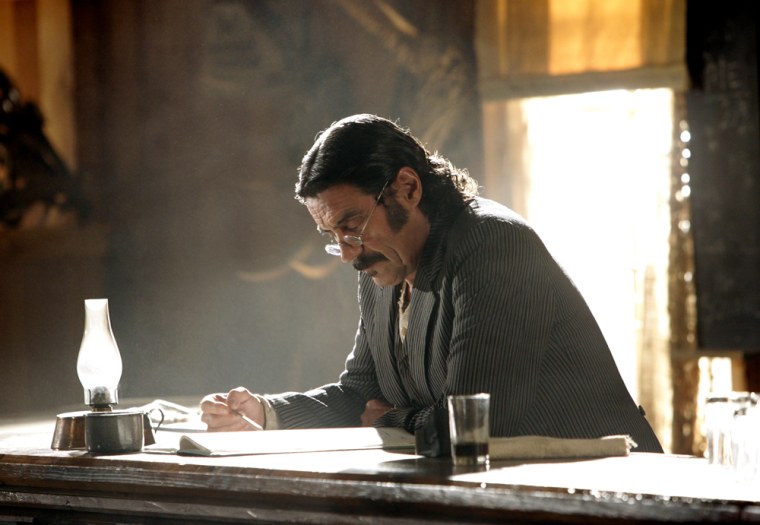 What they got right: The British are coming, the British are coming. "Deadwood's" Ian McShane and "House's" Hugh Laurie have arrived on American shores and taken no prisoners. McShane's Al Swearengen remains the most $%$*$&  compelling character on television but Laurie's multi-layered and grouchy doc is good medicine for Fox.
What they got wrong: After winning as a huge underdog in 2002 for "The Shield," Michael Chiklis hasn't even been able to land a nomination the last two years. His tough guy cop Vic Mackey might scare some people off but that should be a credit to Chiklis, not a detriment. Lead actor, comedyWhat they got right: All solid choices. It's a complete makeover from last year's selections in which only Tony Shalhoub ("Monk") returns. Matt LeBlanc was nominated for his ensemble role in "Friends" but not for his own starring vehicle, "Joey," which doesn't say much for the show. Ray Romano ("Everybody Loves Raymond"), Jason Bateman (the glue that holds the Bluth family together on "Arrested") or even Zach Braff ("Scrubs") would all be worthy winners.What they got wrong: Some might say that "Two and a Half Men" was overlooked but that show moves its way into "Raymond's" 9 p.m. timeslot next year and will be given more exposure and, maybe, more recognition.
Lead actress, dramaWhat they got right: Before she has her baby and won't be able to jump off moving trains anymore, "Alias" star Jennifer Garner needs to win. This is her fourth nomination without taking home a statue and her competition here, though far from lightweight, seems beatable. Without perennial favorite Edie Falco in the race ("The Sopranos" wasn't eligible), Mrs. Affleck needs to make her move now.
What they got wrong: Joely Richardson of "Nip/Tuck" is in love with two plastic surgeons on "Nip/Tuck," current flame Dylan Walsh and former beau Julian McMahon. She's the figurative glue of that show and deserves to be noticed.
Lead actress, comedyWhat they got right: This might supply more drama than trying to figure out who Nicollette Sheridan's character will sleep with next on "Housewives." Teri Hatcher, Felicity Huffman and Marcia Cross are all worthy participants in the battle for best actress honors on TV's most buzzworthy program. Hatcher would seem to have the edge, as she's already taken home the Golden Globe and SAG Award.
What they got wrong: So would adding Eva Longoria to the mix really have been such a bad thing? Longoria seems to be the odd women out in all the TV awards races. Probably because she's the youngest and least experienced of the bunch but sexiness has to count for something, right?
Other winners and losers…
Winner: Showtime. "Huff" did surprisingly well, with nominations for lead Hank Azaria, Blythe Danner and Oliver Platt. Network president Robert Greenblatt gave this series a go-ahead for season two even before the first season had launched and while the ratings have been suspect, the decision now seems like a smart one.
Winner: ABC: The network picked up 51 nominations — 18 more than a year ago. Sure "Housewives" helped raise that number but "Lost" and "Grey's Anatomy" can't be overlooked.
Loser: "CSI": The most watched drama on television got shut out from both the series and acting races. Procedurals traditionally have a tough time finding Emmy respect.
Loser: "The Wire:" Right up there with "Deadwood" as the best show on TV and voted by Entertainment Weekly as such, it's almost too smart for the room.
Loser: Jimmy Smits: Despite a terrific turn as the Democratic presidential nominee on "The West Wing," this is the first time in 10 seasons on TV ("L.A. Law" and "NYPD Blue") he hasn't been nominated.
Loser: Not even a resurgent "Gilmore Girls" earned the network its sought-after first series or acting nomination.
Stuart Levine is a senior editor at Daily Variety in Los Angeles.