• June 24, 2005 | 9:18 a.m.
I'm with the band (Eric Elwell, Amy Grant's tour manager)
Eric Elwell has worked with singer-songwriter Amy Grant for 10 years as a tour manager and there's a good reason why. "Amy is the most easy going artist on the planet — bar none," says the Buhter, Kan., native. "I've never met a nicer person in the entertainment industry," he adds.
While on the road, Amy and her entourage of five band members, four crew members and one bus driver is one big family — even exercising together on bicycles everyone brings along on the road. "Everyone rides bikes — even on the road — to keep in shape," says Elwell. Amy is taking most of the summer off but will be doing some promotion for her new
NBC TV show, "Three Wishes,"
and a two week tour on the West Coast to promote her CD,
Legacy ... Hymns & Faith.
Matt's interview with Tom Cruise (Al Roker)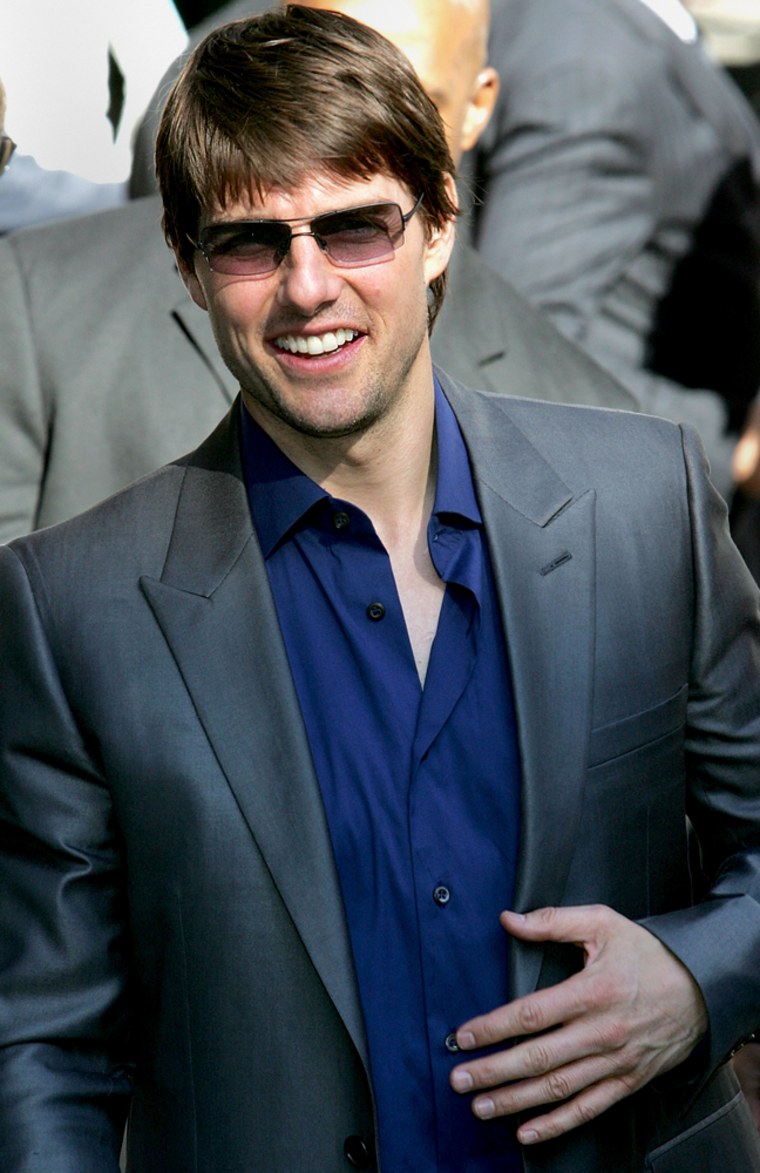 Hey gang, so did you see Matt's interview this morning with Tom Cruise? Okay, I congratulate people who are passionate about their beliefs, their faith and their love. What frightens me a little bit is when that passion tries to steam roll others. I don't want anyone coming after me for knocking Scientology — let's be up front about that. Someone's religion is their deal as long as you don't hurt me or my loved ones with your beliefs, I'm cool with yours.
But I think Tom oversteps the line when he starts taking on people who use certain drugs to deal with either depression, mental illness or other problems. Can there be abuses, troubles and misdiagnosis? You bet. But there is too much evidence that points to real help for certain people.
Is Brooke Shields better because certain drugs helped her post partum depression? You have to look to her and her family for that answer, but it is not Tom Cruise's place to take her to task for her choices. Did they hurt Tom? Did they somehow cause problems for him? Hey, I have relatives who were on Ritalin. A couple it helped, a few it didn't. You don't see me on some crusade, bashing people who did nothing to me.
Just as we should shut up about wondering if Tom's relationship with Katie Holmes is a publicity stunt, Tom oughta pipe down about people he doesn't know about situations he hasn't experienced. You're an actor, not a med student. But the best part about being American is that you can say whatever the heck you want in this country, as loopy and as goofy as it might sound.
So let the war of the words continue — that's what America is all about.
• June 22, 2005 | 4:15 p.m.
The poop on the pooch (Paris Hilton's Tinker Bell, that is) (Jennifer Long, "Today" show producer)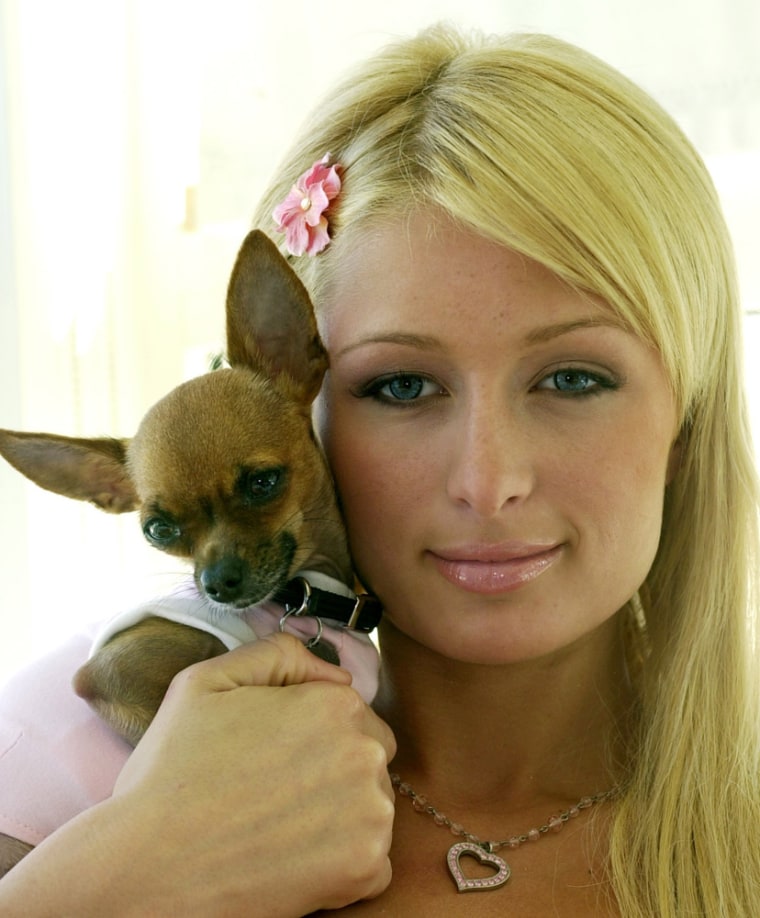 I knew I would get into Page Six someday but I was hoping it would be to announce my impending nuptials to George Clooney... (See the New York Post, "Paris' Pooch Bites Producer")
Here is the real poop, so to speak, and unfortunately, not nearly as dramatic!
I was walking up our studio stairwell to the green room on Tuesday morning. I noticed a woman in front of me struggling with a dog case under her arm. I asked her, "Ooo! Do you have a dog in there?" The woman in question (a Hilton publicist or assistant perhaps) turned around and said, "Yes! This is Tinkerbell, Paris' dog!" Lucky for me and the stack of Star magazines sitting next to my bed ... I knew a celebrity when I saw one.
I made some type of noise ... the same type of noise you make when you see a cute dog ... and reached out to pet T-bell's head [she was sticking out of the case]. As I moved forward the Tink-ster snarled at me ... then growled ... then bit my, er, middle finger. Well it was really more like a scrape ... and it lasted a split second. The woman holding Miss Bell looked horrified, I was startled for a moment ... but then remembered my bagel was in the toaster.
I was left with a small red mark on the tip of my finger but upon close examination there are some that believe it's just a hangnail gone awry.
No harm done. But just one more reason I'm a cat person.
Today on the set (Dr. Gail Saltz, psychiatrist, "Today" contributor)
This morning on the show I did a roundtable about women having cold feet about their weddings. With me to discuss the topic were two women who experienced it firsthand. Dr. Kathleen Hall tried to run on her wedding day, but her mom got her back in time to walk down the aisle. She's still happily married to that man, 30 years later, and the stress of that day inspired her to write the book, "Alter Your Life: Overbooked? Overworked? Overwhelmed?" And Rachel Saphier called off her wedding two weeks before the big day and has never looked back. She's helping hesitant brides around the country with her book, "There Goes the Bride: Making Up Your Mind, Calling It Off and Moving On." Both were very interesting women who've given a lot of thought about what kind of step marriage is and what women need to consider before taking that kind of step. They were real women advocates. That made it really fun!
We talked about the difference between having cold feet about an impending wedding and what Rachel called, "frozen footies," and how you can tell the difference. We agreed that the only way you can tell the difference is to really examine the issues. It's normal to have cold feet, but if you try to stuff it away, you're not going to know. The only way to know is to look closely at your concerns. And your inner circle may not be the best people to talk to because they may have a tough time being objective. Your best bet is to talk to a therapist or some other neutral person who doesn't have a stake in your marriage, but can help you figure out your own mind.
• June 21, 2005 | 2:30 p.m.
Today on the set (Alexander, "Today" show page)
Sweet Baby James (Taylor, that is) fans turned out in droves today to hear him play a few of his old classics. It was obvious that young or old, Taylor spans the generations as young children held up copies of his first record to sign. JT didn't disappoint, working the Plaza until every last fan got an autograph or a picture. Then he came inside and did the same for the staff!
Not 10 feet away, Rick Hilton (husband of Kathy, father of Paris) played with his daughter's famous chihuahua, Tinkerbell, and calmed her down when she got a little antsy. Kathy was on hand today to promote her new show, "I Want to Be a Hilton", which premieres tonight on NBC.
And across the Plaza, Matt raced a remote control version of a NASCAR against Lindsay Lohan's remote control Herbie. Accusing Matt of a false start, Lindsay reversed her car back to the starting line and ran over Ann's foot en route! After the laughter subsided we made sure that no bones were broken and Lindsay will be back tomorrow to talk some more about "Herbie: Fully Loaded", in theatres this week!
• June 20, 2005 | 11:40 a.m.
Green Room buzz (Alexander, "Today" show page)
Fans of "American Idol" finalist Bo Bice were in their own heaven today as the rocker performed a three-song set including his hit, "Inside Your Heaven," and an original number, "Drift Away."  Bo then spent 45 minutes on the Plaza signing autographs and taking pictures with fans, many of whom had waited in line overnight to see the crooner.  Commenting on the overwhelming show of support, Bo commented, "It was great. It's always great to have fans, man."
In what was probably the most personal view into the life of Saddam Hussein since his capture, two men who have been guarding him, Spc. Sean O'Shea and Cpl. Jonathan Reese, chatted with Matt about their relationship with the Butcher of Baghdad.  A few of the subjects discussed were his daily regimen, his dietary preferences (loves Doritos, hates Fruit Loops) and how the National Guardsmen's sudden departure saddened him.  Hussein sent Sean off with a few cigars, all of which he has since smoked except one.  Lisa Depaulo broke the story in July's issue of GQ magazine and noted, "I was thrilled to see these guys share their story.  Matt's just fabulous do to this with."
With crowds around the country pouring into movie theaters to see "The Perfect Man," NBC News' Alexis Glick provided our own romantic movie-worthy story this morning.  Diane Bair offered her children, Charlotte and Connor, $500 to find her a suitable boyfriend.  The two scoured the Internet and settled on Paul Kelley.  Diane and Paul e-mailed for a short time and then met. They hit it off right away! Said Paul, "It was fun to talk to Alexis, she made telling the story easy."  Charlotte chimed in, "It felt like we were in our living room."  They are now engaged to be married.
"Today" airs weekdays, 7 a.m. ET on NBC.