• May 27, 2005 | 11:23 a.m.
Inside the Green Room ("Today" show page)
"No Matter" what happened out on the Plaza today, with guests like Bryan Adams and Def Leppard we certainly felt like we were on "This Side of Paradise." Bryan Adams loved performing "Cuts like a Knife" and "This Side of Paradise," so much that he told me, "It was great. I wish I could have played a whole hour." Def Leppard also enjoyed rocking out on the Plaza, with "Pour Some Sugar on Me" and "No Matter What." Lead vocalist Joe Elliot told me, "This was our first time here but we hope it's not our last." Elliot added, "Katie's gorgeous. If I wasn't married..."
Rachel Harris, Christian Finnigan and Paul Scheer "VH1's Best Week Ever" panelists wrapped up the week today with Katie. Paul told me, "Katie's engaging, I felt like Katie was cracking jokes and we were just hanging out." Rachel agreed, "It was a thrill to meet Katie, she's so cute." For Christian, Def Leppard's presence made him reminiscent of their "Hysteria Tour," he told me, "It was an honor to be part of a show Def Leppard's part of."
It was an emotional morning for Kim Ronan as she made her "Live for Today" wish come true, showing her gratitude and love for her mother Shirley and grandmother Gladys on "Today." Kim was overwhelmed with joy, she told me, "I'm proud to have had the opportunity." She did point out, "My grandma's disappointed she didn't get to meet Matt." When I asked Gladys about this, she told me, "I was disappointed, I like Matt Lauer! But I was happy to meet everyone else."
Back in the studio, Al and Brady Barr had fun with some alligators. Brady was impressed with Al and his "Dangerous Encounter." He told me, "Al's a trouper. Not many people would hold a dangerous reptile, Al held an alligator as I was grabbing an escapee."
• May 27, 2005 | 8:50 a.m.
My other 'Live for Today' experience (Al Roker)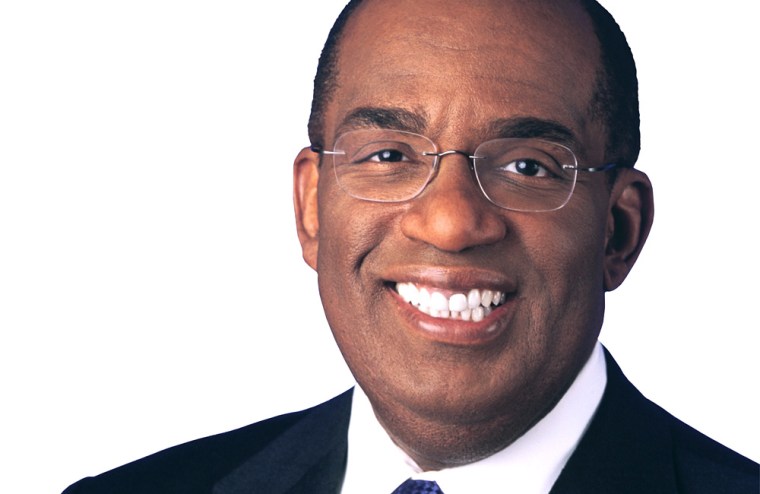 Hey gang, yesterday on "Live for Today" I was able to get a two-fer out of my trip to Costa Rica — what a great place. We had such a great time.
After having done number 33, white water rafting on the Pacuare River there, we also did number 20 ... explore the rainforest. Costa Rica has one of the world's great rainforests. We went hiking and zip lining. If you haven't heard about it, zip lining is a steel cable suspended some 100 to 125 feet above the rainforest floor up in the trees. The rainforest has two environments: one at ground level, the other up near the treetops, or canopy, as it's called. A second set of animals and plant life exist at the higher level. Zip lining gives you a birds' eye view of the rainforest.
Jumping from a platform over one hundred feet in the air anchored to a tree, you travel along this wire at around 25mph – you feel like Batman, baby.
Here's the thing. To get to the platform, you're walking up hundreds of steps. They need to put in an escalator! Other than that, the rainforest is pretty cool
I'm with the band (Malvin Mortimer, son of a coal miner)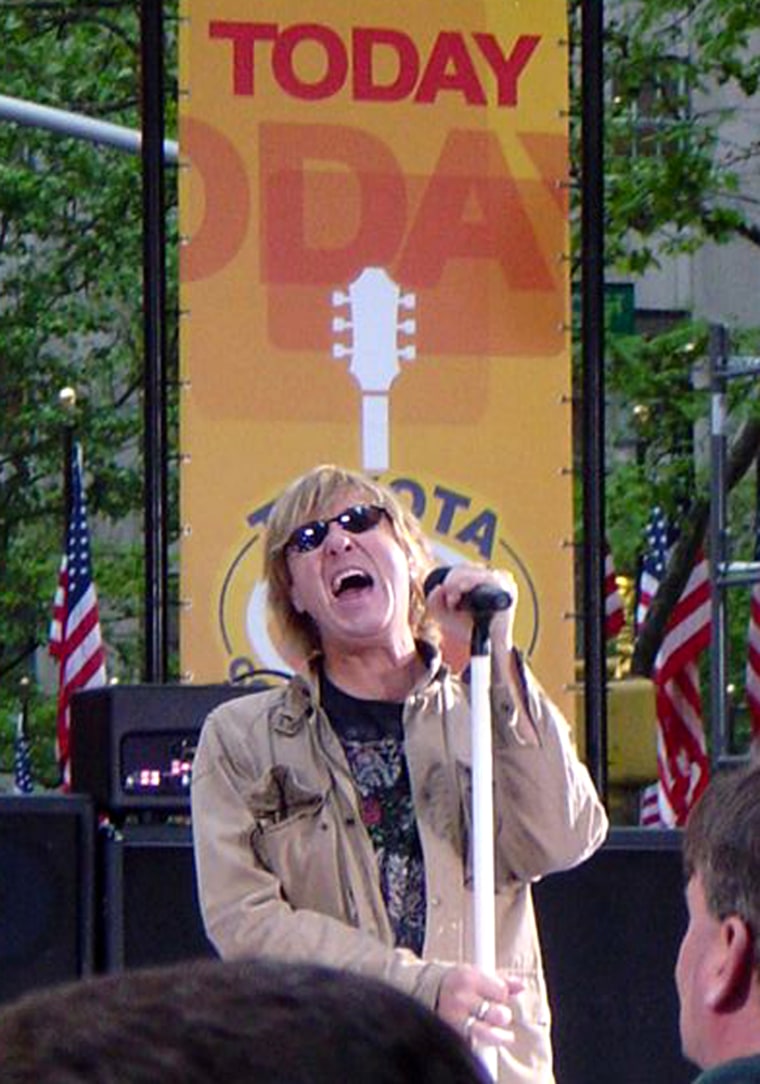 Tour manager and pop-star babysitter Malvin Mortimer has been with Def Leppard for 20 years. The South Wales native joined the group just before the Pyromania recording — his prior job was as a guitar tech for former band member Steve Clark. Mortimer calls himself the "sheep dog" because he sometimes has to coax the band members to come out of their dressing rooms for a video shoot or interview. This is Def Leppard's first tour in almost two years. "The fans have grown with the band, but there is still lots of enthusiasm," says Mortimer. The group's latest album is a greatest hits compilation called Rock of Ages: The Definitive Collection, and is currently number 10 on the Billboard Top Album charts. "We're very pleased with how the album is doing," says Malvin. Def Leppard's next stop is Portland, Ore. for a concert on June 1. I'm with the other band (Jody Perpick)
Tour manager and sound mixer Jody Perpick has been with rocker Bryan Adams for over 20 years. The Vancouver native compares his job to being a school bus driver. "Musicians say to me, 'Just tell me where you want me to be and I'll be there," says Perpick. Perpick says Bryan Adams is constantly on the road. "We're always on the road somewhere in the world," he says. Adams is currently on tour promoting his latest CD, Room Service. His next live gig is on June 1 in Portland, Ore., at PGE Park. Click here for the complete concert tour details.
• May 26, 2005 | 11:55 a.m.
Inside the Green Room ("Today" show page)
"Men's Journal" magazine's Steve Santgati was harnessed and suited up for a succession of "zip line" adventures out on the Plaza as part of our "Live for Today" segment. Al traveled with our "Live for Today" winners to Costa Rica to "zip line" through the rain forests. Steve was pleased to do a reenactment out on the Plaza, "It was nowhere near as warm as the rain forest but it was just as exciting."
CNBC's Donny Deutsch stopped by to talk with Matt about the new racy and provocative television commercials featuring Paris Hilton for hamburger chain "Carl's Jr." Donny seemed in favor of the commercials, "It was a fun segment. Sometimes you can't be too serious about things."
• May 25, 2005 | 10:33 a.m.
Not shrouded in mystery (Jean Chatzky)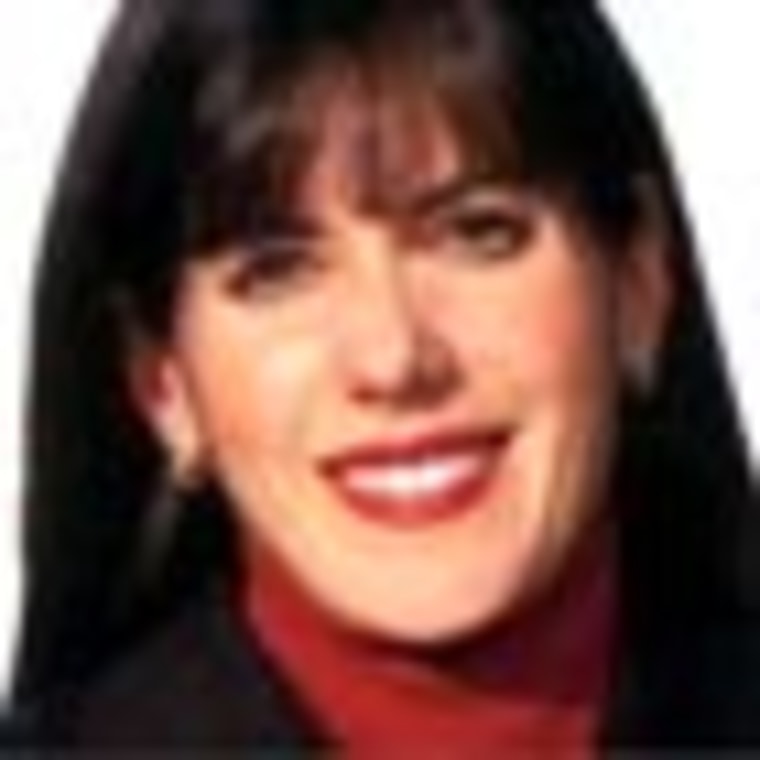 I really liked doing today's segment about "shrouding", the term coined by two Boston economics professors to describe the ways – such as hidden charges and costs – that companies find to extract extra money from consumers. It's a new and different phenomenon, and I love talking about what hasn't been out there yet. There aren't that many new money topics, and to be able to bring this to people's attention is good.
It's always fun to find out who's in the green room, and it was a thrill to see Tom Wolfe walk in wearing his white suit – it's so "Bonfire of the Vanities. I thought the whole show today was good – in particular, I thought Janice Lieberman's piece on counterfeit drugs was excellent. It's a really important topic.
Matt is born to be wild (Al Roker)
Hey gang, it was Matt's turn to "Live For Today." His dream — no. 39 — to learn how to ride a Harley-Davidson motorcycle.
Getting to see Matt decked out in leather and denim I'm sure is the "Live for Today" dream for a lot of the women (and a few of the men, I'm sure) in our audience. A leather doo rag, butt-less leather chaps and a big ol' Harley was worth the price of admission. His piece was fun, but it was even better watching him roll with his posse onto the plaza. A dozen hogs roaring in unison was pretty cool.
I even got in on the act by riding a Schwinn Electric scooter — I was gone with the Schwinn!
And the weather today was just lousy — a cold, wind-driven drizzle — but our plaza audience still shows up. They are the best. It was an interesting show. Journalist Ken Auletta, another Oswego State grad like yours truly, was at the show this morning. He's doing a big piece on the landscape of morning television news for the New Yorker magazine. Whenever a writer is hanging around, we're supposed to be on our best behavior. We never are.
I'm sure whatever I was doing today, it was making our poor press woman, Lauren Kapp, cringe. My work here is complete.
'Dirty Dancing' on the plaza (Al Roker)
Hey guys, "Live for Today" no. 29 was learning how to dance. Katie helped Donna and Ray Furgal achieve that dream by getting them swing dance lessons. Then, with the help of a big band and some professional dancers, we rocked the plaza. And as a an added bonus, "Dirty Dancing" star Patrick Swayze came out and surprised the Furgals and kept anyone from "...putting Donna in the corner" and did a little dirty dancing with Donna and Katie.
Not to be outdone, I danced with our stage manager, Mark Traub — not that there's anything wrong with it. Despite the cold, steady drizzle, we had a pretty good time and managed to "Live for Today" all at the same time.
• May 24, 2005 | 6:56 a.m.
A 'Desperate Housewife' dog tale (Al Roker)
Yesterday I went to the dogs ... with Nicollette Sheridan. The "Deperate Housewives" star is in love with another male ... her eight-month-old puppy, Oliver. Nicollette shared with me how when he was just a couple of months old, she was doing house cleaning ... naked (doesn't everybody?) When I asked her why she was vacuuming naked, she said that she had the flu and was burning up with a fever so she stripped down to clean up. Anyway, she saw her new present from her husband in the pool and without thinking ran out of the house, au natural and dove in. She forgot that her puppy, a Labrador Retriever, is a WATER DOG!!!! He's a born swimmer. So her frigid January dip was for naught. However, I think most guys would agree, Oliver's a lucky pup. The interview is part of my Dateline NBC special airing in June called, "Pet Nation." Last year we spent $34 billion on our pets and some of what we spend is truly outrageous. I'll keep you posted when we have an air date.
• May 23, 2005 | 11:52 a.m.
Inside the Green Room ('Today' show page)

Kelly Clarkson was both "American Idol" on stage and off. Kelly loved being part of the concert series and was happy to see that so many fans "dragged themselves out of bed so early," to support her on this cold, windy morning. The fans were nothing but delighted with her performance of the songs "Since U Been Gone" and "Behind These Hazel Eyes." On her way out, Kelly told me, "I love 'Today.' This is a great family show!"
Author and documentary filmmaker ("Supersize Me"), Morgan Spurlock stopped by to talk with Al about his new book, "Don't Eat This Book." In the Green Room, he quickly became the center of attention, as guests realized he was the face behind the infamous attack on the fast food industry. Morgan appreciated everyone's interest and being part of today's show, "I love 'Today.' It's a place that talks about the news but in an entertaining way. It's a great way to start your day!"
Today airs weekdays, 7 a.m. ET on NBC.