/ Source: msnbc.com contributor
The beach book is easily digestible, designed to be guzzled down from a cramped airline seat or reclining poolside chair.  Comforting, happy endings are assured; every couple who ought to end up walking into the sunset together does (although the best of the genre have you doubting that destiny in the middle chapters.)  They're not the novels you proudly display on your shelves so that guests may marvel at your intellectual prowess, but frankly, it's too hot out for Tolstoy.
Many of this year's selections feature the "chick-lit" leading lady, the archetype of whom is Helen Fielding's discombobulated Bridget Jones.  She is often jilted, obsessed with personal grooming, disastrous at entertaining, and drinks a lot of Diet Coke in her disorderly house while avoiding phone calls from her meddlesome mother. (Indeed, one novel opens with the protagonist's friend mowed down by a speeding car while crossing the street on a Diet Coke run.) 
A couple of books diverge from this pattern, resembling a more classic "woman's novel" in the Anne Tyler mode: lots of scenes set in kitchens, some unfulfilled longing, and a bit of meditating upon one's blessings.
Let the mental vacation begin!
Plastic fantasticAmy Borkowsky's accountant once advised her never to throw away a credit-card bill.  For that we owe him a debt of gratitude, for without this directive Borkowsky would never have squirreled away the source material for "Statements: True Tales of Life, Love and Credit Card Bills" (Chamberlain Bros., $20, to be published in July).  This delightful pseudo-memoir is drawn from the author's personal financial archeology — a dozen years' worth of American Express receipts that thoroughly chronicle her life as a single Manhattanite.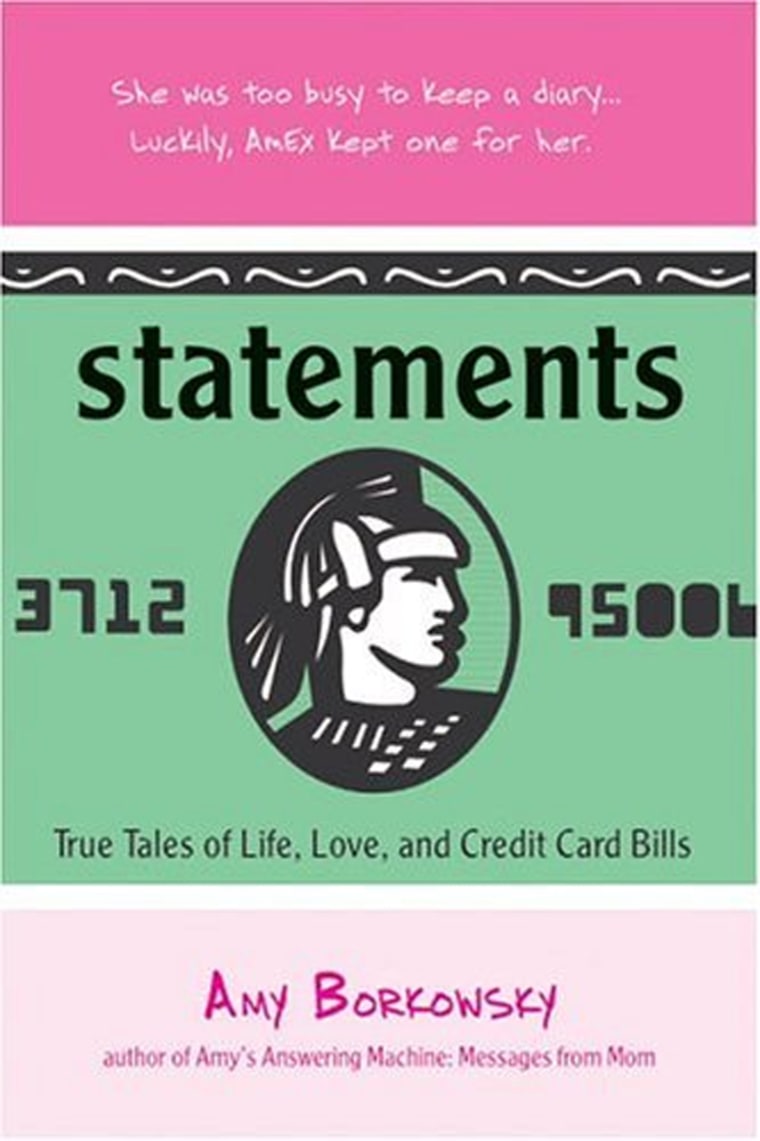 Some incidents are embarrassingly familiar: misread relationship signals lead to an optimistic Victoria's Secret purchase, returned 10 days later in ignominious defeat.  Some are so outrageous you want to dismiss them as fiction, such as when she and a friend hatch a plan to meet wealthy bachelors in the Concorde lounge at the airport; they fake an emergency right before boarding in order to have their $5000 tickets refunded.  Yet even when Borkowsky is phoning the president of Kenner demanding to know who has an Easy-Bake oven still in stock, none of it comes across as precious, self-conscious wackiness.  She somehow manages to convey that the stunts are the result of logical decision making, up to and including writing a crank letter to Tom Jones asking for the return of a pair of panties "thrown onto the stage in error."
Brevity is the soul of wit, often proven when a single line-item from AmEx is the freestanding punchline.  When her boyfriend insists he can find her a carbide chuck drill for "20 or 30 bucks, tops," Borkowsky wordlessly follows his earnest promise with the telltale receipt: "Kips Bay, hardware, $118.89."  The brief, punchy chapters are the M&Ms of the memoir world — you can set them aside at any time, but you'll probably gorge yourself on the whole bag at once.
Hitting the 'Spot'Melissa Bank's second novel, "The Wonder Spot" (Viking, $25) is the literary analogue to the film "Lost in Translation."  Readers will either complain that "nothing happens" or marvel at how much of the human condition can be imbued in her sparing paragraphs and unadorned comic prose.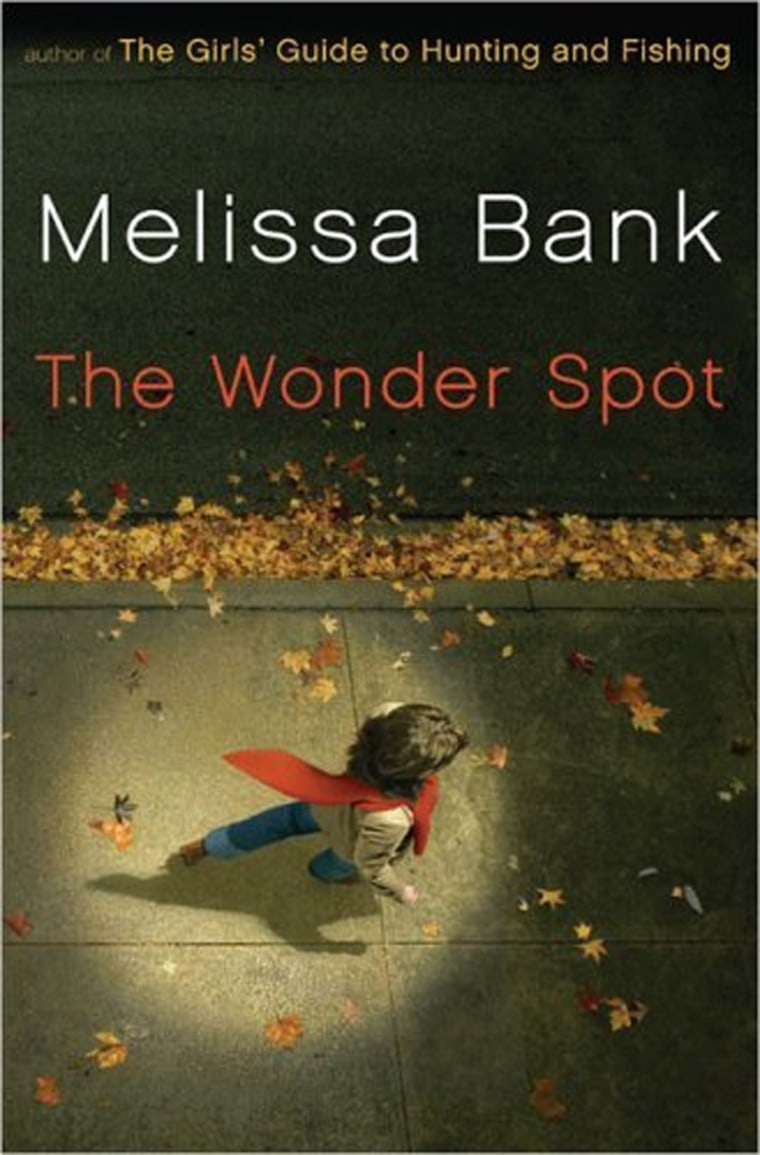 In a family of three flourishing kids, Sophie's the closest to being a black sheep: cutting Hebrew class, rankling at the prospect of a bat mitzvah.  Her college is second-rate, and upon graduation, she has no real idea what she might like to do.  She spends a summer couch-surfing between relatives, haltingly teaching herself to type from a long-overdue library book.  Stymied for other ideas, she cribs a career from a sample resumé and goes into publishing, where a co-worker observes, "You lack artifice."  She treads water through her twenties, running through a handful of professions, succeeding at none.
Reading the novel is like leafing through Sophie's scrapbook while she sits alongside, providing jocular color commentary, illuminating the contrast between the observable surface of her life and what played out within.  To be Sophie is to feel that everyone else is privy to some essential knowledge about how to be human which you alone must learn by trial and error.  Her voice is inveterately honest; she has an acute awareness of her own failings but is not an apologist for them, inviting you to laugh with and at her simultaneously.
Sophie eventually falls in love with Matthew because he is "inaccessible" and later with Bobby because he is both dangerous and outright rude.  Although her string of fractured relationships with fractured men features prominently, Sophie's story is not about the quest for love, but for an authentic self.
Bloomin' disappointmentRebecca Wells' Ya-Ya Sisterhood, encompassing three generations of Southern women and three volumes of fiction, is practically an American institution.  Her latest, "Ya-Yas in Bloom," (Harper Collins, $25), is, unfortunately, the weakest of the trilogy, like a third cup of tea she's tried to wring from an already sodden bag.  It lacks the solidity of Siddalee's narration that was the heart of "Divine Secrets," and the consistent voice of "Little Altars Everywhere."
"Ya-Yas in Bloom" is a patchwork of vignettes that fill in what few gaps remain in Ya-Ya history. By fleshing out the backstory of Vivi's devout fire-and-brimstone mother, Wells unearths the origins of the damage that Vivi later inflicts on her own children; she illustrates how human frailties can be passed down through generations of women like an heirloom jewel.  Wells also chronicles the story of how the Ya-Yas first came to be united, at the age of four (Teensy and Vivi met at the pediatrician's when Teensy shoved a pecan up her nose).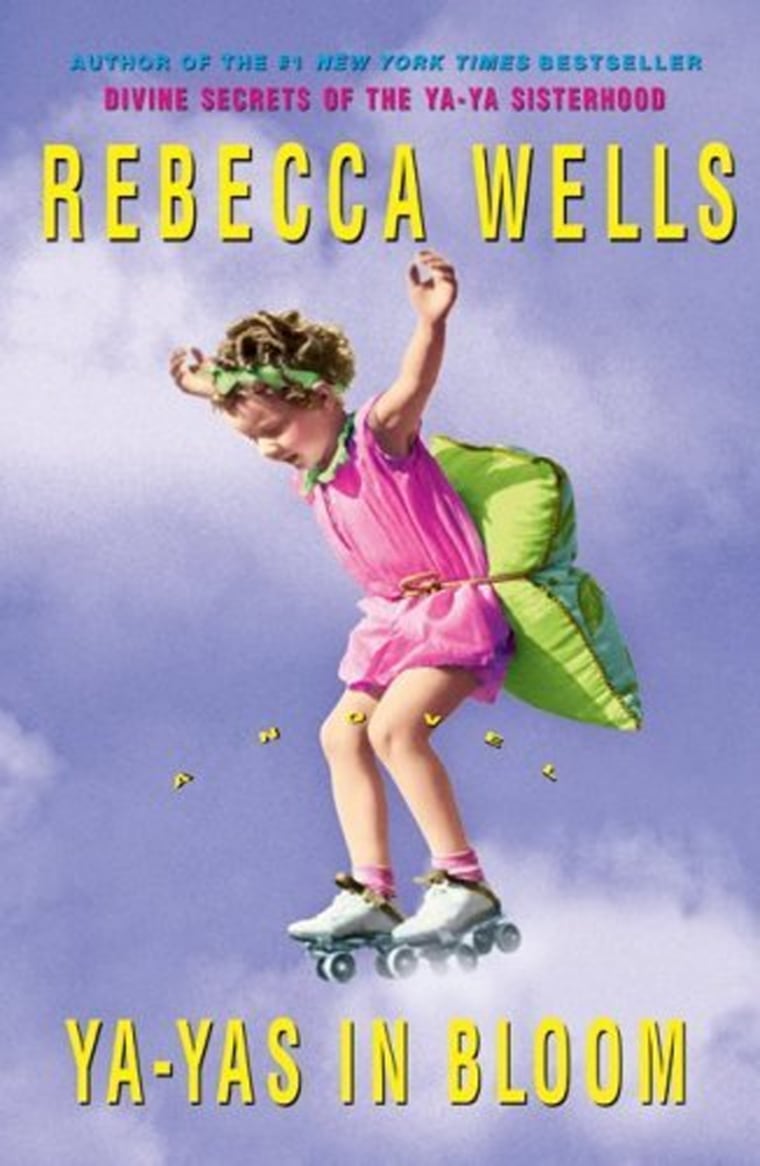 The language is off-key, sometimes feeling grossly oversimplified.  The little girls' stories have the flavor of fairy tales, peppered with phrases such as "not one bit."  They feel worn smooth by retelling, as they surely were, which makes them ring less than true.  Previously Wells has proven herself a master at conveying the real perspective of children: their anxiety, wonder, and ridiculous aspirations, but this deftness rarely comes through here (the "Buckaroo" chapter is the bittersweet exception.)
Similarly, 11-year-old Siddalee's rhapsodic travelogue about the family's trip to see the Beatles in Houston reads like teenage wishful thinking: too breathless, too many exclamation points.  Gone are her parents' explosive tempers and, with them, any dramatic tension. 
Another chapter showcases unidimensional bit player Myrtis Spevey, who is too overblown to take seriously and yet not funny enough to laugh at. This collection simply isn't a fitting coda for the series; it deserves better.
'Balancing' ActEileen Rendahl's attorney heroine Alissa kicks off "Balancing in High Heels" (Downtown Press, $13) by demolishing a fax machine when her estranged husband demands an immediate divorce.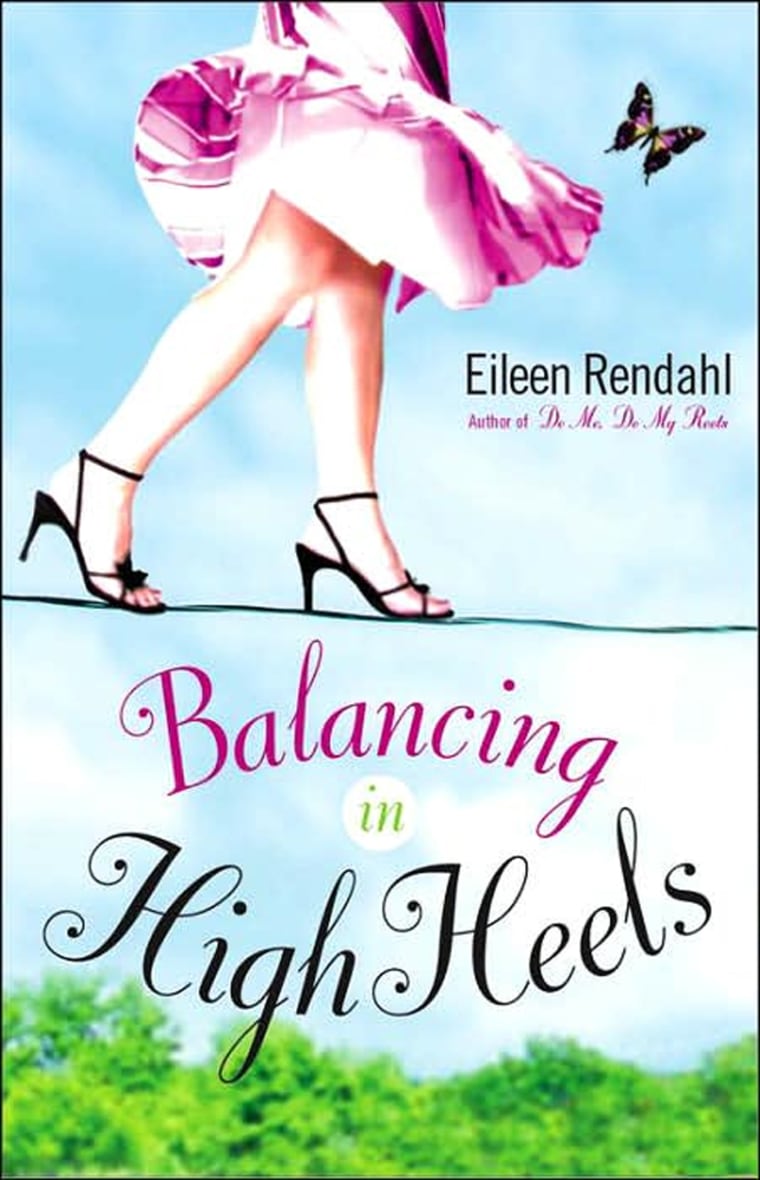 Subsequent anger-management counseling goes swimmingly until she slings a chair at her therapist.  Alissa acknowledges that she needs a drastic change in her life, and relocates to the questionable bosom of her family in San Jose, although this means struggling not to revert into a child, or, worse, transmogrify into her mother.
In her fledgling private practice, Alissa's assigned to defend "teacher/stripper/vigilante" Sheila, accused of duct-taping an accountant to a chair while her lingerie-clad cohorts rifled through his filing cabinet.  At the police station, Alissa encounters Sheila's square-jawed, green-eyed, arresting (in more ways than one!) officer. 
The strippers have formed a loose coalition that funnels their deep-set aggravation at a selfish world into small acts of guerrilla defiance.  Their bent for retaliation spreads to the general female populace (their ubiquity creating an "I am Spartacus" situation where individual acts can't be linked to individual women), escalating until one day when Alissa's mother smashes an errant parker's car window out with her cane.
Rendahl tends to break up the flow of her dialog (which, in the romantic-comedy genre, should snap) with long expository sentences after every direct quote, creating start-and-stop, clunky conversations. In one exchange that takes place while two women are shoe-shopping, the spoken lines are effectively hidden between the brand names of the sneakers Alissa considers.  While uneven (there's too much ugly reality for this tale to be farce, and vice-versa) the book is an intriguing primer on the anger that pervades this modern road-rage society — when to contain fury, and how to channel it.  Its moral:  "It takes no courage to throw a temper tantrum."  Oh, and turning into your mother might not be so bad after all.
East Meets South
At the outset of "Dixieland Sushi" (Downtown Press, $13) a flabbergasted Jen Nakamura Taylor receives an engraved invitation from her cousin, the runner-up to Miss Arkansas, inviting Jen to attend her wedding to Jen's girlhood crush.  Determined not to endure the humiliation of attending the wedding solo, Jen conscripts her devilishly handsome English co-worker Riley to accompany her on a road trip from Chicago to the Deep South.  Riley is unfortunately tied to a girlfriend who conveniently begins two-timing him two weeks prior to the cousin's rehearsal dinner, hence he tags along as a temptingly free man.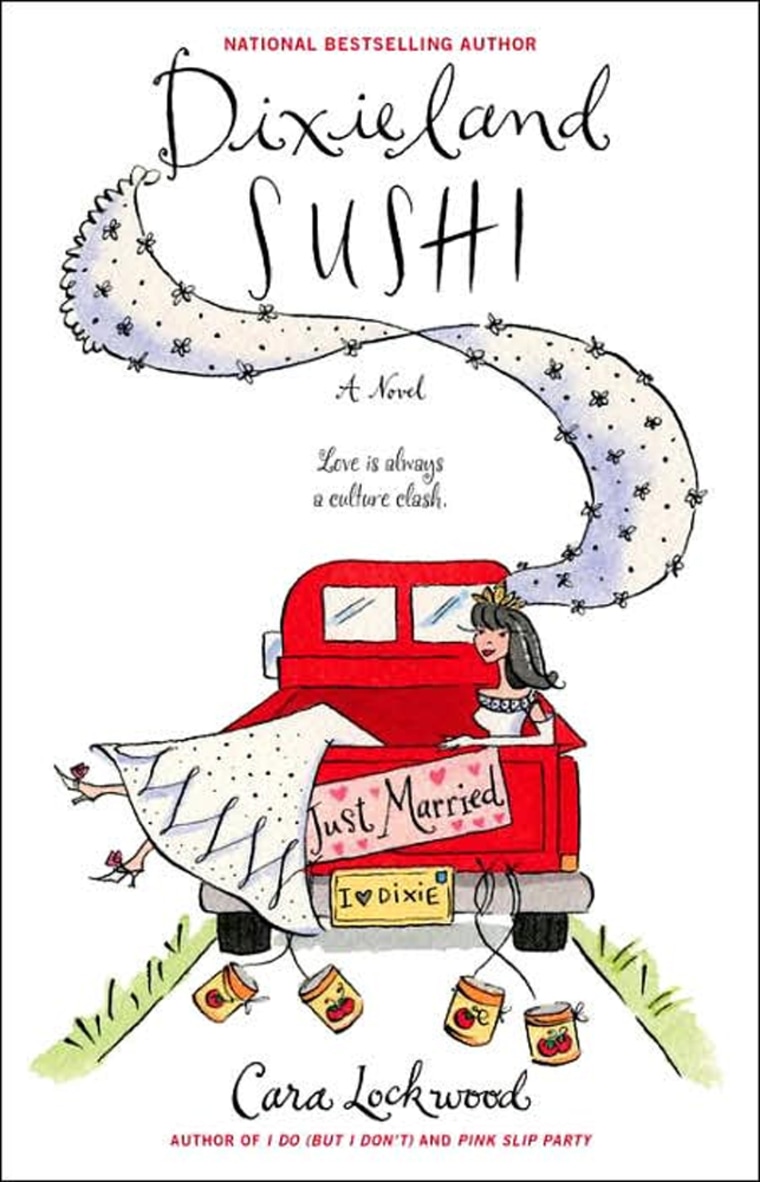 Unfortunately, Cara Lockwood's second novel is thereafter as eminently predictable and unimaginatively executed as a paint-by-numbers canvas. 
Riley is said to resemble both Colin Firth andHugh Grant, making him a Bridget Jones twofer.   (Jen is irritatingly ignorant of British lingo, prompting Riley to solemnly explain to her that "bird" means girl and "pissed" means drunk.)  Jen's sensei (American-born) Japanese mother "hilariously" still mixes up English colloquialisms, telling Jen not to be a "smart alan," and reminding her that "the early horse gets the worm."  Each chapter has an epigraph from "Karate Kid" mentor Mr. Miyagi, which while meant to be cute, only underscores Jen's ignorance of most anything authentically Japanese.
The storyline rapidly devolves into a Frankensteinian blend of shopworn sitcom cliches — Jen's car breaks down with hackneyed plumes of smoke billowing from under the hood, she and Riley must check into the only hotel room available and discover it has but one bed, the hunky groom turns out to be a vast disappointment, etc.  "Dixieland Sushi" bills itself as a novel about being different, but most elements of the story will be dully familiar to anyone who owns a television.
End of the 'Innocence'Evie, narrator of Kathleen Tessaro's "Innocence" (William Morrow, $25),  is an instructor at a community class for the dramatic arts.  The student body is alcoholic, hopeless, or both; Evie has stagnated, waiting out the days with her young son in rented rooms.  Her life gets a jolt when she is visited by the ghost of Robbie, a girl she roomed with when they were both 19 and in London for an acting workshop.
Flashback to 1987: Evie is greeted at the door of her London flat by Robbie, a juggernaut of Auntie-Mame-style dramatics who hauls Evie along for her escapades.  On being an actress, Robbie says, "You want to be someone else and then you are and people applaud."  Her bluster is a thin veneer over her sad desperation, a façade that Evie soon penetrates.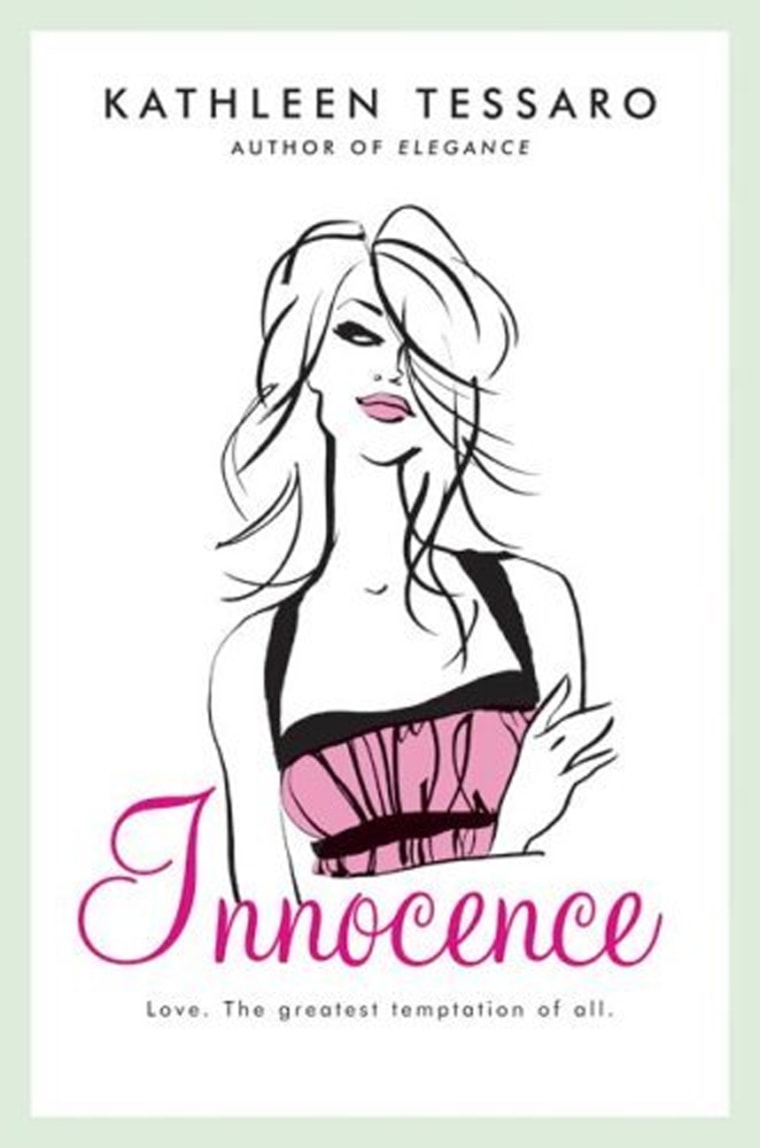 The 18-year-old Evie's voice is relayed as it was then, not through the filter of the sadder-but-wiser adult who narrates the present-day passages.  As a student, she is self-centered, naively optimistic, and sweetly ignorant.  Tessaro then slowly closes the 14-year gap in her history.  The younger Evie falls in with Jake, the impossibly tall, dark and handsome bad boy, setting off a string of events that leads to her eventual withdrawal from life to insulate herself from such chaos.   Robbie's apparition takes on the Shakespearean role of the long-dead sage manifested to enlighten the living; she makes Evie relearn how to take chances with a new man.
Tessaro's prose runs easily from light to heavy, like a skilled pianist effortlessly incorporating all 88 keys.  The story reels you in slowly at first, but the author uses subtle tricks of misdirection to keep you from piecing together the whole picture till the very end.  Early scenes with Jake  have a tendency to slip into almost-Harlequin schmaltz, but somehow that's part of the charm.
Hijinks 'Society'The Colshannon family of Sarah Mason's "Society Girls" (Ballantine, $13) is a less-despondent, more-British version of J. D. Salinger's illustrious, quirky Glass family.  Narrator Clemmie quips that she's got "three brothers and a sister who was thrown in at the last minute" (not to mention hanger-on orphaned Sam), and they all have a propensity for drink and/or trouble.  Mason's first novel showcased Holly Colshannon, and this, her sophomore effort, focuses on young Clemmie.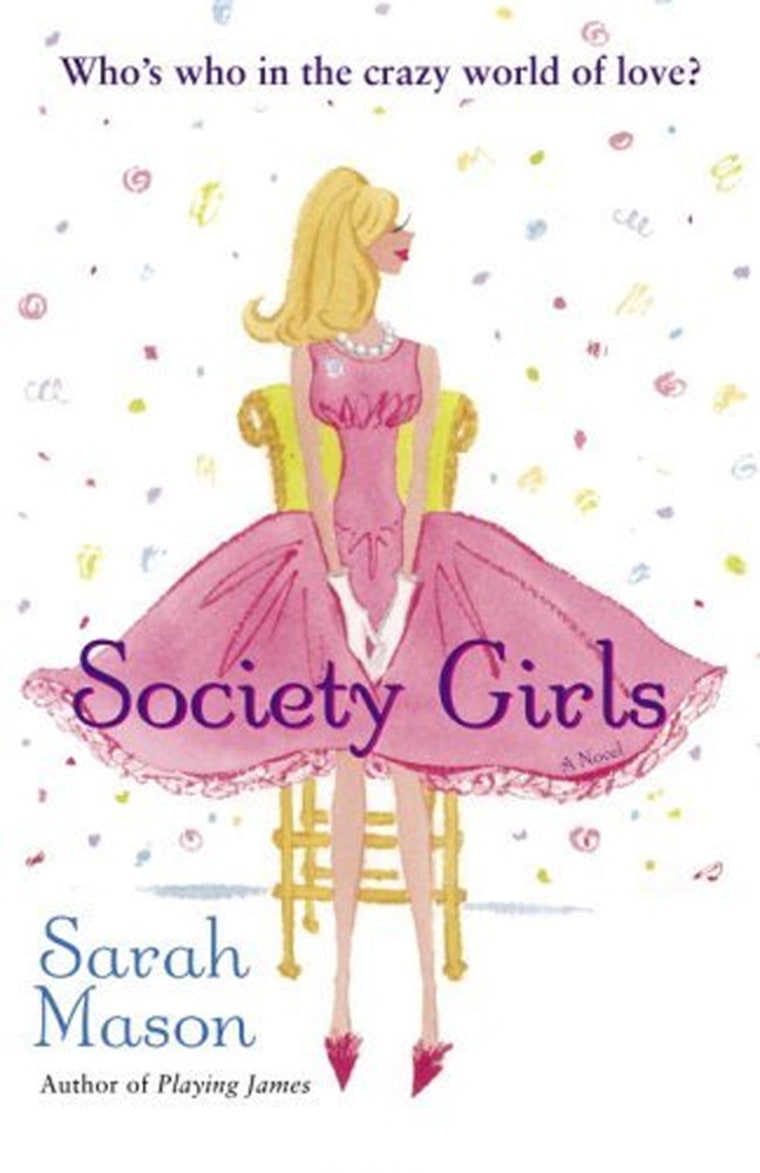 Clemmie has lost her co-worker boyfriend and her job in one fell swoop. When he blames her for a career "cock-up" of his own, she has the temerity to drop the blame, and a scalding cup of coffee, back in his lap, and is sacked. She is temporarily languishing at her parents' house in Cornwall when Emma, the social diarist at Holly's Bristol paper, abruptly disappears.
The sisters run across her drop-dead-gorgeous fiancé Charlie (Emma has never mentioned an engagement) and the mystery thickens.  Holly's been flailing for story ideas since her last exposé, and decides that investigating Emma's inexplicable cold feet will make great copy.  Thus begins a madcap adventure that ends with the Colshannons secreting Emma away to the southern coast of France, which Mason depicts so lavishly and lovingly that you can almost smell the ocean and taste the cheese.
Clemmie is sartorially hopeless and endlessly self-deprecating — charming run-on sentences spill out of her.  The rest of the colorful clan is similarly entertaining, including her barmy actress mother with her menagerie of misfit animals.  The dramatis personae are eccentric without ever quite sinking into caricature, and there are no real bad guys, only an assortment of unfortunate misunderstandings.  Mason provides a great selection of little plot twists: some you can easily suss out, and a few that are entirely unforeseeable, and thus keep you from getting bored.
Kim Rollins is a writer in Seattle.