George Clooney has come to Brad Pitt's rescue.
Clooney stepped in and chastised a reporter who was trying to ask his "Ocean's Twelve" co-star Pitt about his recent split from wife Jennifer Aniston.
Western journalists, it has been reported, were barred from a Tokyo press conference to promote the ensemble flick; many had flown in from overseas after news of the collapse of Pitt's marriage. But journalists who attended the event were required to sign an agreement, says a source, that they wouldn't ask the stars personal questions. They also agreed in writing that they wouldn't sell their stories to any publications other than those they were representing.
Clooney, who was wearing a neck brace, opened the event joking, "I know that there has been a certain topic on everyone's lips for the past few days, so I am happy to tell you that my neck is all right." But when one reporter violated the no-personal-questions rule and tried to ask Pitt about Aniston, Clooney was not amused. The hunky actor jumped in. "Shame on you!" Clooney scolded the reporter.
Clooney and Matt Damon then granted a series of one-on-one interviews — Pitt took a pass on those. The three later attended the premiere of the film, spending 45 minutes with the crowd.
Relocated rabbi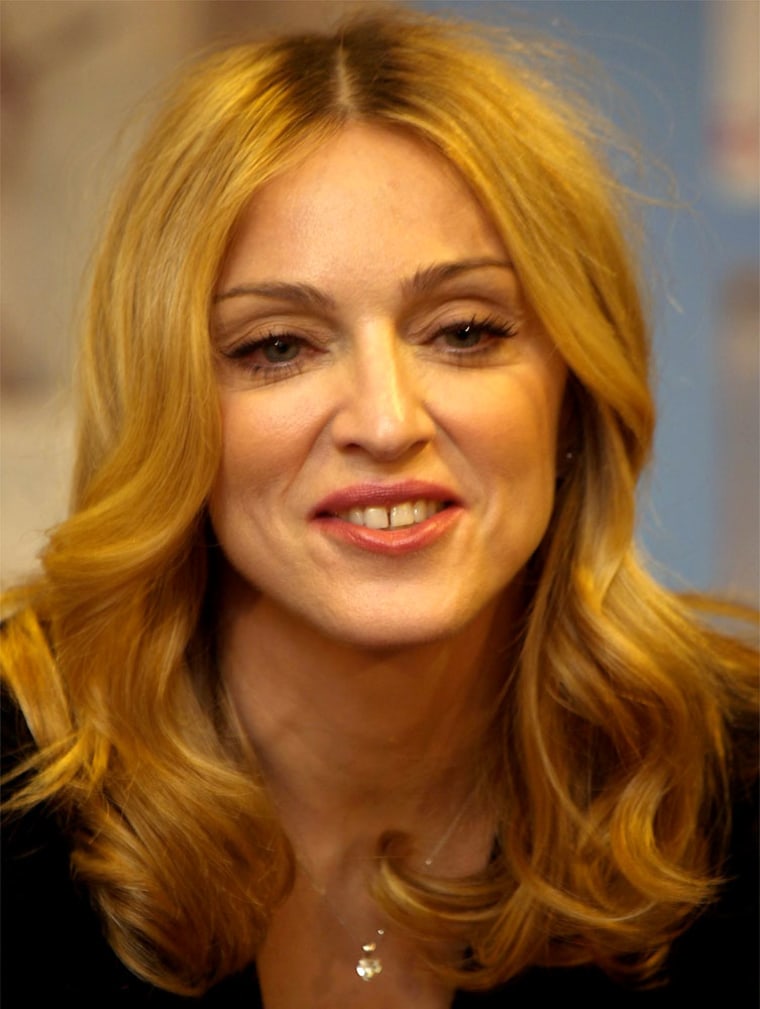 Madonna's Kabbalah rabbi — who made those about the Holocaust victims bringing on their own fate — has been relocated out of London
One source says that Madonna, who was close to Rabbi Eliyahu Yardeni but is "furious" about his comments, was "instrumental" in getting him out of London, but the source insists that the move was unrelated to the statement, which has caused a huge controversy in England.
"It's my understanding that things just weren't going well for him and he was relocated to L.A." says a U.K. source. "But that all happened before this blow up over what he said was made public."
Madonna's spokeswoman says that she doesn't know whether the Rabbi's relocation has anything to do with his comments, and says that she hasn't been able to get a comment from Madonna regarding the flap because she's been busy rehearsing for the tsunami fundraiser. A Kabbalah spokesman confirmed that Yardeni has been relocated, but when asked if Madonna has a hand in it, said, "The Kabbalah Centre does not comment on behalf of its students."
Notes from all over

Are Naomi Campbell and Gisele Bundchen feuding? The two models are in Brazil for Fashion Rio week, and both insist they get along, but one source says that there's friction. "Both Gisele and Naomi are guests at the Copacabana Palace," says the source. "Gisele arrived first and Naomi made one request: to be on a different floor — as far away as possible." . . . Christian Bale, who lost 60 pounds for had to pack on weight for his role in He went overboard, however, and gained a total of about 100 pounds.  . . . Donald Trump is holding forth on the Brad/Jen split. "There are plenty of rumors about why they split. Maybe Jennifer was jealous that Brad got too friendly with his costar, Angelina Jolie. Now I never really understood that one because I watched Angelina Jolie with Billy Bob Thornton and she was all over the guy. After you watch that, I mean, do people really dig her?  . . . Jen and Brad, I wish you both well. And I really hope you have a very good prenuptial agreement."
Mondays through Thursdays on MSNBC.com