/ Source: The Associated Press
The streets are tree-lined, and mostly quiet.
The breezes that blow in off the Atlantic Ocean? Heavenly.
Even the teenagers are nice, says Eric Hansch, who sees more than his share of them in his Atomic CDs record store when school lets out. "They're the politest kids you'll ever meet," he said.
Point Pleasant, indeed.
The question around here these days: What the devil was Fox thinking, bringing Satan's offspring ashore in such an idyllic place? Sure, the network's new series "Point Pleasant" is just fiction. But still.
"It's evil," said Barbara Stancel, a 60-year-old lifelong resident. "I'm not happy about it. Point Pleasant's known as a family town, and this won't do anything for Point Pleasant."
The one-hour drama centers on pretty blond Christina Nickson, who turns up on the beach in Point Pleasant, N.J., one day and soon begins raising hell — wherever she goes, storm clouds gather, candles blow out, cars explode in flames.
The reason soon becomes clear: She's the devil's daughter.
"Point Pleasant," which is set here but is being filmed in Southern California, premieres 9 p.m. EST Wednesday.
Why here?
Why not Hell, Mich.? Or maybe Devils Slide, Utah?
Better yet: Satan's Kingdom, Vt.
They're real places, too.
"It's such an evocative name for a spooky show," said Marti Noxon, executive producer. "It wasn't just the name of the town. It was the fact that it was this beautiful coastal place ... to show that really bad things can happen in sunny places."
Point Pleasant, the place, wasn't sunny enough, though.
The show's producers couldn't trust New Jersey's fickle weather climate to provide the sunshine and blue skies necessary for a show with lots of bikini-clad young women and buff lifeguards.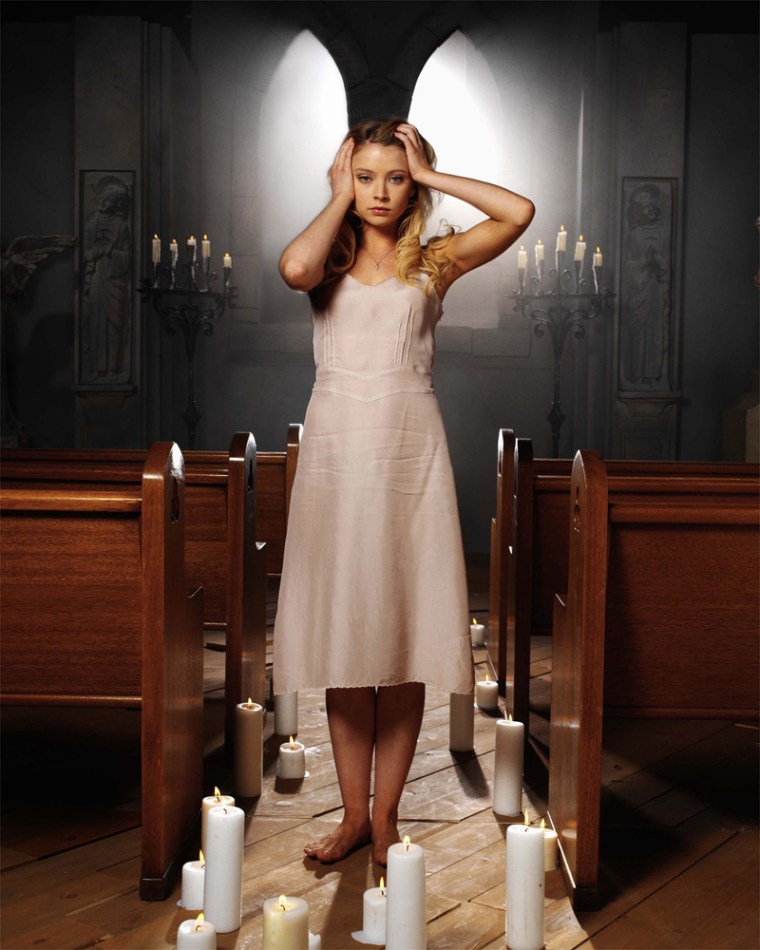 So they took the name, planted a "Point Pleasant, New Jersey State Beach" sign on a San Diego beach and started filming. In the pilot, Nickson (Elisabeth Harnois) falls off a cruise ship and floats into shore, where she's rescued by a lifeguard and taken in by a local family.
Then her wicked ways begin to manifest themselves. Bad things happen.
The network has ordered 13 episodes, and hopes the series — Noxon alternately describes it as "'Rosemary's Baby' meets 'Peyton Place,"' or "'Twin Peaks' meets 'The Omen"' — will catch on.
If so, there's a chance producers would film on location in the real Point Pleasant, she said.
So far, their only contact with Borough of Point Pleasant officials was to ask permission to use the borough seal in the filming. Borough officials wrote a letter asking if they'd get any money if they consented to it.
"We never heard back from them after that," said Mayor Martin Konkus.
"Point Pleasant" the show makes no distinction between the Borough of Point Pleasant and neighboring Point Pleasant Beach, which separates it from the ocean. But the show's producers enlisted Jenkinson's Aquarium gift shop manager Linda DiSpirito to help with set design, flying her — and several boxes of merchandise from her Point Pleasant Beach gift shop — to California to meet with show designers.
Spooky happeningsProducers might find more than gee-gaws if they came looking for material in the real Point Pleasant.
Turns out things go bump in the night here, too.
Ghosts reportedly haunt the Westside Tavern, a 19th-century building where owners and customers alike have reported falling glasses, broken windows — and poltergeists. Local lore has it that someone named Captain John locked his teenage daughter, Elsie, in a closet, and now both of their ghosts make their presences known in the building.
Then there's the legend about bodies from an 1846 shipwreck being stored in the basement.
A team of ghostbusters from New Jersey Paranormal Investigations combed the building in 2001, and concluded that it was haunted by at least three ghosts.
New owner John Magee, who bought the place in November, believes the legends. He was working by himself late one night when a chair fell down and crashed through a window.
Problem was that the table had stood so far from the window, the chair couldn't have fallen and reached the window — on its own.
"I said, 'Mr. Ghost, if it's you, I'm a nice guy, I'm friendly, I don't want any trouble,"' said Magee.
Nearby, at Delicious Bagels, owner Tony Pontecorvo suspects his strip mall store is haunted. For the first two years after he and his brother, Wade, bought the place, each would faintly hear men's voices about 2 a.m., as they worked together preparing bagels.
They sounded as if they were coming from next door, but every time the brothers went looking, the rest of the building was empty.
"Neither of us wanted to admit we were hearing those voices, but we finally did," said Pontecorvo.
"This store gives me the creeps," said Wade Pontecorvo.
But Point Pleasant (pop. 19,306) has never been home to cults, devil worship or anything else remotely supernatural, according to police Chief Raymond Hilling. For one thing, there's been only one murder in the last 15 years, he said.
"We have our issues, but nothing satanic," he said.
Like many people here, he welcomes the idea of a TV show based in Point Pleasant, N.J., even if it's in name only.
"It's pretty cool that there's going to be a show about Point Pleasant," said Hunter Knolmayer, 14, eating a hot dog outside a convenience store.
He plans to watch it.
So does the Rev. David A. Kaiser, pastor of the First Assembly of God Church, even though he worries about Hollywood's obsession with evil and the impact of shows like "Point Pleasant" on young people.
"I'm kind of dreading it, to tell you the truth," said Kaiser. "I don't want to watch anything that glorifies the devil. But I kinda have to. I have to know what's in it, just to converse with other people and tell them what I believe."