Michael Jackson's lawyers want a certain Web site to beat it.
Raymond Chandler, the uncle of a young boy who accused Michael Jackson of molestation in the early 1990s, has written a book, "All That Glitters," about the controversial case, which was settled out of court — with Jackson reportedly paying the accuser upwards of $20 million.
Now, Raymond Chandler is selling the book . What's more, the site has links to various documents related to the case, such as court depositions and correspondences with Jackson's investigators. And that has Jackson's defenders seeing working overtime trying to get the site closed.
"Jackson's people are furious and they're looking to see if there are any grounds to shut down the site, such as copyright infringement," says the source.
Jackson's rep denies the story, telling The Scoop simply, "That's false."
Gadhafi goes to the movies?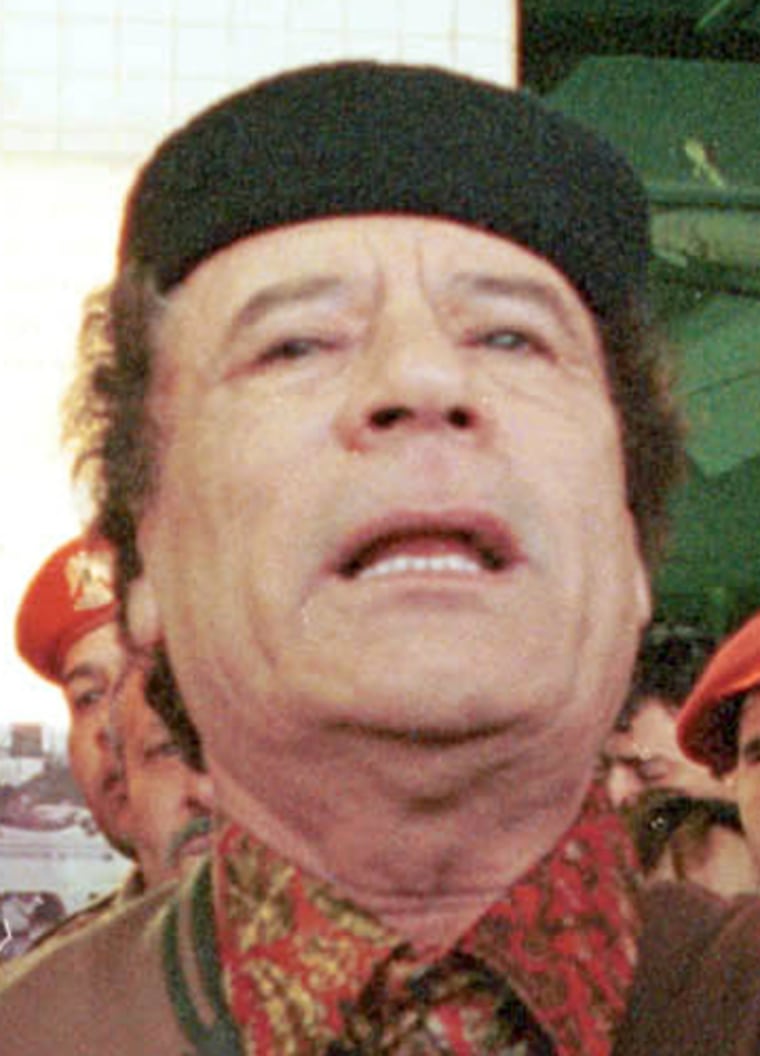 Is Moammar Gadhafi headed to the big screen?
Saadi Gadhafi, the son of the Libyan leader, was at the Venice Film Festival last week, pitching a feature film on his infamous father. Saadi even met with Harvey Weinstein, the head of Miramax, to discuss the idea.
Moammar Gadhafi has been linked with terrorism and has long been one of the world's most feared and loathed leaders. Recently, however, he has vowed to end his nuclear program and his relationship with the U.S. has grown more cordial.
"It's all strange, but true," says a source close to Miramax. "Harvey told him he'd be willing to make the film if Gadhafi would publicly recognize the state of Israel. Saadi said he'd check with his father and get back to Harvey."
"We haven't heard back yet," Miramax spokesman Matthew Hiltzik told The Scoop. "But where there's a chance to contribute to world peace, the lines are always open."
Notes from all over
Also at the Venice Film Festival, famed filmmaker Wim Wenders was raising eyebrows with a film that has been described as a "parody of America's war on terrorism." The director of "Wings of Desire" premiered his new film, "Land of Plenty," which is about a self-appointed homeland-security expert who investigates Arab-Americans and searches for stockpiles of weapons in Los Angeles. "I wanted to expose a certain reality and a climate that I sense today," the German-born Wenders told Agence France Presse. "I didn't want to judge Americans, because all over the world today Americans are 'the ugly Americans,' and that's the least thing I wanted to convey because I love this country very much." Wenders lives in Los Angeles.  . . . Matt Damon and Hugh Jackman gave Barbara Walters a lap dance at Jackman's show, "The Boy From Oz." Skeptics wouldn't have believed it if she hadn't shown photos on "The View."  . . . Julianne Moore (shown above left), a star of Revlon ads who was one of People magazine's most beautiful people was once nixed from a film because of her looks. "I was told I wasn't pretty enough," for a role, Moore tells the October issue of Ladies' Home Journal. "I remember reading for a part and my agent saying, 'They want you for a callback and you need to look as pretty as you possibly can.'  And I said, 'I'm not trying to look bad!'  When they cast a model for it, I was told, 'Well, they wanted a really pretty girl.'"
Mondays through Thursdays on MSNBC.com