/ Source: TODAY contributor
When it comes to popping the question, what's more romantic: a Tiffany ring delivered over a candlelit dinner, or a fake death?
The year 2012 was full of over-the-top marriage proposals, from lip-dubs and flash mobs in huge public places to memes, but perhaps no trend was more extreme than the "fake-out" proposal, in which would-be grooms used scary shock tactics to get their girlfriends to say yes.
Take Keaton Hatch, the Canadian man who convinced his cop friends to threaten him with deportation and jail in front of his girlfriend.
Hatch, 23, staged the fake arrest in October, panicking his now-wife Kaitlyn, 21, by having the police cuff him and march him to a squad car. Once out of sight, he quickly changed into a smart suit and returned to surprise her by getting down on one knee.
Then there's Ryan Thompson, who took girlfriend Carlie Kennedy up in a plane over the Chicago skyline in September, only to start jolting the controls mid-air, convincing her they were about to crash.
He then ordered Kennedy to read the emergency checklist, which revealed the terrifying ordeal had just been an elaborate ruse for a proposal.
"Pilot in command," the instructions read. "Determine if he is a good mate. Note: he will always love and honor you...Will you marry me?"
But the prize for most terrifying marriage proposal goes to 30-year-old Russian Alexey Bykov, who faked his own death in a fiery car crash before popping the question to girlfriend Irena Kolokov in September.
"I wanted her to realize how empty her life would be without me and how life would have no meaning without me," he said, according to The Sun. Bykov employed a stuntman, make-up artist and director to create a horrific car accident, which he ensured unwitting Kolokov witnessed. There was even a "medic" on the scene to declare him dead.
Amazingly, when her seemingly dead boyfriend jumped up and proposed, Kolokov didn't write him off for his crazy stunt, instead saying yes.
While saying "no" never crossed her mind, Kaitlyn of the fake-arrest proposal told TODAY.com that the shock of the experience initially left her confused and made her cry.
"Keaton had asked me when we were dating if I wanted a novel or romantic proposal," she said. "I said novel, but I didn't think it would be that memorable. I guessed I asked for it!"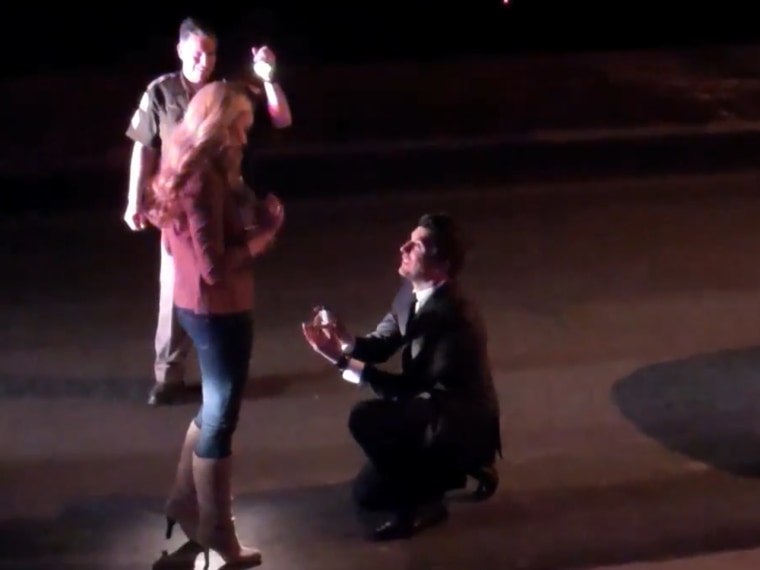 These women were won over by their shocking proposals, but many who heard their stories weren't impressed.
"Fake accident scenes, fake plane crashes and now a fake arrest/deportation? I guess a great engagement ring and a healthy does [sic] of sincerity are no long enough," one commenter wrote after watching the video on YourEngagement101.com. "When will the first sponsored proposal appear?"
Another commenter called Carlie and Ryan's plane proposal "creepy."
Yet for all the cynics, there are countless others who find the idea of an extreme proposal wildly romantic.
"Love it!" commenter IronSheik wrote of the plane scare on TheBlaze.com. "My guess is they'll both be laughing about it for the rest of their lives."
Relationship expert Gilda Carle believes the effort it takes to come up with an elaborate plan goes a long way, and could be a good indicator for the road ahead.
"There is nothing like that romantic overture to make a woman think, 'Wow, if he would go to these kind of extremes to ask for more my hand, imagine how he will provide and protect [me] for the rest of our lives together?'" she said. "Boredom is the No. 1 complaint of all couples...so here's a guy who is more creative, who will go to extremes and will inconvenience himself. These are great traits for the future."
But extreme situations can provoke extreme responses that may not bode well down the line. If the man you're dating spends tens of thousands of dollars on a space flight to woo you, you might mistake your heart-pounding adrenaline-rush for feelings of long-term love.
"You don't want to end up with someone who is impetuous and looks for the excitement more than having his feet on the ground," said Carle. "Remember that often the things that we fall in love with and are so exciting at first are often the same exact things that begin to turn us off."
So guys, if you are planning an extreme proposal, make sure she is 100 percent likely to say yes. You don't want to go to the effort of faking a road traffic accident, and have your relationship crash and burn as a result.