/ Source: TODAY contributor
When Kathleen Baldwin's fiancé dropped her off at Vera Wang, he told her not to spend more than $5,000 on her wedding dress. But the gown she fell in love with had a $6,000 price tag.
Sound like a recipe for pre-marital strife? A few years ago it could have been, but Baldwin was savvy enough to tap into a growing trend.
"I remembered seeing people doing pre-sale before they had even worn it," the 31-year-old Toronto schoolteacher recalled. "I said, 'What if I could sell it? What if I could make some of the money back?'"
Yes, Baldwin's plan involved selling her dress before her wedding day, not afterward — a tactic that's becoming popular among budget-conscious brides-to-be with expensive tastes. On wedding websites such as OnceWed.com, RecycledBride.com, PreOwnedWeddingDresses.comand TheKnot.com, brides are listing never-worn wedding dresses, telling potential buyers when they plan to wear their gowns and when they will be available.
These days, before a bride takes the plunge and buys a dress, she can whip out her phone, hop online and confirm its pre-sale value.
"It's a way to check real estate, almost," noted Emily Newman, owner and founder of OnceWed.com.
Baldwin successfully sold her dress to another bride in Arizona four months before her own wedding day. The day after her July 28 nuptials, she shipped the dress to Scottsdale.
"She got the dress for half the price, and I saved half the money!" Baldwin said.
'It just makes sense'
Tracy DiNunzio, CEO and founder of RecycledBride.com, started seeing pre-sale dresses pop up on her site about three years ago. These days, about 20 percent of the popular, celebrity-worn, as-seen-on-TV luxury gowns on her site are pre-sales.
"The economy is still not where we'd all like it to be," DiNunzio said. "If you find your dream gown and you know it's a little bit out of your budget, you can guarantee you'll make some of your money back even before you wear it."
The brilliance of the pre-sale approach is that it provides an automatic discount on that dream dress, explained Josie Daga, owner of PreOwnedWeddingDresses.com.
"These are girls that are finding a way to get the dresses that they want," Daga said.
Daga's wedding gown resale website has been growing steadily since 2004 — and when the recession hit, the site saw "gigantic growth," she said. This year, it has 15,000 new listings.
"Saving on a wedding dress just makes sense," Daga said. "When you're talking about an $8,000 dress you're going to wear for five hours, it's not a bad idea."
In Baldwin's case, she was thrilled to recoup a chunk of change from her dress while still in the throes of wedding planning. And scoring her dream Vera Wang gown — the same Gemma dress Hilary Duff wore when she got married — just added to Baldwin's anticipation of the big day.
"I bought the dress about eight months before my wedding so I had lots of time to have it up there and have it sold," Baldwin said.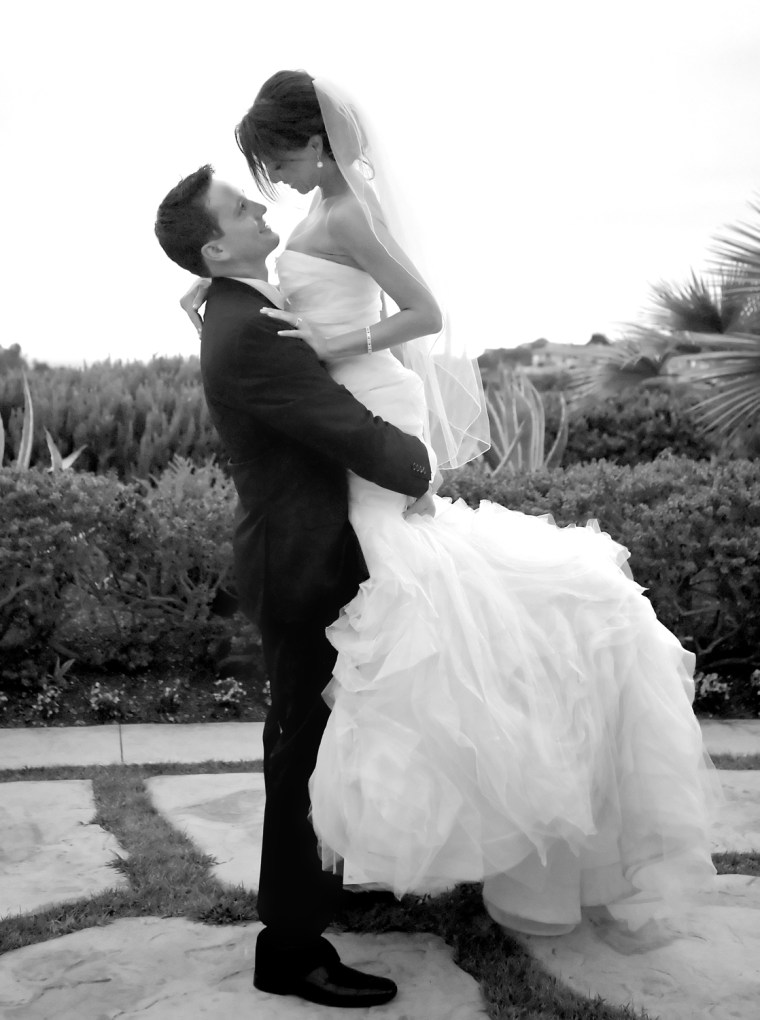 The buyer also had time to feel relieved about her find. Scottsdale bride Kristi Lofstedt had been in panic mode because her first dress purchase was disastrous. While visiting her parents in New York City, she had gone to the upscale bridal superstore Kleinfeld (featured on TLC's reality show "Say Yes to the Dress") and bought a Lazaro ball gown. But the sample she tried on was a size 22 — and Kristi wears a size 0. When the dress arrived, it looked awful.
"It was eating me alive," Lofstedt said.
The store wouldn't refund her money in full, and her seamstress said she couldn't make the ball gown work. Lofstedt went online that night and spotted Baldwin's half-priced listing for her dream dress.
"I loved, loved, loved that dress," Lofstedt said.
It had actually been her first choice, but she hadn't bought it because she couldn't afford it. Baldwin's gown arrived right before Lofstedt's August wedding, and Lofstedt's seamstress barely had to alter it.
"We were both happy," Baldwin said. "A lot of people ask, 'Aren't you sad you don't have your dress?' I spent a fortune on a photographer. I have great pictures and a video. What is the dress going to do? Hang in my closet?"
'I was so, so, so careful'
Some brides find that it can be harder to pre-sell a gown that isn't as luxurious.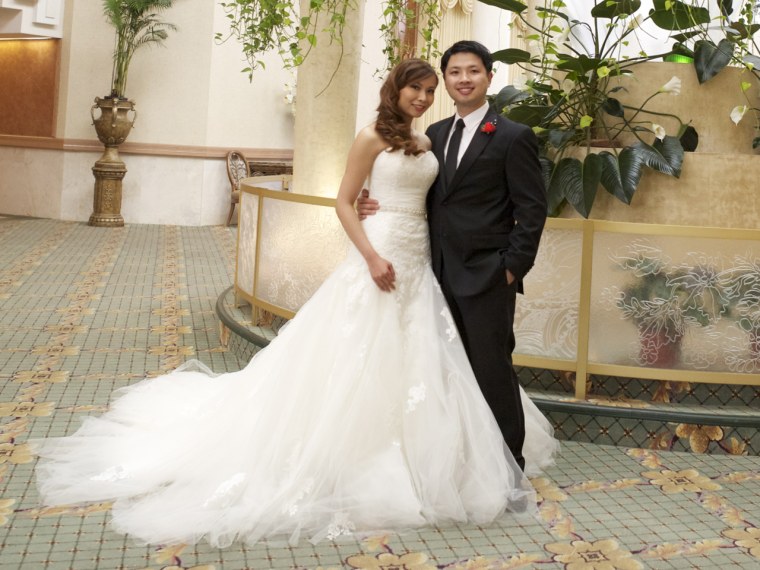 Chicago bride Kimberly Trinh, 24, tried to sell her lacy, A-line Enzoani Dabra gown on TheKnot.com before her May 20 wedding — and she didn't sell it until a few weeks ago. In hindsight, she said it might have been better to wait until after the wedding to navigate the dress sale. That way, she wouldn't have had to deal with people making half-priced offers on her $850 listing while she had so many other details on her mind.
"You're stressed out and that's another thing you're worrying about," Trinh said.
But the pre-sale approach wound up reducing stress for Megan McAreavy, a Boston bride who had her heart set on a fitted, lacy Monique Lhuillier dress.
"I went to a million different stores and tried on different things," McAreavy said. "I said, 'Maybe I could find something cheaper.' But everything I put on, I knew wasn't what I was looking for."
So the 28-year-old hairstylist headed to New York and visited Kleinfeld. She planned to try on a Lhuillier gown that was a couple years old, and then attempt to buy a used gown online. But the dress the consultant brought her was a new, revamped version from an upcoming collection. She loved it, but the $6,400 price tag freaked her out.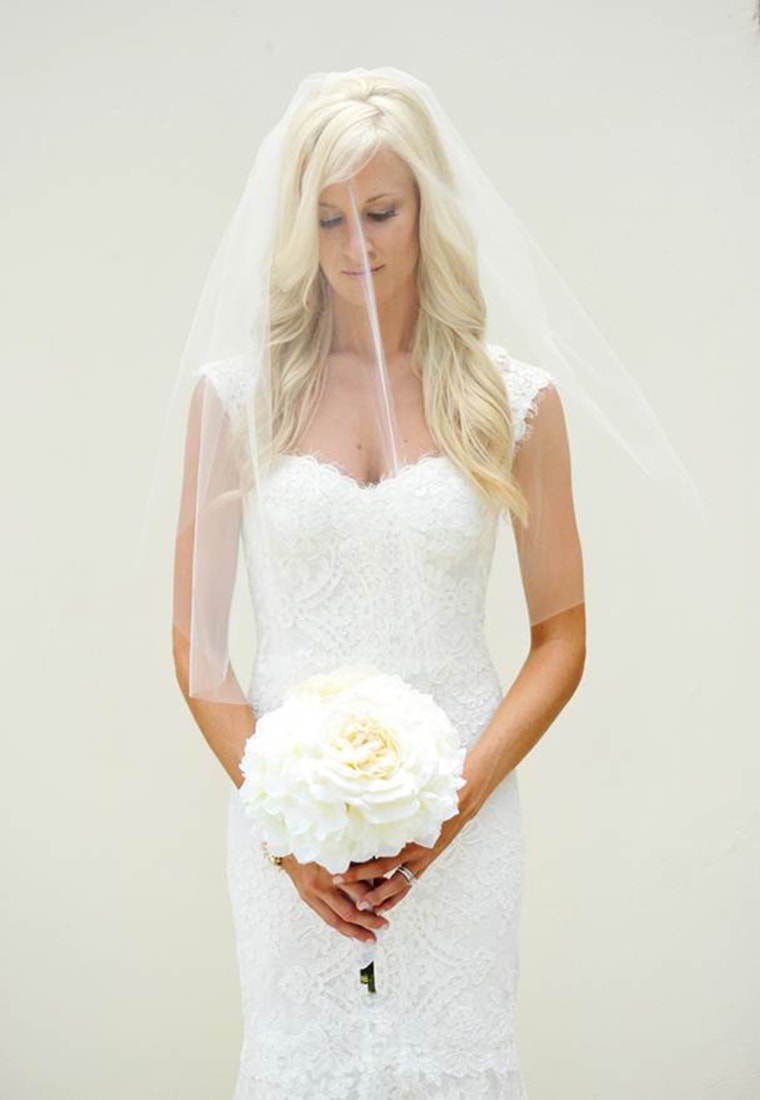 She left the store, went to lunch and frantically spent the next couple of hours Googling on her phone trying to find a used version of the dress. She couldn't.
Realizing she had found the only dress she wanted, McAreavy went back to the store and bought it. Then she went home and listed it on PreOwnedWeddingDresses.com for $5,000.
"I knew it was going to be an easy sale," she said.
McAreavy sold her dress for $4,500 to a bride whose parents live in Boston. When the bride came home for Thanksgiving, McAreavy brought it to her and let her try it on in person. It fit. The bride gave her a 10 percent down payment, and they created a contract in which McAreavy promised that nothing would be stained, ripped or torn.
"I was so, so, so careful," McAreavy said. "It was immaculate."
She got married on the morning of April 12 in the Virgin Islands. She and her husband took pictures on the beach at sunset, then went to dinner with 12 guests. McAreavy told everyone to keep their drinks away from her.
"Until I got that dress off, there was no red wine!" she said.
Once the dress was safely zipped in its bag, she had a big glass of Cabernet.