/ Source: TODAY contributor
In our series "What Beauty Means to Me," women from different backgrounds share their thoughts on aging, modern challenges, and of course, their makeup and skin care secrets. This week, we interview Beverly Johnson, who rose to fame as the first African-American model to grace the cover of Vogue magazine.
Despite being a pioneering supermodel and businesswoman, the last thing Beverly Johnson, 59, wanted was for her daughter to follow in her footsteps.
"I never wanted her to be a model," Johnson told TODAY.com. "I took her first photo at 3 days old in Jet magazine. We've been photographed together her whole life, but I never wanted her to go into it as a profession."
Naturally, her daughter, Anansa Sims Patterson, 33, felt otherwise.
"She graduated high school two years early and she decided at the age of 17 that she didn't want to continue college and she wanted to model," Johnson said. "And that was my biggest fear … that she would want to model and she wouldn't finish school. My fear for modeling is you have to do it at a young age and if you just don't forfeit your education while doing it, it's fine."
While she did leave school to model, Anansa eventually earned her bachelor's and an MBA and worked as a financial analyst before returning to the industry as a plus-size model. Now pregnant with her second child, she, her husband — former Ohio State defensive lineman David Patterson —and daughter live with Johnson in Palm Springs and were featured this spring on the OWN reality-TV show "Beverly's Full House."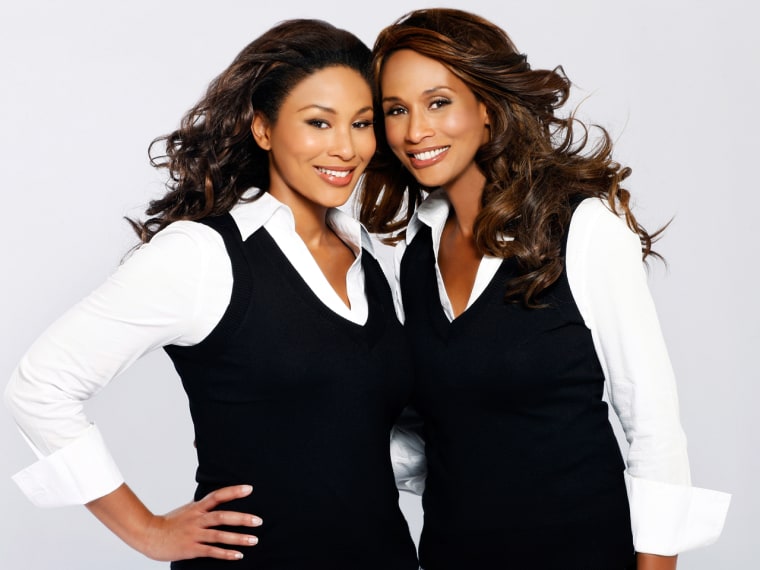 A bold beauty
Johnson hit a major career milestone in her early 20s when she landed the coveted top spot of the August 1974 issue of Vogue magazine.
"I wanted the cover of Vogue — every model's dream. I wanted to be number one in the modeling industry, which I was for a certain period of time. So I reached that goal," Johnson said. "The aftermath was that I became this role model — not intentionally — but by the sheer fact that I broke a lot of barriers in the modeling industry. Fate happened to be that I was a girl who happened to be African-American … my response was to honor that and represent that."
Born in Buffalo, N.Y., Johnson said the civil rights movement was all history to her, until her place in it emerged. "I didn't know about my own roots," she said. "For me, that moment was a whole self-discovery journey that I went on."
Modeling never was her intended path. Her father was a steel laborer and mother was a nurse. "Sports and academics were our thing," Johnson said. "I never looked at a fashion magazine. I wanted to be a lawyer."
While she studied political science at Northeastern University in Boston, Johnson kept being told by friends from New York that she should model. She didn't see why until she learned models could earn $75 an hour "to stand there … hands on their hips. It didn't seem like it was that hard."
She heard similar things from a woman who frequented the fashion boutique she worked in one summer and accepted her number. When the job unexpectedly fell through, Johnson went to New York and contacted the woman and soon landed her first 10-page spread for Glamour.
"When the photographs actually came out, I was like, 'Wow.' For the first time, I actually saw myself objectively. I imagine that was the first time I could see what they are talking about — you've got the cheekbones."
Following a "mini-retirement," during which the 59-year-old got her golf game down to a 7 handicap, she launched her own namesake line of skin and hair care products and hair extensions. "I feel so exhilarated and have so much energy and so much passion for what I'm doing. I don't see that whole retirement thing like other people see it."
When it comes to aging and beauty, Johnson said women should do whatever it takes to look, and more importantly feel, their best.
"That depends on each individual and how they feel great," she said. "There are a lot of women that love their hair going gray and they love not having to color their hair all the time — which is a pain, I must say — and they love the way they look with gray hair."
Though Johnson is "scared to death of the knife," she supports women who choose plastic surgery, Botox and other options to maintain their youthful looks.
"Look, we're living longer. People are taking care of their health. People are very conscious of food and the whole idea of staying vital in the way of exercise, so why not try to look the best one can? I believe in all that.
"Nothing's going to make you look young. There's no magic pill and no magic surgery that can make you look like you're 20 years old," she said. "So basically, it's all an illusion. If that's what makes you feel good and that's what makes you keep your illusion going, then my hat's off to you."
What are your favorite beauty products?
"Of course, they're mine: Beverly Johnson's Secret Hair Oil and Luscious Body Crème ($32.95 and $19.95, beverlyjohnson.com). It's to die for."
What's your makeup routine like?
"It's really quick... I can I do my makeup in like two minutes — that's a long time."
Is there one thing you absolutely must do before ever leaving the house?
"Yes, I like to have on a little makeup before I leave the house. I don't like going out without it – I know I'm going to run into somebody if I do. It's just so everything is blended, even, glowing, very natural looking."
Who's your style icon?
"There are so many. Jacqueline Onassis was my style icon for so many years. She still is, without a doubt. I just think her style was just so simple and classic and appropriate, age-appropriate, and I just love her. Greta Garbo — I just loved her whole style. It was very elegant but very city and sophisticated."
How do you manage your hair?
"I have so much fun with my hair because I do wear hair extensions from time to time. I love changing the colors of my hair. I love wigs. I love the whole idea of being and looking and feeling like a different person. For me, my hair is an accessory, meaning that it's really great that my own hair is very long and if I want to wear my hair short instead of cutting my hair off to go short, which would take 10 years to grow back, I can get a short wig or short hair extensions. It lets me express who I am and how I'm feeling at any particular time."
Skin care/makeup tip to live by:
"For me, cleansing is really important and also protecting the face with a foundation, a mineral- based foundation, something to protect the skin from the sun. Sunscreen is a separate step."
What's one beauty trend we likely won't ever catch you in?
"There are not many. For a while, it was the '70s. It was too much like, I lived the '70s. It's really hard for me to go backwards. For me, the '80s with the shoulder pads — it would be very hard to go back to the '80s."
More from TODAY Beauty: