/ Source: TODAY contributor
Their frustration with police mounting nearly eight months after their daughter vanished, the parents of a missing Missouri baby are hoping that a fraudulent debit card charge could be the breakthrough that helps authorities find their child.
Jeremy Irwin and Deborah Bradley, whose 10-month-old daughter Lisa disappeared on the night of Oct. 4, appeared on TODAY Monday along with their attorney to discuss the latest wrinkles in the case. In early November, just over a month after Lisa vanished, Irwin said his debit card was stolen. The card was suspended for a fraudulent charge for $69.04 while two other charges were attempted. He said the charge was made to a British website that advertises a service to legally change your name or your child's name online.
The Kansas City police said they are investigating the claim, but that it does not appear to be a promising lead or anything more than a routine case of a stolen card. While the case of Lisa Irwin remains open, authorities have found very few leads.
'We need answers'
"I am a mess,'' Bradley told Ann Curry. "I am frustrated. It has been almost eight months, and we're not getting any answers. We understand that the FBI and the KCPD have a job to do, but we need answers. We need Lisa. The answer to us that we are looking at is unacceptable.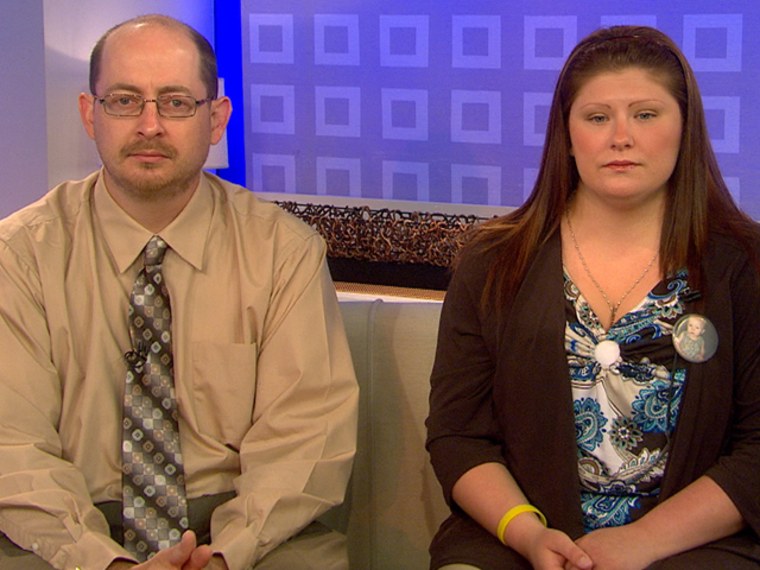 "I'm unhappy with what they're telling me. It's been too long. With this (stolen card) development, they've had it for a long time, and we still haven't heard anything.''
"That's a long time for somebody to steal a credit card and wait to try to use it, and that's one of the reasons why law enforcement will probably cast some doubts on the relationship between the two,'' former FBI criminal profiler Clint Van Zandt told NBC News.
Irwin came home from work at 3:45 a.m. on Oct. 4 to find the door unlocked, the lights on and Lisa's crib empty. Bradley admits to having had several drinks that night and does not remember the last time she checked on her baby.
A witness said that he saw a man carrying around a baby in a diaper around the time Lisa went missing, which is a lead the parents' attorney, Joe Tacopina, believes should have been urgently pursued. Neighborhood handyman John "Jersey" Tanko, who has a history of break-ins, was questioned by police about his whereabouts that night, but was not declared a suspect.
"(The police) missed massive opportunities, including three witnesses that identified a man holding a baby that matched Jersey John's description after midnight with just a diaper on,'' Tacopina said. "It's inconceivable that that wasn't followed up on immediately.''
Tacopina also said that a phone call was made at 11:57 p.m. on the night of Lisa's disappearance on Bradley's phone to a woman who is Tanko's on-again, off-again girlfriend. Bradley had never dialed that number before, and her phone was stolen from the home on the night Lisa vanished.
"This is not a defense of (the parents),'' Tacopina said. "This is about finding answers and finding their baby.''
Anyone with information related to Lisa Irwin's whereabouts is urged to call 816-474-TIPS.