/ Source: TODAY contributor
Photographer Emily Harris had a powerful idea: She could document the events leading up to Lainie Schultz's wedding. But would the bride-to-be, who is battling a rare form of cancer, be interested?
It turned out that she was — so much so that Schultz immediately told Harris about an intimate moment she could photograph. The following day, Schultz's fiancé was going to shave her head.
"It's fate that it happened that way," Schultz said about receiving the call from Harris. "What I was going through was personal, but it's something people need to see. A lot of people are scared of cancer, and it's important for people to see that you shouldn't be. ... I won't live in fear."
The Fort Lauderdale couple allowed Harris to document the head-shaving session and several other personal moments in the weeks leading up to their March 3 wedding in Palm Beach, Fla. Harris' photos of Schultz dealing with cancer while planning her wedding have captivated thousands online.
Lainie Schultz let a camera follow her through her wedding journey, as fiance Joseph Jones shaved her head, then held her hand during their hospital "honeymoon" in the chemo room.
Their story has struck a nerve as the antithesis to the obnoxious behavior and excess popularized in television shows like "Bridezillas" and "Platinum Weddings." It also has served as a reminder that a wedding is about the love between two people, not the specifics of the event itself.
"I have a lot of friends getting married, and they're so worried about every little detail," Schultz said. "Of course I worried about what my wedding would look like, but I didn't get that stressed. If I showed up and there were no tablecloths, no band, or no flowers, all that matters is that my family is there and I'm marrying the love of my life. Unfortunately, being diagnosed with a life-threatening illness puts life in perspective."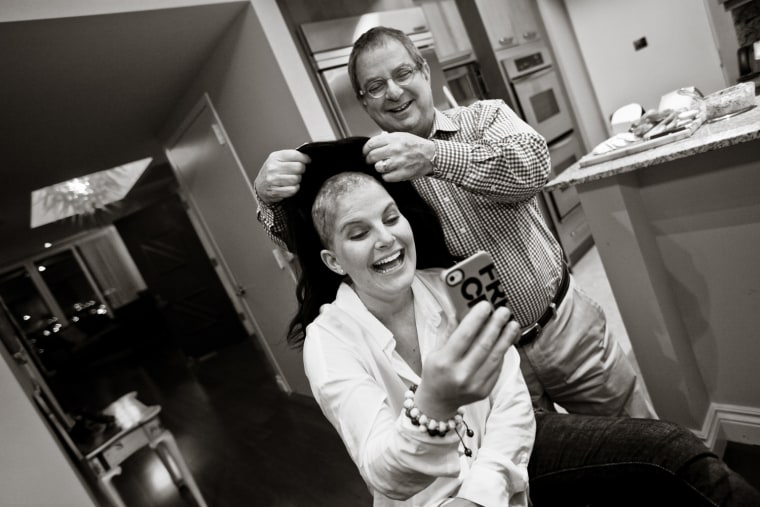 Harris said the story of Schultz and her now-husband, Joseph Jones, 27, affected her on a personal level.
"I work with so many bridezillas, and it drives me crazy," Harris said. "This re-lit something inside me because this brings the focus back to a marriage being about the love and devotion between two people."
'No sadness, no tears'Schultz developed adrenal cancer when she was only 18 months old. She remained in remission until 2008, when she was diagnosed with breast cancer. At that time, she also learned she has a genetic mutation that causes a rare disorder known as Li-fraumeni syndrome, which affects only about 1,000 people worldwide.
"I'm fortunate because a lot of people who have the syndrome, their whole family has it, and it wipes out entire families, but I am the only one in my family," Schultz said. "I had cancer as a baby, and I didn't think I would have it again. I never thought at 28 years old I would be fighting cancer, but it's basically my full-time job."
Schultz regularly does outreach work with the American Cancer Society to help others and spread the word about early detection and regular checkups. She initially wanted to document her life leading up to her wedding by herself. Instead, she turned to Harris, a former newspaper photojournalist turned wedding photographer, to help her.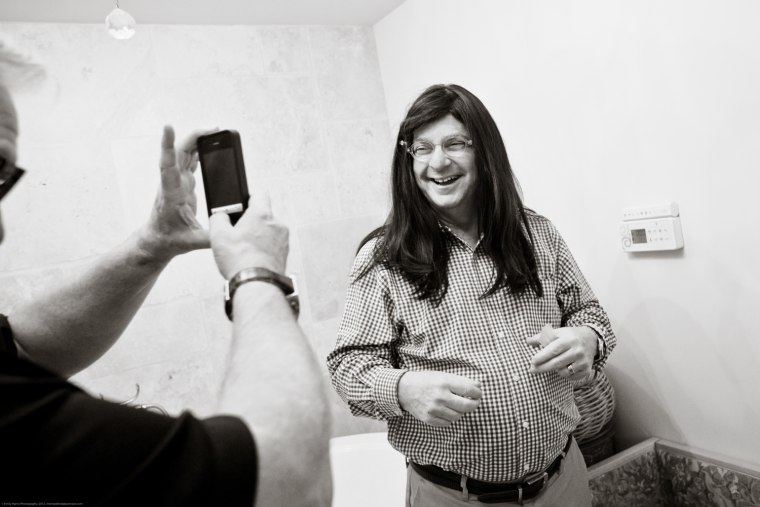 Harris confessed that she expected Schultz's head-shaving photo shoot to be a melancholy event. It was quite the opposite.
"I kind of had this vision of this sadness in some ways, but once I got there, there was some booze and food and their parents, family and friends were there," Harris said. "It was kind of more like a party. Everything she was doing was so out of the ordinary from what a cancer patient goes through. She has such a great outlook on it."
"As crazy as it sounds, it was kind of cool she was there documenting it," Schultz said. "It was a personal moment for the two of us, and it captured the emotion and love that we share for each other."
Jones, who had shaved Schultz's hair one time previously, had some fun with it.
"I just shaved her head in multiple hairstyles," Jones said. "I did a Rihanna haircut, and she thought it was funny. There was no sadness, no tears in my eyes, because we just always try to stay positive."
The two met in 2004 and were dating for four years when Schultz found out she had cancer again. Jones never wavered in his love for her. Schultz has since heard depressing stories from many other cancer patients; she estimates that three out of five of them had their relationships end in a breakup or divorce after being diagnosed.
"As sad as it sounds, it's all about the person going through the disease," Schultz said. "Some people can't take the situation being all about one person. It takes a special person to have special compassion. My husband told me, 'The day you were diagnosed was the day I married you. I wasn't going to leave your side.'"
"I dropped everything, got us a place together four years ago, and we're moving forward together," Jones said. "A lot of people do leave. I've seen it happen, and that's just horrible."
In 2010, Schultz had a hysterectomy because of a mass on one of her ovaries, but Jones was more concerned about her well-being than her ability to have children.
"He said, 'I would rather have you here,'" Schultz recalled. "'We can always adopt a child, and you're more important.'"
'My job is complete'Leading up to the wedding, Harris also documented Schultz receiving a chemotherapy treatment in Coral Springs, Fla. She also captured typical pre-wedding events, like Schultz trying on her dress and the couple sorting through their RSVPs from guests.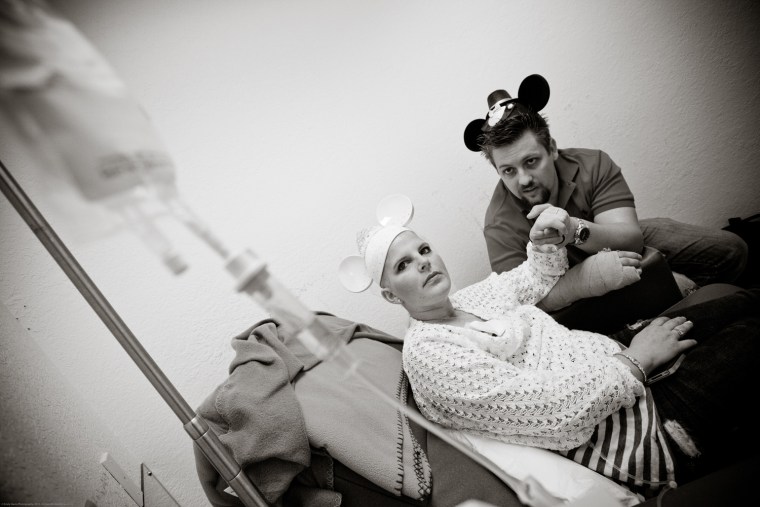 Finally, the big day arrived for the wedding in Palm Beach. For the last song of the night, the band played LMFAO's "Party Rock Anthem," and Schultz did more than let her hair down. She threw it off.
"I threw my wig off, and my husband put it on," Schultz said, laughing. "The band almost fell over. They had no idea what I was doing."
Also detailed in the photos was the couple's "honeymoon,'' which consisted of Schultz getting a chemotherapy treatment two days after their wedding. The newlyweds wore their bride-and-groom Mickey and Minnie Mouse hats for the occasion.
"It was reality," Schultz said. "I didn't want my wedding photos to be all poses. I wanted it to capture the moment, and [Emily] did an unbelievable job.''
When Harris posted the photos on her website and on Facebook, they received an overwhelmingly positive outpouring of support.
"I couldn't believe the response,'' Schultz said. "There were comments from people all over the world. I felt like I was making a difference in people's lives, which is so important to me. If it's one person or a million people, my job is complete."
Even Jones, who joked that he only maintains a Facebook page so that his wife can "officially be married to somebody," was blown away.
"She showed me, and it's great because at least our story has touched people," Jones said. "It's shown them not to run scared if something like this comes up in their lives."