/ Source: TODAY contributor
"I never thought it was such a bad little tree. It's not bad at all, really. Maybe it just needs a little love." – Linus Van Pelt, "A Charlie Brown Christmas"
At the Christmas tree lot the other day, I strode past the big trees. I led my family past the full, bushy trees, to the end of the line, where the little, sad, scraggly trees lived.
"Oh, I know which one you're going to want," said my husband, Steve.
And he was right. I walked right over to a loose-limbed tree that stood maybe 5 feet tall. I placed a protective hand on its wobbly top. "This is the one."
I grew up in Northern California, and every Christmas, we kids would pile into my dad's pickup and truck 66 miles to a u-cut lot in the Santa Cruz mountains. Then, thermoses of hot chocolate in hand, we'd trudge for what felt like miles to find the "perfect" tree. It always looked like the Christmas trees you see in Hallmark Channel movies, and in advertisements: Tall, towering and majestic.
Then, per my mother's wishes, we'd have it flocked (the closest to snow-covered Christmas we'd get in the San Francisco Bay area). It was a magnificent sight, our tree. And when I grew up, I wanted nothing to do with that tradition. I wanted a Charlie Brown Christmas tree.
I realize I'm an anomaly. Dan Kenreck has owned the Sunwest Christmas Tree Farm in Medical Lake, Wash., for 30 years, and he told me that people don't come looking for Charlie Brown Christmas trees. They want something dense and symmetrical, known in the business as a sheared tree.
The trouble with those trees, said Kenreck, is that ornaments don't hang straight down – they sort of pop to the outside. "When they come to the farm, they don't think about it very much. They're looking for a perfect tree," he said.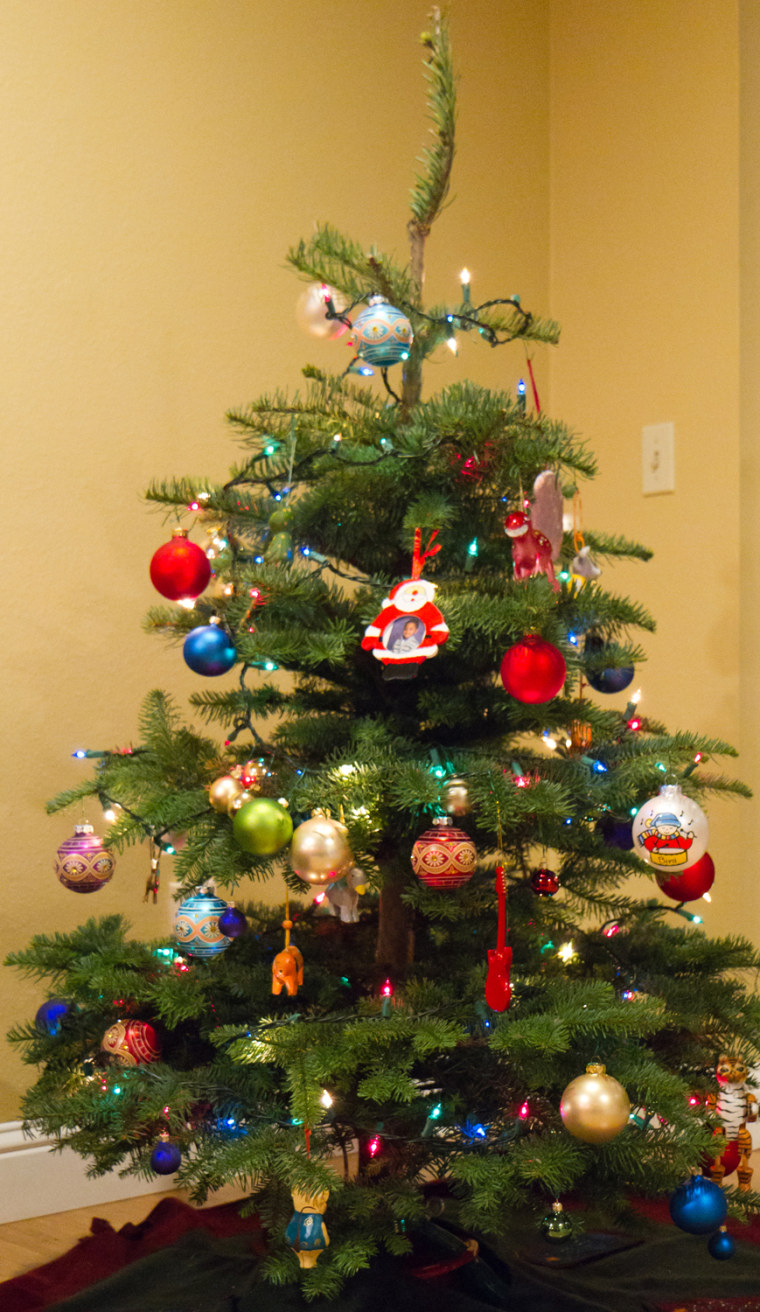 To my mind, the Christmas tree you choose says a lot about your worldview. My parents chose something "perfect" every year because they were determined, God bless them, to give us the "perfect" Christmas. But that's a lot of pressure for a tree, and for a family. I want, like Charlie Brown did, a small, unassuming tree. One that needs me. One with the potential to become something beautiful, magical and unexpected.
When Steve and I set up house together more than 10 years ago, I got my imperfect tree. It was a sad, anemic thing, so small that only a few presents could sit beneat it. We nicknamed it Travis. And I loved it.
On Christmas Eve that year, we opened all of our presents for each other, since we'd be spending the following day with my parents and their perfect tree. I was happily surveying my loot when Steve told me to close my eyes and put out my hand. Into it, he deposited a ring box, and there next to Travis, he asked me to marry him. Beautiful, magical and unexpected.
Every year since, we've gotten a Travis-like tree. But I realize those days are probably numbered. My 3-year-old son, Bini, is happy to get any kind of Christmas tree now, but the time will come when he wants a big, humongous tree and a BB gun that'll put your eye out. I'd like to think I'll roll with the punches, and let go of my idea of a perfect, imperfect Christmas tree. We'll see.
On the way home from the tree lot, we asked Bini what he wanted to name the tree. "Jugi," he said after a moment. And he couldn't wait to help carry Jugi to her appointed spot, fill up her stand with water, and festoon her with ornaments and lights. Most of the ornaments ended up on one side, on two limbs. I fear Jugi may topple over.
Every morning, Bini runs to the living room to check on Jugi. He asks her if she's seen Santa, or any monsters. And then, he gives her a careful good morning hug.
That's my boy.
Kristin Kalning lives in Redmond, Wash., with her husband, Steve, her son, Bini and a house full of misfit pets and toys.