/ Source: TODAY contributor
Gyrating suggestively onstage in skimpy outfits and full makeup, the models for "The Cowgirl Riders Debutante Fashion Show'' during Fashion Week were enthusiastically encouraged to strut their stuff by show emcee Kelly Bensimon of "Real Housewives of New York'' fame.
The female models also happened to be 6 years old.
Bensimon and her models — particularly Eden Wood of "Toddlers & Tiaras,'' the TLC reality series about the controversial world of pint-size beauty pageants — drew some raised eyebrows during the show, staged at the Bryant Park Hotel in New York City on Thursday.
Eden sang to her own kiddie-rap song "Cutie Patootie,'' whose lyrics include references to "shakin' her booty'' and how she is all over the newspapers and the television screen. Whipping off a denim jacket during the performance, she twirled it above her head to reveal a two-piece, rhinestone-studded outfit to go with her cowboy hat, and smacked her backside for emphasis.
'Amp it up'"That wasn't stripping," Bensimon told The Daily Beast. "That was just her having a little fun, girly moment. If she was really doing something, I would have literally moved her into doing something else. I have rules."
During the whole show, Bensimon stood to the side of the stage, encouraging the models over a microphone and asking the girls to give her a "Yee-haw!'' and to move it "like a rock girl.'' A former model herself, Bensimon dismissed the notion that the outfits were a little too revealing and the routines a little too suggestive for a group of 6-year-olds.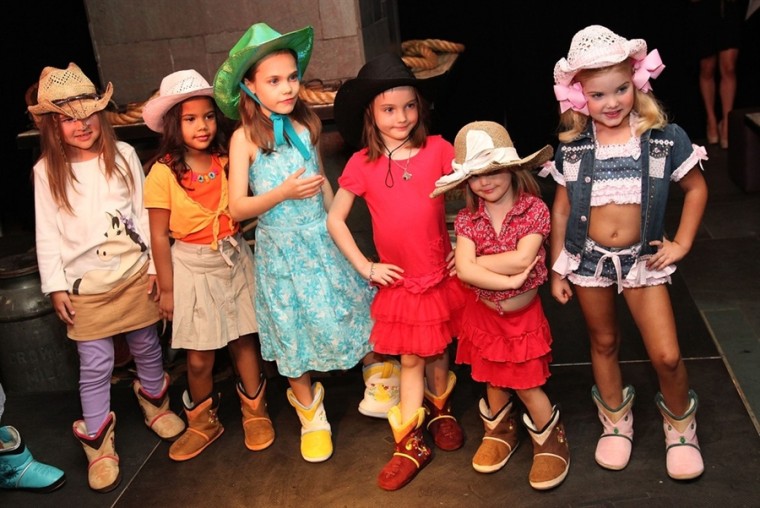 "People are egging you on, your natural instinct is to go more,'' she told the New York Post. "When you're out there by yourself, your instinct is not be reserved and tone it down, it's to amp it up!''
Eden, who has won some 300 kiddie beauty pageants, was the clear star of the show amid a group of more demure 6-year-old models — mostly local residents who auditioned to be part of the cowgirl-themed extravaganza. Allegations that Eden is showing signs of budding divahood off the runway came to light earlier in the week in the Post, which reported that the 6-year-old threw a tantrum at the Allure Fashion Week Lounge after being told she was too young to have her teeth whitened.
Eden and her publicist later denied that report in an interview with The Daily Beast. "I wasn't upset," Eden claimed in the interview. "They said I couldn't have it, and I said OK."
Bensimon was the topic of some talk too; the Huffington Post reported that she had been fired from "Real Housewives'' along with two of her castmates. In reaction, Bensimon told the Daily Beast: "There are so many rumors about everything. I don't really know what's going to happen. I can't tell you. I wish I had a magic ball that'd say I'm on or off — I really don't know."
Bensimon concluded: "If I come back on the show, if I don't come back on the show, all I have to do is say thank you to Bravo, because I'm really, really grateful."