As children around the country settle in for the new school year, millions of them are sharing more than desks, sandwiches and sniffles. Chances are good that they are being taught by teachers with little or no experience.
The odds that a child will be taught by a new teacher have increased dramatically over the past two decades. In 1987-'88, the most common level of experience among the nation's 3 million K-12 public school teachers was 14 years in the classroom.  By 2007-'08, students were most likely to encounter a teacher with just one or two years of experience.
Experts attribute the experiential decline to numerous factors, including the widespread retirement of Baby Boomer teachers, added demands due to programs like "No Child Left Behind" and teachers leaving to pursue better-paying opportunities in other fields.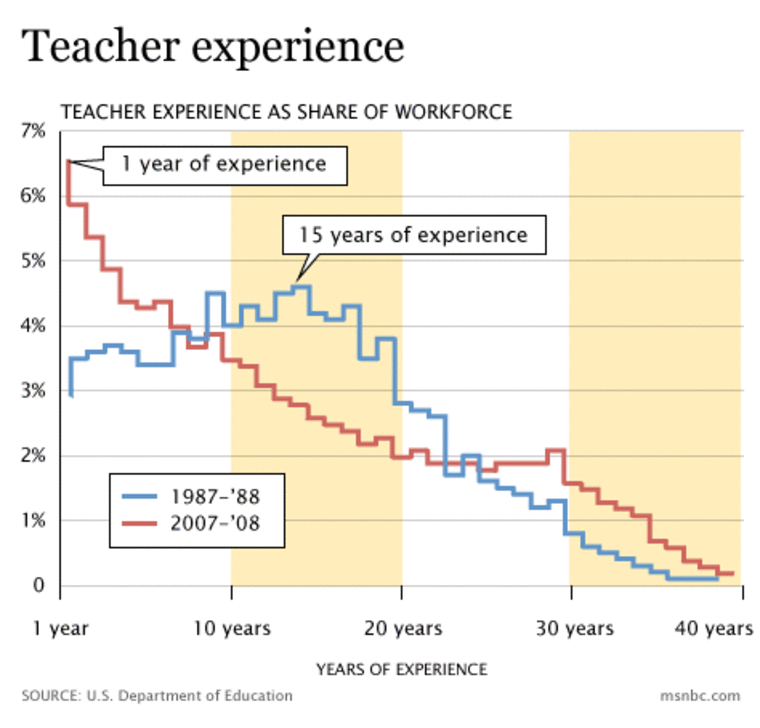 The nonprofit National Commission on Teaching and America's Future (NCTAF) estimates that 300,000 veteran teachers retired between 2004 and 2008 alone.
'The crisis is upon us'
But finding replacements for the departing educators only addresses part of the problem. Unlike their predecessors of a generation ago, nearly 50 percent of new teachers leave the profession within their first five years, according to NCTAF.
That has created a situation comparable to "trying to fill a bucket with a huge hole in the bottom," it says. The Bureau of Labor Statistics forecasts that U.S. schools will need at least 1.6 million new teachers in the next few years.
"The crisis is upon us," said Brad Jupp, a senior program adviser on teacher effectiveness and quality at the U.S. Department of Education. "The mode of experience being one to two years should be the most alarming thing we have come upon."
While education experts caution that lack of experience isn't necessarily an indication of a teacher's ability, student achievement scores do show that on average a first-year teacher is not as effective as a third-year teacher, said Susan Moore Johnson, an expert on teacher recruitment and retention at the Harvard Graduate School of Education.
Sharon Abraham, whose two children attend schools in the Riverview School District in Carnation, Wash., has seen that first-hand, as both have had new teachers through the years. She said teachers who entered the profession right after college seemed to have the hardest time.
"The ones who had other life and professional experiences were much better off in making the transition smoother into teaching," she said. "They weren't as burdened as the ones who were straight out of college."
Too many demands?
Schools around the nation are trying to cut down on the churn, an effort that begins by trying to determine what is it about this profession that sends so many teachers fleeing so quickly.
Janelle Jamison, a first-grade teacher at Muir Elementary School in Kirkland, Wash., believes she knows the answer.
"It's the demands," said Jamison, who is beginning her third year in the classroom. "There are state demands, district demands and parental demands. We haven't even mentioned the needs of the individual student. It's tough."
Isolation from other teachers and staff, requirements of the "No Child Left Behind Act," more homework, more rigorous testing, larger classes due to budget cuts, time scarcity and inadequate working conditions are among the complaints most commonly mentioned as heightening pressure on teachers.
Despite such challenges, Jamison said she won't abandon her chosen profession.
She stands a good chance of surviving her trial by fire as a participant in the Lake Washington School District's new teacher support program. The three-year mentoring initiative was created based on research showing that new teachers who work in a collaborative environment are more likely to remain in the profession.
The program, which pairs classroom newbies with experienced teachers, works, according to Jamison.
"I've talked to my friend who is a teacher, and she said she was finishing up her year and leaving," Jamison said, contrasting that with her experience. "I am shocked at how much I love teaching. I am excited and being able to gain the support and experience from experienced teachers not only helps my teaching, but improves the quality of the experience."
More work, less pay
But getting a teacher through the critical early years doesn't necessarily translate into a long career in the classroom – at least not in the U.S.
Stephanie Olson, a high school English teacher in Arizona for 10 years, for example, has had enough.
"I'm doing more work, but I'm getting less money every year," she told NBC News. "Instead of being excited about a job and looking forward to your job, you begin to fear your job. It becomes stressful, tiring and takes a toll not only on your health, but on your family."
So the Phoenix mother is uprooting her life and moving to Abu Dhabi, where she said will earn better pay and be more highly valued as a teacher. She landed the job through Teach Away, a Toronto-based agency that helps North Americans find teaching jobs overseas.
"Sometimes, the best teachers are the ones to leave," Olson said, adding "they feel like they are mistreated."
Many veteran teachers say the pressures have intensified since the passage of the "No Child Left Behind Act" in 2001 as well as other state programs aimed at improving U.S. students' academic performance.
At Huffaker Elementary School in Reno, Nev., Anne McComas said such laws have forced districts into a one-size-fits-all model for teaching. The third-grade teacher is in her 21st year at the same school where her own four children learned everything from the alphabet to algebra.
"In teaching to the standards I hope we keep our creativity and sense of each individual child's personal needs," she said, adding that the amount of paperwork necessary to document the performance of her 22 students also has increased substantially as a result of the laws.
McComas said she perseveres by finding ways to inject creativity into her lessons. She also draws inspiration from some of the new teachers joining the staff at Huffaker.
"It's not to say we can't learn new things," she said of the veterans, noting that she has discovered educational computer software and learned about new techniques for interacting with her students from the newcomers.
Improved economic opportunity for women also has played a role in reducing the number of new teachers, said Harvard's Johnson, director of the university's Project on the Next Generation of Teachers, which examines how best to recruit, support and retain an effective teaching force over the next decade.
"Three decades before, teaching had provided a professional path for women when other lines of work were closed to them. It was teaching or nursing," she said. "Across the country, school officials assumed that when these teachers retired the only challenge would be to get a new cohort and that has proven not to be true."
Teacher preparation faulted
Colleges' preparation of teachers also comes under criticism for the high turnover among young teachers.
The young teachers who do heed the classroom's call arrive with the same idealistic, hopeful and enthusiastic attitudes. Energetic and tech savvy, they are typically better prepared to use data for classroom preparation, Johnson said.
But they also arrive with higher expectations, desiring teamwork, open doors, pay for performance and the opportunity to have influence beyond the classroom, according to the commission on teaching. And too often, they soon realize that their jobs aren't what they thought they would be: Teaching to tests and fighting bureaucracies rather than experiencing the thrill of opening up young minds, educators say.
"Teachers leave because they feel they were not adequately prepared for what the classroom is really like," said Elizabeth Foster, the director of strategic initiatives for NCTAF. "Then they don't have the opportunity to work with their veteran colleagues in a meaningful way, so they feel isolated and alone."
Johnson agreed: "Bringing in new blood and working people really hard without regard to what they are doing or whether they are going to stay on is very short-sighted. If you are in bad working conditions you are likely to leave and if that is the case, you have a lot of turnover and the students are likely to suffer."
Johnson said several initiatives are under way to try to address the problem, but no one has a long-term solution.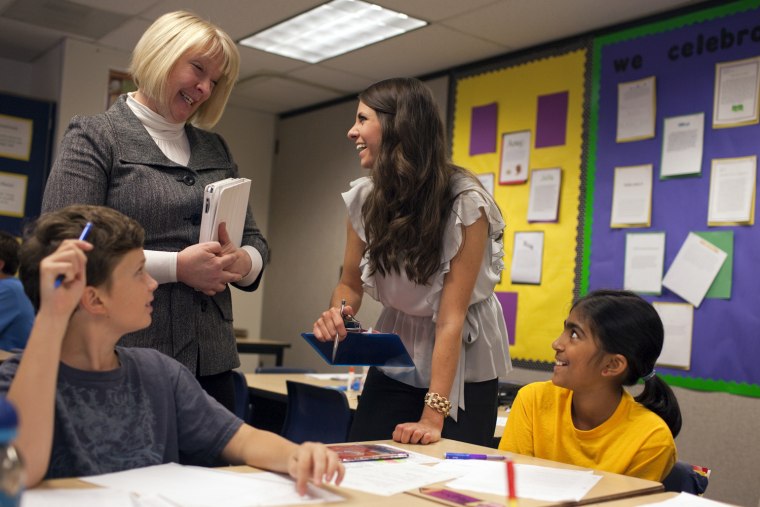 'My mom is my role model'
For now, the best hope appears to lie in programs that enable veteran teachers to partner with newcomers and in energetic young teachers like 23-year-old Amy Esmay, who entered the teaching profession with an idealism she attributes to her mother, Cathy Esmay, a special education teacher of 15 years.
"My mom is my role model," Esmay said. "I watched her passion and love for teaching all my life. I knew I wanted to do the same."
Esmay earned her master's degree from Whitworth University in July, and was recruited and hired to teach gifted and talented fifth- and sixth-graders at Redmond Elementary School in Redmond, Wash.
She said she couldn't imagine doing it without the district's New Teacher Support Program, which assigns all first-year teachers a consulting teacher — or mentor — to serve as a confidante and coach.
Esmay said that she was terrified the first time she stepped into her fifth-grade classroom, holding a small box of supplies and staring at the empty room. But the support and collaboration she received through the mentor program and from the rest of the staff and students quickly erased her dread, she said.
"I had no idea of what to expect," Esmay said. "I had replaced a veteran teacher who had all the wisdom in the world. I had big shoes to fill. The reception that I got was overwhelming. I was embraced by the students and felt so welcomed by the school."
NBC News' Lee Cowen contributed to this report.