/ Source: TODAY staff and wire
An epileptic 12-year-old boy who experiences up to 20 seizures a day will be able to take his specially trained service dog to school, NBC News has learned.
Fairfax County, Va., school officials agreed late Tuesday to allow Andrew Stevens to bring his German shepherd, Alaya, to Fort Belvoir Elementary School on a 3-to-6-week trial basis, NBC News reported.
The story of Andrew and his parents, Nancy and Angelo Stevens, was presented Tuesday morning on the TODAY Show.
The segment explained how Alaya is trained to detect and respond to Andrew's seizures, a symptom of Lennox-Gastaut syndrome, a severe form of epilepsy. The dog's presence has allowed Andrew to go out and play, walk Alaya down the street, and use the bathroom unaided.
The Washington Post also reported on the family's plight.
Fairfax County Public School officials earlier objected to Andrew bringing his dog to school, citing concerns about the dog's handler. Guidelines require that any service dogs be trained by the nonprofit Assistance Dogs International.
Alaya was trained by the New York-based Seizure Alert Dogs for Life, a for-profit organization unaffiliated with ADI.
Jon Sabin, who runs Seizure Alert Dogs for Life, told NBC News that Alaya is "probably one of the most highly trained seizure response dogs in the world," and said in a Washington Post interview that he believed "what the school is doing is heartless."
In relenting to let Alaya in, school officials said one of Andrew's parents must accompany the boy and his dog, NBC News reported. A weekly conference call will assess how Andrew, his dog, and other students are responding to the new situation.
"I think what they've done has really been an injustice to my son," Nancy Stevens told Matt Lauer live on TODAY Tuesday morning. "A service dog is trained very well. If Andrew sits, the dog is going to sit. If Andrew gets up, the dog is going to get up. A service dog will not bite anybody at all."
But Fairfax County Public Schools assistant superintendent Kim Dockery told NBC's Norah O'Donnell that the school is doing its best to work with the Stevenses. "We have a student who functions in the kindergarten/first-grade level who has a dog attached to him," Dockery said. "How am I going to make sure that Andrew and the other kids are safe all the time?
"We want Andrew to be in school," she added. "His teachers love him, and we want him to be here and be here with the dog if we can have a situation where handling the dog is safe."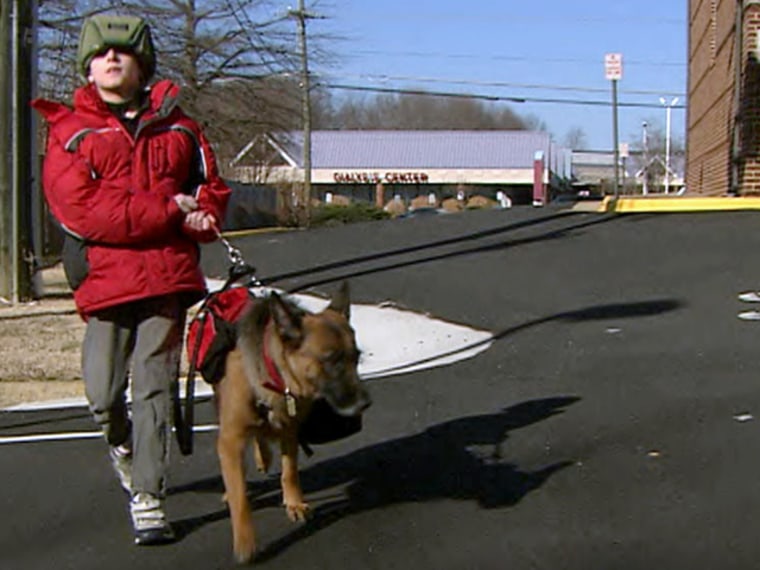 How dog makes a difference
While Alaya lay quietly by Andrew's side in Studio 1A, mom Nancy described the difference the dog has made in her son's challenging life. The family first detected Andrew's seizures four years ago, and doctors diagnosed him with Lennox-Gastaut syndrome. The rare and severe form of epilepsy is marked by seizures that come frequently and at a moment's notice, and modern medicine can do little to help.
"His seizures are on both sides of his brain, so there's no operation that can fix him; no medication works with somebody who has Lennox-Gastaut," she told Lauer. "The best you can do ... is get a service dog to help try to lessen the seizures."
The Stevenses did just that in November, stretching their family budget and getting donations to foot the $18,000 cost. Alaya carries a magnet on her collar, and when Andrew is on the verge of a seizure, the dog licks his face and swipes her collar over a nerve stimulator in Andrew's chest. This eases the severity of the seizure, and sometimes even forestalls it completely.
The collar and the technique were developed under the guidance of neurologists, Jon Sabin told TODAYshow.com. He warned that if the collar is placed on a dog that is not properly trained, the magnet can malfunction, causing serious injury or even death.
A human can perform the same function; in fact, shortly before their appearance on TODAY, Nancy Stevens used a magnetic wrist band on Andrew to ward off a seizure. Fairfax Schools maintains that Andrew's special education teachers could do the same thing for Andrew. But Sabin told the Washington Post that Alaya's reaction time in detecting a seizure is 5 to 6 seconds; a teacher might have a reaction time of 30 to 45 seconds or more.
And, Nancy Stevens told Lauer Tuesday, not only is that response time crucial when Andrew is having a seizure, she believes that Alaya can actually predict a seizure before it happens. Lauer noted the evidence that an epilepsy service dog can sense an oncoming seizure is inconclusive, but Stevens remains convinced.
"There are plenty of people that have seizure dogs that the dogs forewarn them in some way, shape or form," she said. "You just have to watch for the signal."
Butting heads with the school has only added to the stress the family feels over their son's future. Andrew runs the risk of stroke at nearly any time, and doctors have told the family he may not survive his teens. Nancy Stevens told NBC she worries "every day that one day God will decide to take him home."
But for now, she simply wants her son back in the classroom, with Alaya by his side. Currently, the family is having Andrew home-schooled while it attempts to work out an agreement with Fairfax Public Schools, but they want a more social environment for their son.
Alaya would allow Andrew to have that school experience safely, Stevens said.
"When he's having a seizure, he's unconscious the whole time when he's seizing; he doesn't know what he's doing, he doesn't know when a seizure is coming," Stevens told Lauer. "He could walk into a wall; he could fall down. And the dog won't allow him to do that, because the dog is going to direct him and make sure he's safe."