/ Source: TODAY contributor
Toddler Bronson Staker was an adventure-seeking bundle of energy on the TODAY show set in New York City Thursday: Sporting a fashionable fauxhawk and an impish smile, the 2-year-old wrested free from his father's lap and made his way around the comfy couches, and became mesmerized when he spotted himself on a video monitor.
Not bad for a boy who was pronounced dead on arrival at a Utah hospital just 10 months ago, an apparent victim of drowning in the family's bathtub.
Bronson, dubbed the "Miracle Baby" for coming out from the other side of death, made a return appearance on TODAY along with his folks, Matt and Sara Staker. They updated the story of a seeming resurrection that they originally told TODAY in March, a story that has doctors still scratching their heads and Bronson's parents thanking their lucky stars every day.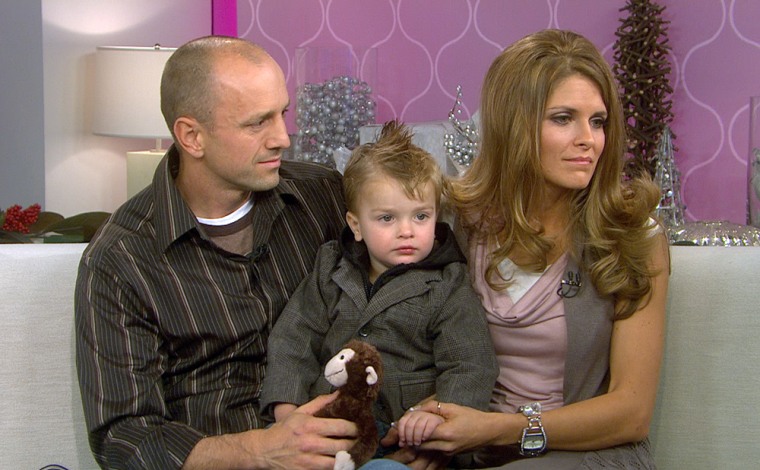 "We're intensely aware that not every parent who goes through something like this and finds themselves in this unfortunate situation is able to experience the outcome they hope for, and we feel so grateful and so thrilled," Sara Staker told Meredith Vieira Thursday.
While Bronson protested to his dad "Put me down!" as he wiggled on his lap, the Stakers relived the moment when they had every reason to believe they had lost their youngest child forever.
In late January, Sara was bathing Bronson and his older brother in the family's Salt Lake City home; she got distracted for a moment by one of the couple's other children and left the bathroom. When she returned, she faced every mother's worst nightmare: Bronson was floating facedown in the water.
"He was white, his eyes were rolled back in his head, his lips were blue," Sara Staker told NBC News. She administered CPR to no avail, and an emergency medical team dispatched to the home had no better luck; by the time Bronson reached the hospital, he was pronounced DOA.
Still, doctors continued resuscitation efforts and, after 40 minutes, were able to restore a heartbeat. But the true miracle started after that initial success in bringing Bronson back from the dead.
Doctors told the Stakers that Bronson had likely suffered irreversible brain damage; however, there was an experimental treatment called therapeutic hypothermia that might improve his chances. The process involved lowering Bronson's body temperature to 91 degrees and putting him in a coma to reduce brain swelling. The Stakers asked the doctors, "If this was your child, would do you do it?" And when they were told, "Absolutely, yes," they gave the green light.
The Stakers watched helplessly as Bronson lay in a coma for 13 days, hooked up to more tubes than they could count. Doctors tempered the family's expectations, telling them they would probably be taking home from the hospital "a 16-month newborn" who might not even recognize his parents, Sara told TODAY.
Even the most hopeful of physicians was amazed when Bronson was brought out of his coma — his eyes began tracking around the room, and he recognized his mom. Within a day, he was standing; a day later, walking. In just two days, he walked right out of the hospital under his own power.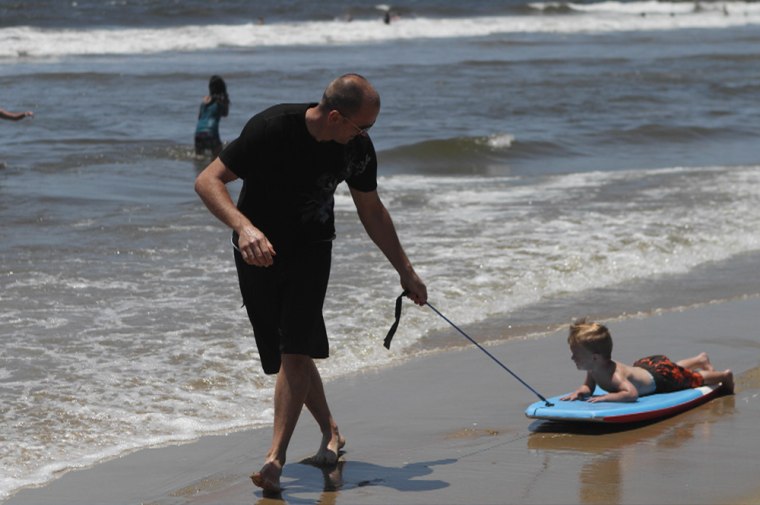 Upon leaving the hospital, doctors gave the Stakers a list of milestones Bronson might be reasonably expected to hit over a six-month recovery period. He hit them all in two days. Within a few weeks, he seemed hardly the worse for wear.
Speaking on TODAY Thursday, Sara Staker told Vieira she believes it was nothing less than a higher power that gave the family back their baby boy fully intact.
"I don't know that there's an explanation other than the fact that we feel beyond anything anyone could give any sort of doubt to us, that it was a miracle, and that miracle was brought to pass because of the will of the living Father in heaven," she said.
Signs that Bronson remembers anything about his near-death experience are few and far between: Sara reports that the boy gets a little anxious if she leaves his sight, and he did experience some anxiety when he slipped a bit while taking his first bath following his near miss.
But water doesn't scare him in the least: He's taking swimming lessons and happily dives off a pool's edge and splashes into the arms of his dad. He's had his first swim in the ocean as well, Sara reported.
"From the beginning, he's always loved to swim, he's always loved to bathe, he's always loved to be in the water and around water, and he's been fearless about it, which is maybe why I was a little too comfortable [leaving him unattended in the bathtub]," Sara told Vieira.
That leads to the feelings of guilt that Sara still experiences from the fateful day when she almost lost Bronson. Speaking with Vieira, Sara snapped her fingers and said, "Life is fragile, it can turn on a dime," and said of the day, "I lost my focus; I made a huge mistake."
"You don't blame yourself," Vieira asked, trying to comfort Sara. But she responded, "Absolutely; I will always blame myself." Recovering a bit, Sara said, "But that's another topic for another show; we will talk about guilt another day."
"But the point is, he is doing so remarkably well, and that's not due to anything that we've done … It's just a miracle, and we are so grateful for that. We try to embrace every moment and celebrate every key milestone."
She added the family's thoughts are never far from the families who haven't had the happy outcome theirs has.
"So many families that we have been made aware of have gone home with empty arms, or they've gone home with children who are severely different from the child they had before, and it just makes us that much more grateful," Sara Staker said.