/ Source: The Associated Press
"The Story of Little Black Sambo," a tale about a boy who outwits four fierce tigers by giving up his new clothes, has been reprinted with new illustrations to replace the condescending renderings of its young black protagonist.
But the new version has reignited a decades-old debate over the book's ethnic stereotypes.
The new edition of Helen Bannerman's 1899 story, with illustrations by Christopher Bing, was released last month by Handprint Books. It already enjoys a place as one of the top 40 children's books on the Kirkus Reviews' 2003 Editor's Choice list.
At one level a charming narrative, Bannerman's book has been called racist for its stereotypical caricatures and derogatory character names: Sambo, and his parents, Mumbo and Jumbo.
Handprint publisher Christopher Franceschelli hopes readers will focus on the "core theme" of the book, which he describes as "this joyful child going into the wilderness and conquering it."
"This is a story that rings true and holds true," he says. "My hope with this book is that those who are children will recognize Sambo as a hero, brilliantly illustrated."
Word has a historyCultural historians are divided over the new version.
"It's so deeply embedded in the generic culture that no amount of revision can sanitize it," Russell Adams, chairman of the Afro-American Studies Department at Howard University, says of the word "Sambo." The use of "Sambo" as a pejorative dates to the mid-19th century.
Adams, who was contacted by The Associated Press for comment but had not seen the new version, calls the new book "an unnecessary trip" because "the legacy is so dense around the Sambo concept, it's part of the Huckleberry Finn culture of our country."
Randall L. Kennedy, a professor at Harvard Law School and author of the book "Nigger," which examines the roots of that racially offensive word, said there may be some historical value in reviving the story.
"Do we want people to know about the word 'Sambo'?" he asks. "The fact is, it has a very interesting history. It obviously has been used in very racist, despicable ways, and that should be known."
The book tells the story of how little Sambo runs into some tigers who want to eat him. He outwits the tigers by giving them his fine, new clothes, and then watches them bicker over who looks grander in them. As the tigers chase each other around a tree, running in circles, they melt into a pool of butter. Jumbo discovers the butter and brings it home, and Mumbo uses it to make pancakes "as yellow and brown as little Tigers." Sambo eats 169 "because he was so hungry."
Bing depicts Sambo as a happy boy with short curly hair. He sets Sambo in what he describes as "a fantasy in India," melding Islamic, Buddhist and Christian architectural elements; Mumbo wears a sari and Jumbo is drawn with a turban.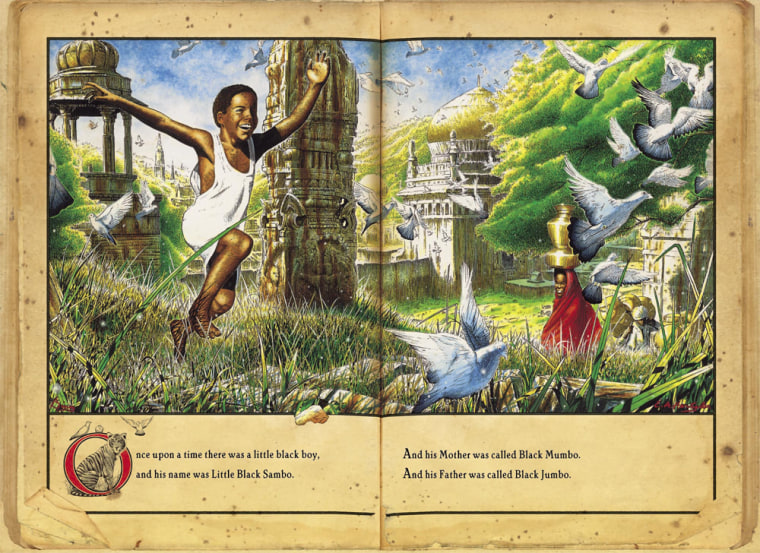 The 31-page, big format edition contains a note from the publisher acknowledging the story's "dark and complex history." The book has an antique, weathered appearance with a simulated tiger-clawed cover. The illustrations are richly colored, with much yellow and gold to perpetuate the antique look.
Publisher Franceschelli and illustrator Bing, who are both white, say that "Little Black Sambo" was their favorite childhood tale, one of the first to introduce a black person as a hero.
Bing, an award-winning children's book and newspaper editorial illustrator, says his drawings of Sambo began as a personal project 20 years ago. Bing said friends, including blacks, encouraged him to have the new sketches published.
"I feel people who truly love the story see the character the way I drew him, in a positive way, rather than as a negative buffoon," Bing says.
'Can't whitewash and erase history'Bannerman, a Scot who lived in India for 30 years, wrote and illustrated the book for her two young children. Although she never intended to have the story published, "Little Black Sambo" was printed in England after a friend showed it to a publisher. It enjoyed success there, as it did in the United States where it was published a year later. Over the next four decades, pirated — and far more racially disturbing — versions followed.
"It was ultimately impossible to reconcile the story with the outrageously racist images — either Bannerman's (no matter how naively drawn) or the far more racist others which followed," the new book's historical note says.
Two other, updated versions of the book, both published in 1996, chose to strike the word "Sambo" from the title and text because of its derogatory connotation.
But Franceschelli says his publishing house kept the original title and text because "we can't whitewash and erase history. ... I can't undo history, but I do hope I can forge a better understanding of it."
Changing the title and the names, Bing said bluntly, "would be like hiding. ... I would see it as veiled racism."
But Richard Yarborough, associate professor of English and faculty research associate with the Bunche Center for African American Studies at the University of California at Los Angeles, questions the need for the remake.
"Why try to salvage it? What do we gain by trying to refashion and salvage that text?" Yarborough says. "There are millions of stories in the world that come out of different cultural perspectives that merit this kind of loving artistic treatment."
And Todd Boyd, a professor at the University of Southern California's School of Cinema-Television, says the publisher seemed to be "trying to find something virtuous in something that is inherently flawed. The name itself conjures up the same negative images that the (original) illustrations overtly represented."
Says Bing, "If you take away the name Sambo you cannot find anything racist in this book."
Bing maintains that Bannerman's use of Sambo, Mumbo and Jumbo was misunderstood. He says Sambo was derived from Sam, a common prefix for an Indian boy's name, while Mumbo and Jumbo had mystical Indian roots.
"Remember, this was written for her daughters," he says. "She used Mumbo, Jumbo very much in the same way as Abracadabra. ... Over time, it came to be used as derogatory. But she did not mean for those words to be derogatory, only to make the mother and father magical."
As for Bannerman's drawings, Bing says, "She was not an illustrator. She had just drawn them for her children. The tigers are as poorly rendered as the boy."
UCLA's Yarborough says he respects Bing's personal engagement in the story but questions the value of reviving it.
"We all have to leave behind cherished images and comfortable ideas, beloved cultural products, as we move into a new world of empathy and respect," Yarborough says.