Want help slashing your grocery budget? Why not turn to "the cheapest family in America?" For the Economides, a family of seven from Arizona, they consider that title a badge of honor.
In their latest book, "Cut Your Grocery Bill in Half with America's Cheapest Family," Annette and Steve Economides give dozens of money-saving tips that'll keep more cash in your wallet at the check-out stand. An excerpt.
Shopping to win: Grocery stores are not set up as charitable organizations designed to help harried shoppers get what they need at the lowest price and then get home. If you think that they are, you've been lulled into a sense of complacency by spending too much time listening to that carefully orchestrated, canned music in the stores. Grocery stores are strategically designed to encourage you to buy the products on which the grocer makes the greatest profit. If you are going to win at the grocery game, you've got to know how to take your plan and stick to it. Just as a marathon runner has to navigate through a maze of other runners as well as up and down hills and valleys to get to the goal of the finish line, you've got to be prepared to navigate through various distractions and detours at the grocery store to reach your goal of feeding your family for less.
Pace yourselfThis chapter is the largest in the entire book. It's so full of money-saving ideas, strategies, and things to watch for that you may not be able to absorb it all in one sitting. So, being a smart marathon runner, you'll have to pace yourself. But we promise you that as you apply and master each of the skills we describe, you'll cross the finish line and win a gold medal (or the equivalent in cash)!
We're going to share seventeen strategies that we employ to get the best quality food at the lowest prices possible. Over time every winning athlete learns "tricks of the trade" to give them the upper hand on their opponents. We're going to share some of the tricks we use to score incredible savings in several departments of the store. If you follow our advice, you'll not only save a ton of money, but you'll reduce your stress level and the amount of time you spend gathering food for your family.
If you're at all like us, reading a detailed list of things we can do to lose weight, make more money, or have healthier skin completely overwhelms you, and as a result you just don't know where to start, so you don't do anything. To help you get some traction, we're going to use a couple of rating symbols:
Time: on a scale of one (not much time) to three (many hours), we'll give you an idea of what we think the amount of time you'll need to commit to see maximum savings as a result of using a particular strategy.
Return: On a scale of one (a little money) to three (lots of money), we'll give you an idea of how much money you can save by implementing a particular strategy. We look at it as a return on our investment of time.
By looking at our rating system you can gauge if you are ready to try one of the several ideas we are going to suggest. To be honest, some will take quite a bit of time before you see a return, but the return, once you master the skill, will be high. Others will take less time and will only return a small amount of money. Remember that pennies add up to dollars and dollars add up to hundreds of dollars. Your cumulative savings will snowball even when you utilize the simpler strategies.
Are you ready? Grab your shopping cart — the race is about to begin — runners take your mark — get set — let's go!
Strategy 1: Commit to spending less time shoppingHow many times have you said, "I'm running to the store to pick up something for dinner—be back in a few minutes"? If you're like most families, this is a commonly used phrase and is music to a grocer's ears. We try not to sing that song at our house. For over twenty-five years we've done one major shopping trip for groceries each month. Limiting our trips to the store is one of the many ways we have managed to keep our food budget at $350 per month (including all food items, paper goods, personal care items, and cleaning supplies) for the past decade. Limiting our shopping trips saves time and money. But before we get into how we find deals in different departments of the grocery store, we're going to describe how our monthly shopping trek came about and how we actually accomplish it.
When we were first married, Annette did what her mother did — she went to the store once a week to pick up the food we were going to eat that week. She looked at the ads, made a list, and usually only went to one store. In 1984 a neighbor in our small apartment complex offered to let us share her freezer. She had a 17-cubic-foot upright freezer that wasn't full. Allowing us to fill a shelf helped her freezer to run more efficiently and allowed us more space to store food — especially sale items. With that one change, Annette went from shopping once a week to once every other week. As a result she cut her shopping time in half! The use of our neighbor's freezer was the start of our economizing journey. There were drawbacks though. We could only access the freezer when she was home. This required Annette to think ahead. If she wanted to cook a roast, she'd have to get it from the freezer the night before because our neighbor worked and wasn't home during the day.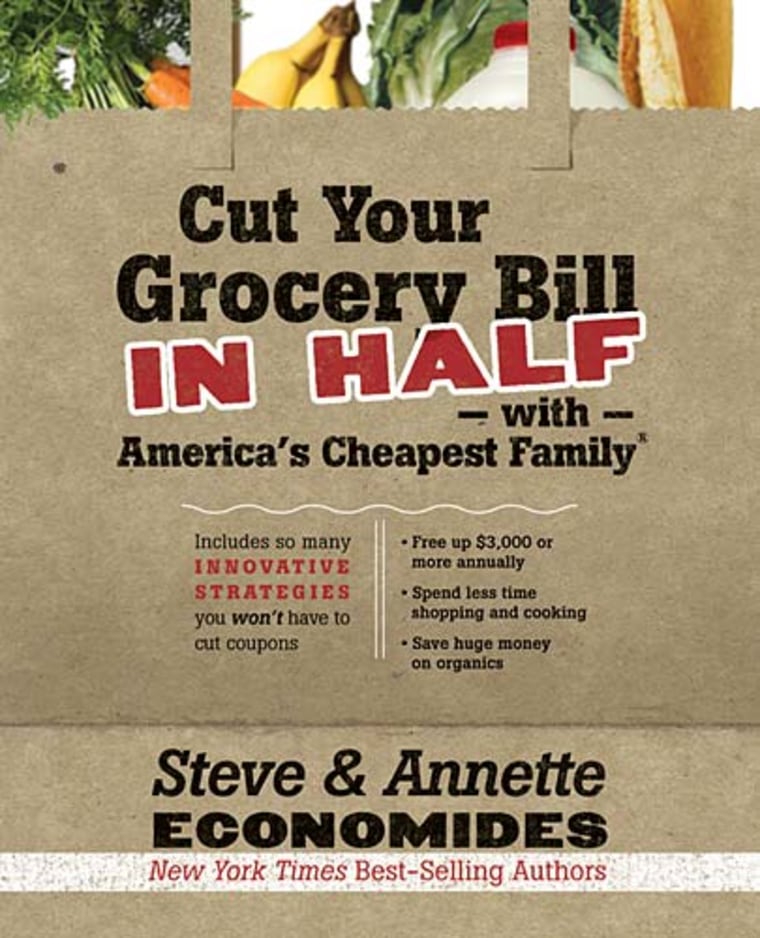 A year later we purchased a used, 9-cubic-foot freezer from a family friend and were able to store even more frozen food. That's when Annette decided to try shopping once a month. She was pregnant with our second child, Becky, and found that the task was pretty arduous, so she enlisted the help of a single friend. The two of them spent four hours shopping at the store and came back physically and mentally exhausted.
Steve was working as a graphic designer for a large graphics studio in Phoenix that did package design for Dial Corporation. He helped redesign Purex detergent, Old Dutch cleanser, and lots of Decker meat labels. When Annette asked him to help her grocery shop for the month, it was less of a sacrifice and became more of a research project to see how the products he had helped design stood up to the competition on the shelves of the store. That was in 1985, and we've been shopping together ever since.
The outer loop and the inner aislesInitially Steve was a "go-fer." Annette would have the list and coupons in her cart and would have Steve "go for" various items and bring them back to the cart. Eventually, as his proficiency increased, he graduated from "go-fer" to having his own cart and then his own set of coupons.
Our way of shopping now is similar, but definitely more efficient. We each have areas of the store we are responsible for canvassing and collecting bargains from.
We divide up the list with Steve assigned to pick up items in the dairy section, wall deli (lunch meat, cheese, etc.), meat, and produce departments. Annette picks up items located on the inner aisles (where most of the coupons are used). With our list of items to pick up, we split up and get to work.
The media have really latched onto the idea that we use walkie-talkies to communicate in the store. We don't do it for the attention; we do it for the efficiency. Our eldest son, John, was working at a sporting goods store and got an employee discount on a clearance pair of Motorola walkie-talkies, and we decided to give them a try.
We used to shop on Friday nights, and Steve would be pretty wiped out after a fifty-plus-hour week as an advertising account exec. So the walkie-talkies saved him having to walk all over the store, looking down each aisle for Annette, when he came across an unadvertised sale or needed clarification on a quantity for an item on the list. Now we use them to crow about the great deals we find. When we speak at conferences, Annette says that if you want your husband to help you shop, giving him an electronic toy like a walkie-talkie is a great way to get him to "play." Today with the proliferation of cell phones, if you have enough spare minutes, you could just as easily use them.
If you don't have a willing spouse or you're single, you can still shop once a month. If your family is smaller, the task can be accomplished alone, but if you have a larger family, you might have to enlist the help of a friend or one of your children. Teaching your kids to shop efficiently is really helping them practice a great life skill. If you have several kids, take them one at a time once they are old enough to be helpful.
Using our aisle and loop system with our lists and walkie-talkies, we can usually visit two stores in one night. Why two stores? Easy. In our area we have a lot of grocery competition — over eight different choices. After Annette has fully reviewed the store ads, she usually picks two or three stores with the best sales and that's where we shop. Like we said earlier, one store is picked solely for its loss-leader sales and the second store is selected because it has some good sale prices, but overall better prices or better selections. If a third store must be visited, Steve usually goes there on Saturday morning while Annette starts her once-a-month cooking ritual.
Take the shop-less challengeIf you're going to the store several times each week, commit to going only once this next week. Even if all you have is a small freezer attached to your refrigerator, you can still limit your trips to the store by planning a weekly menu. Okay, here's the tough part, but we know you can do it. If you run out of an ingredient or forget an item, substitute it with something else, borrow it from a neighbor, or make a different meal — just don't go back to the store. You can do it — it may take some time to perfect your system, but eventually it will be as easy as breathing.
Recently, Annette was making a homemade pot of spaghetti sauce and realized that she was out of celery. So she called our neighbor Rob to see if she could borrow a few stalks. He said, "No problem, come on over and get it." Then Annette asked if he would like her to send over a quart of sauce when it was made. Rob said, "Wow! I'm getting the better end of this deal." Rob did end up getting a good deal, but so did we. Annette didn't have to run to the store for a couple of stalks of celery, and we were able to continue to strengthen a relationship with a great neighbor.
If you've been able to limit your trips to the store to once each week, try taking the next step and stretch your trips to once every two weeks. Step-by-step you can refine your planning and shopping skills to the point that you are able to minimize the time you spend shopping and maximize the amount of money you can sock away. Repeat this over and over: The less I shop, the more I save!
Read what a friend of ours has accomplished by taking our advice: I took your advice and reduced my trips to the store. I was one of those people who would shop two or three times each week — spending 75 to 100 dollars each time. I now shop one time each week spending a total of 100 dollars. This change has cut my weekly food bill at least 100 dollars — that's about 400 dollars each month ($4,800 per year)! — Jennifer from Troy, Mich.
Strategy 2: Get your tools together
We also have a checklist of things we take to the store to help us work quickly and efficiently:
The Shopping List. Yup, it's been forgotten a couple of times. It's hard to execute your plan ... without the plan.
Sale Flyers. We bring these just in case the advertised items are priced differently in the store or if we see a special price and are not sure if it is less expensive at another store.
Calculator. Used to help determine the best price on differing sizes of items. Especially helpful if the stores don't have shelf tags that break down the unit cost for you.
Coupon Caddies. We both have our own systems. Forget the coupons and you can forget some planned savings.
Paper Grocery Bags. We collect these from local stores and create our own double bags. At home, we store about twenty of them folded up inside another grocery bag. We prefer paper to plastic because they hold more items, are stronger, and at some stores earn us a bag credit of 5 cents. And they're durable — we have some bags that we've been using for over six years. They also make checking out much faster. Single paper bags rip easily, but having bags already doubled allows them to be packed fuller and carried easier.
Water Bottles. This saves time during the long shopping excursion — no trips to the drinking fountain are needed, and there's no temptation to buy a latte or other drink.
Ice Chest. During the summer, we always take a cooler along to store frozen items while we shop a second store — the Arizona heat can be brutal on ice cream!
If you're a more visual person, visit our website — AmericasCheapestFamily.com — and go to the "In the News" section, where you can click on several videos of our grocery shopping habits.
Okay, so you've got a plan. You've got your menu, shopping list, and all of your "tools." And you've got a goal — to just go to the store once and get all the groceries that you need. But you need to know that there are sinister plans afoot, which have been devised by many cunning and calculating individuals (better known as grocery merchandisers and product marketers) to induce you to buy the items they want you to buy. They want your money and they want their plan for you to become your plan for you. Beware of impulse buying! In reality, we know that these marketers are just everyday people like us, trying to do their jobs, but we need to be aware of their techniques so we can do our job and live within our means.
Strategy 3: Avoid impulse buys
How many times have you gone to the store to pick up one or two forgotten items and ended up with seven to fourteen items in your cart? You get home and explain to your spouse or kids that you thought of a few more things you needed or just couldn't pass up this great bargain. Grocers have strategically designed their stores to cause you to walk past things they want you to buy on the way to the most commonly purchased items that you came in for. Did you ever wonder why the milk and eggs are always at the back of the store? Still skeptical—we aren't anymore — we learned this lesson in an unusual way.
Years ago when Steve was working in the graphics field he had a client (Bill) who marketed cheese products on military bases worldwide. Steve was responsible for producing point-of-sale materials, shelf danglers, and coupons — millions and millions of coupons. One particular point-of-sale promotion they worked on was called "Pasta Tonite." The concept was to produce a commissary display featuring products from the cheese manufacturer — particularly Parmesan cheese — along with products from other cooperating manufacturers. Things like: Italian salad dressing, croutons, spaghetti sauce, tomato paste, tomato sauce, Italian bread, pasta, and a few other products that would help a harried shopper pick up all that was needed to have "Pasta Tonite." Steve also produced a large colorful banner announcing "Pasta Tonite" and a coupon sheet that was distributed at the display. There were no special prices posted with the display. The coupon sheet was the only thing that mentioned price and it was intentionally designed to be confusing — it featured nine different coupons from several manufacturers, and to use any one coupon you had to buy at least three of the products on display.
Sales of the items on the display increased 38 percent, while coupon redemptions were less than 1 percent. The manufacturers loved this. They saw a huge increase in sales and it cost them very little. Remember that manufacturers not only reimburse the grocer for the face value of the coupon, and seven or eight cents — to process the coupon, plus they pay a coupon clearinghouse to process the coupons. This promotion was so successful that it was run for five consecutive years.
Why was the promotion so successful? The large product display — mountains of pasta, sauce, Parmesan cheese, and other items — was attractive and took up a good amount of space. You couldn't miss it when you walked through the store. But more important, it made it easy for the shopper to pick up (on impulse) all of the ingredients needed to make a complete meal. The items looked appealing — mmmm, the thought of a tasty, easy, cozy spaghetti dinner — and it played perfectly to an un-suspecting shopper's impulsiveness.
If you walked by the display without a plan or without a menu, you could easily be seduced into buying the whole deal. Remember there were no sale prices, no big savings, just a convenient way to pick up an entire meal without having to visit several aisles of the store.
It is a standard practice of grocers to put displays of sale items at the entry of their stores. The sooner you start putting things in your cart, the more likely you are to continue to put things into your cart. We know we've only presented our experience, but keep reading — we've got some extensive statistics to back up what we have learned.
Steve read in a grocery marketing magazine about a research study called "Where the Rubber Meets the Road: A Model of In-Store Consumer Decision Making." The study was produced by J. Jeffrey Inman and Russell S. Winer (if you want to read their entire findings, go to our website and search for "Inman"). These two men researched the effects of in-store marketing, promotions, signage, and displays on the purchases that consumers made. The data for this well-funded study was provided by the Point-of-Purchase Advertising Institute (POPAI), which spent in excess of $400,000 gathering the information. They surveyed over four thousand shoppers in fourteen different cities. In total this represented over fifty thousand items purchased. Shoppers were surveyed on fifteen different variables, including: use of a list, number of people shopping, the number of aisles shopped, number of trips to the store each week, whether they were basing their purchases on a store ad or not, the number of items picked up from end-of-aisle displays versus in-aisle, and several more variables. The thirty-eight-page report written by Inman and Winer goes into great detail about the factors that influenced the purchasing habits of these consumers. But to summarize, here's what we gleaned from the report:
Shoppers who run to the store for a "quick trip," planning only to buy a few specific items, will end up putting 54 percent more items in their carts than they expected.
Larger households picked up 20 percent more impulse items than smaller households: 54.7 percent of the purchases of one-or-two person households were impulse buys, whereas 65.7 percent of the purchases for households of five were impulsive.
47 percent of the shoppers surveyed went to the store three or four times each week.
Displays at the end of each aisle (end caps) produce higher impulse buys — 61 percent compared to 58 percent for in-aisle displays.
Items displayed in the checkout lane produced the highest rate of impulse buys at 64 percent.
The more people you take shopping with you, the more impulse items you will pick up: impulse buys for one shopper were 57.1 percent but increased to 64.8 percent with multiple shoppers.
The number of unplanned purchases increased by almost 30 percent as more aisles were visited.
Although this information was gathered in 1998, there has not been a study of this magnitude commissioned since then, and from what we've observed, their conclusions are still accurate today. The bottom line to all of this research is threefold. You'll be able to walk past items you really don't need, no matter how enticing, and purchase the items you planned to buy if you become a more informed consumer, plan your shopping trip better and are aware that you are a target for product marketers and can resist their urgings for impulsive purchases.
You can reduce your number of impulse buys. You can shop less frequently, avoid impulse buys, and use the money you've saved to get away on vacation to some remote area where researchers never go. If you curb your impulses, you will save!
Strategy 4: Know your prices!One of the mantras that Annette shares with people at conventions and other speaking engagements is, "You've got to know your prices!" How can you know if an advertised sale price is truly a good deal if you have nothing to compare it with? Years ago, Amy Dacyczyn, creator of the Tightwad Gazette newsletter and books, encouraged the creation of a price book. Annette did this for quite a while, and it was a great tool to help her know when a sale price was really a sale price. Here's how she set it up:
Using an old three-ring binder, Annette filled it with loose-leaf paper. She titled each page with an item we commonly purchase — her pages were arranged alphabetically and went from applesauce to vinegar. Initially, she filled it in whenever she went shopping, taking time to stand in the aisles and record the prices. She even sent Steve to a warehouse club to gather prices on a few items. Later, she simply updated it from the store ads she received each week and occasionally wrote in prices from items not usually profiled in the ads. She titled each page with the item name and then added columns headed: date, store, brand, size, price, and unit price (either pound, ounce, or per piece). She didn't use a computer, but you could easily set this up with a word processor or spreadsheet, copy the sheet on this page, or go to our website to print out more copies.
We recently updated some data from our price book page for raisins, so you can see the valuable information it provides. You can easily see that prices doubled between 2004 and 2009. We usually find that larger containers offer lower prices, but in our 2009 price comparison, we discovered that a 12-ounce container of raisins earned us the most savings. How much did it save? The highest price was $3.72 per pound and the lowest was $2.66 — a difference of $1.06 per pound or 28.5 percent. Learning your prices and regularly calculating unit costs can result in significant savings. This is one of the major reasons we always shop with a calculator in hand.
Item: RaisinsDate       Store             Brand                    Size         Price       Price per unit4/10/04   Fry's/Kroger    Dole                      4 lbs.       $5.07       $1.27 lb.5/15/06   Trader Joe's    Organic Thompson   1 lb.         $1.59      $1.59 lb.5/15/06   Sam's Club      Sunmaid                4 lbs.       $5.19       $2.03 lb.9/15/09   Fry's / Kroger  Kroger                   1.5 lbs.     $4.99       $3.32 lb.9/15/09   Fry's / Kroger  Sunmaid                1.5 lbs.     $4.49       $2.99 lb.9/15/09   Fry's / Kroger  Sunkist                  12 oz.      $2.00       $2.66 lb.9/15/09   Fry's / Kroger  Sunmaid                15 oz.      $3.49        $3.72 lb.
Eventually you'll discover that some items are less expensive at specialty, dollar, or discount stores than at grocery stores.
Watch your confidence level soar as you become less of a consumer and more of a commodities broker — knowing when a price is great, and buying enough to feed your family for months. Eventually, you'll become as confident in your knowledge as Annette has been during several interviews when she's said, "I'm the Warren Buffett of groceries." We'll share more about the value of stocking up and storing your bargains in Chapter 6, "Stocking Up and Organizing."
Hopefully by this point, you see the value of being mentally prepared when you enter the store. You'll be able to avoid impulse buys by following your plan, and you'll know when a deal is really a good deal by using your price book. Most grocery stores don't like to "play nice" or make it easy for you to compare prices so you can get the best deal. They are going to throw obstacles in your path. How well can you calculate?
Calculate thisMany grocers intentionally make shopping confusing by advertising prices of items in multiple quantities—3 for $5 or 4 for $5. By advertising items in groups of multiples they are encouraging us to buy the quantity they describe, whether we need it or not. Being able to quickly calculate the actual unit price of multiples is essential to getting a good deal at the store. Take this quiz and see how quickly you can find the unit price for each multiple deal.
Instructions: Draw a line from the Deal Price to the correct Unit Price. Prices have been rounded up to the nearest penny.
Deal price                                         Unit price10 for $10                                        $1.253 for $5 Daisy Sour Cream, 16 oz.         $3.002 for $7 boxes of Splenda                    $1.673 for $3                                           $1.002 for the price of 1 @ $5.99                $3.50Buy 1, get 2 free for $5.99                  $1.00Buy 2 (@ $1.50 each) and get 1 free    $2.004 for $5 Fleishmann's Margarine, 1 lb.    $2.336 for $1, gift bags                             $1.003 for $7, 12-packs of soda                  $0.17
Note: The answers are not provided ... we want you to use your head or your calculator to get it right.
Be on your guard when your grocer advertises deals in multiples. Read the promotion carefully. Sometimes you only get the lower, sale price if you do buy a prescribed number of the item. Other times the promoted price — 10 for $10 — really means that no matter what quantity you purchase, your price is $1 each.
Strategy 5: Read the shelf tags In the 1970s several consumer advocacy groups and public policy officials put pressure on the grocery industry to provide consumers with some sort of standardized unit price information in stores. Over the years most grocers and other retailers have complied, but there has been no standardized requirement for how this information should be displayed. As of 2007, eighteen states required unit pricing to be displayed for products on grocery shelves. The National Conference on Weights and Measures has tried to create an industry standard for the display unit price information, but their proposals haven't yet been implemented. Surveys we've read show that the larger the price per unit is printed, the easier it is for consumers to comparison shop. And the easier it is for us to compare prices, the quicker we'll be able to select a less expensive option. This is great for the consumer, but not for the grocer. Some grocers have made the unit pricing information so small that it's really tough to find or read, but others have created a consistent, readable, and usable system for displaying the information.
The key for us as shoppers is to use the information to find the best product for the lowest price. Being able to quickly compare product size, total price, and unit price makes selecting the right product for our budget easier.
A few years back we were on a committee to plan the food for a church camping trip. We were expecting about two hundred people and, of course, we were trying to keep the cost down for the food we were buying. One of the meals was going to be hamburgers. When checking the prices, it was incredibly helpful that the grocer provided per ounce costs for the frozen burgers we were considering. If you haven't looked at burgers in a while, there are loads of options and prices. You can get 95 percent lean down to 70 percent lean; ground sirloin to just plain ground beef (beef fat is considered beef ... right?). And the price per ounce can range from 12.4 cents to 21 cents. The nice thing about per unit shelf tags is that you don't need to be a math wizard or have a calculator to compare prices and get the best deal. If your store doesn't provide shelf tags with unit costs, ask them to, and if they do provide them, read them and save.
As long as we're talking about prices, let's wander over to the meat department and see what kind of deals we can wrangle.
Strategy 6: Hunting meat bargains within your limits Years ago, it was the man's "job" to hunt for the meat to provide for the family. All it cost was shoe leather, a few days of trudging through the forest, some bullets or arrows, time to clean and dress the meat, muscles to lug it all home, and space to store it. Today the chore isn't quite as arduous or physically taxing, but to do it economically, you still need good tracking skills, a place to store your prize catches, and the ability to know when to "pull the trigger" and buy.
No matter what type of meat we purchase, over the years we have established a per pound "buy price" for various cuts of meat. When we find items priced at or below our buy price, we stock up and freeze them. Buying meat this way can save you "oodles." Your taste and budget for meat products will, obviously, be different from ours. Please take these suggestions and apply them to the cuts your family prefers and what your budget can afford.
Note: Because prices can vary dramatically depending on where you live, do your own comparisons and learn the range of prices in your area.
Beef: London broil is great for grilling, beef and snow peas, and making beef jerky. We buy when it is $1.69 per pound or less. Recently after Passover, we came across a closeout sale for some frozen Kosher London broil priced at 99 cents per pound. We bought most of what they had.
Chuck steak makes a terrific, juicy, marinated and barbecued steak. We know some people may disagree, but hear us out. Yes, there are plenty of leaner cuts of beef that grill up great. But for our money and taste, a marinated, tenderized, fat-removed, chuck steak is delicious and costs about 75 percent less than other premium cuts of meat. A good price is 99 cents to $1.29 per pound. Trimming fat and bone makes the net price about 25 percent more.
We once hosted a picnic for several families, a potluck where we provided the meat and the others provided the side dishes, drinks, and dessert. We purchased several pounds of chuck steaks inexpensively. We trimmed and tenderized the steaks, then marinated them in teriyaki sauce and wine for a day. When we informed our guests that we were having steak, they were amazed. They could smell it cooking on the grill and waited in eager anticipation. When they tasted it, they were enraptured. And when they asked how we afforded feeding a steak dinner to twenty people, we smiled and said it was our gift to them. We told the secret to a few of our closer friends.
Another use for chuck is pot roast with potatoes, carrots, onions, and gravy — it's delicious. We also use it to make our own ground beef — this ground beef is leaner than the most expensive stuff you'll find in the store. We use it in chili, hamburgers, meat loaf, Salisbury steaks, shepherd's pie, sloppy joes, and tacos.
Round steak is used for recipes like shish kebab, stew, and beef stroganoff. We buy boneless round steak when it sells for $1.57 per pound or less.
Roast beef is a rarity at our house. It seldom goes on sale for less than $1.50 per pound, but when it does, you can bet we'll be serving it with garlic mashed potatoes and green beans. A few years ago we bought some for a church camping trip, cooked it up, sliced it, and served it as lunch meat — we only paid $1.99 per pound for it, but it was selling in the deli case for $5.99 per pound.
Corned beef goes on sale for $1.59 per pound or less — we recently saw it for 99 cents per pound after St. Patrick's Day. It makes great Reuben sandwiches.
Beef brisket is delicious, but often to get the lowest price, about $1.59, we have to buy a 10-pound slab at a warehouse store—Smart & Final. If you find a deal like this, have the butcher cut it into smaller servings you can freeze (or cut it and repackage it at home). We love to cook a brisket in a slow cooker served with a delicious mustard and onion sauce. It's a family favorite.
Pork and Ham: We eat pork chops or country ribs only when we find them for 99 cents per pound or less. Even then, we will have them only twice each month. We cook the ribs in the slow cooker, on the grill, or in the oven, slathered with barbecue sauce. Pork chops marinated and cooked on the grill or breaded and cooked in the oven are another family favorite.
We usually have ham meals twice each month. Our favorite is shank ham with the bone in. Our stock-up price range is from 79 to 99 cents per pound. We have a delicious "secret family recipe" for cooking shank ham with pineapple gravy. After the meat is sliced, we save the bone to be boiled for soup and after that, we give the bone to our large dogs — they love it.
Chicken and Turkey: This can be a touchy subject for some boneless, skinless chicken breast lovers. We simply don't buy just chicken breasts — except for the one time when a nearby mini-warehouse (Smart & Final) had a huge overstock of them for 49 cents per pound. In that instance we bought 30 pounds. There are so many less expensive ways to purchase poultry — whole chickens for 49 cents per pound or legs and thighs from 30 to 69 cents per pound.
And then there are the deals at Thanksgiving each year. That's when turkey prices plummet and we fill our freezer with inexpensive poultry. We use turkey and chicken interchangeably for all poultry recipes. Cooking the meat, saving the broth, and then cooking the carcass again for soup are some of the ways we get our birds to go the extra mile.
With a little practice, some careful scouting, and a steady trigger finger, you can bag some great deals within your limits. Leave the elk to the outdoorsmen — we love to hunt in the supermarket.
There are other ways to bag a deal on beef, and several of our website visitors have shared their suggestions below. These ideas aren't something we would do since we rarely spend over $1.50 per pound for beef and most of the time it's around $1.25 per pound. But if you normally buy more expensive cuts of beef and want to save some money, keep reading.
For more, buy the book at . Excerpt reprinted with permission from "Cut Your Grocery Bill in Half with America's Cheapest Family" (Thomas Nelson Publishing) by Steve and Annette Economides. © 2010 by Thomas Nelson.