/ Source: TODAY contributor
When a hand-size tumor was found on her pelvic bone, mother of two Janis Ollson was faced with an agonizing decision — say goodbye to her toddler and newborn, or face a surgery so radical that doctors had only tried it on cadavers.
But her mothering instincts far outweighed her fear of having the lower half of her body essentially removed and then put back together — and today, Ollson is testament to the marvels of modern surgery performed at the Mayo Clinic in Rochester, Minn.
"If it wasn't for the Mayo Clinic, I wouldn't be here today — and my baby wouldn't know me and my 4-year-old would have forgotten me by now," Ollson told NBC News.
Appearing live on TODAY Friday with her husband, Daryl, daughter, Braxtyn, and son, Leiland, Ollson told Meredith Vieira she remained calm in the face of a cancer surgery that had never been attempted before.
"It was just our faith in the Mayo Clinic," she told Vieira. "I knew my options were either do the surgery or certain death, so I knew I had to do the surgery."
Painful choiceOllson said she had profound back pain while carrying Braxtyn — pain that, in retrospect, may have been the onset of her cancer. But during her second pregnancy in 2007, she knew something was seriously wrong. She told NBC News she experienced "pretty cruel, pretty brutal pain, and it got worse very quickly."
Ollson, 31, of Balmoral in the Canadian province of Manitoba, said doctors initially believed she only suffered from a very difficult pregnancy and "there was nothing more they could do" for her pain, she told the Winnipeg Free Press.
But Ollson pushed forward, seeing specialists until, just before the birth of her son Leiland, they detected a growth on her pelvis. Shortly after delivery, doctors performed a biopsy and learned she suffered from the bone cancer chondrosarcoma. And they gave her even worse news: They would have to virtually cut her body in half to remove the cancer — and they weren't sure how to put her back together.
Still, without the surgery, Ollson faced a death sentence: The cancer was incurable through radiation or chemotherapy. "I was in complete shock," she told the Free Press. "I felt like I was going to throw up."
Her Canadian physicians consulted with experts at the Mayo Clinic in the U.S., where surgeons believed they could devise a way to make Ollson somewhat whole again after surgery. The Mayo Clinic's Dr. Michael Yaszemski told NBC News he and his colleagues went into the clinic's anatomy lab and devised a reconstruction plan, using cadavers for testing.
'I was a mess'
Ollson told Vieira that, mercifully, the family didn't actually know what doctors were planning to do until just two weeks before the surgery. By that time, she had already given birth to Leiland.
"We knew it would be something that had never been done before, but I just believed that was because of my situation that was unique. [But] we didn't know what they were planning on doing."
When they did find out Janis was to undergo groundbreaking surgery, husband Daryl told Vieira, "I was a mess.
"I couldn't tell you how I made it through those couple of weeks," Daryl Ollson said, adding that he did his best to keep his mind off his wife's surgery by taking care of their children and going to his job.
"I was alone with my thoughts on the drive to work," he said. "I have a little bit of a commute, and that was enough." Still, his wife was so optimistic about the surgery that she didn't even say goodbye to her children before entering the hospital — fully believing she would be reunited with them after the surgery.
Two surgeriesOllson endured two operations. In the first, surgeons removed her left leg, half of her pelvis where the tumor had attached, her tailbone and part of her spine. The surgery took 20 hours and involved 12 specialists operating on her. In the second surgery, surgeons took the top portion of the amputated leg, rotated it, and secured it to her pelvis.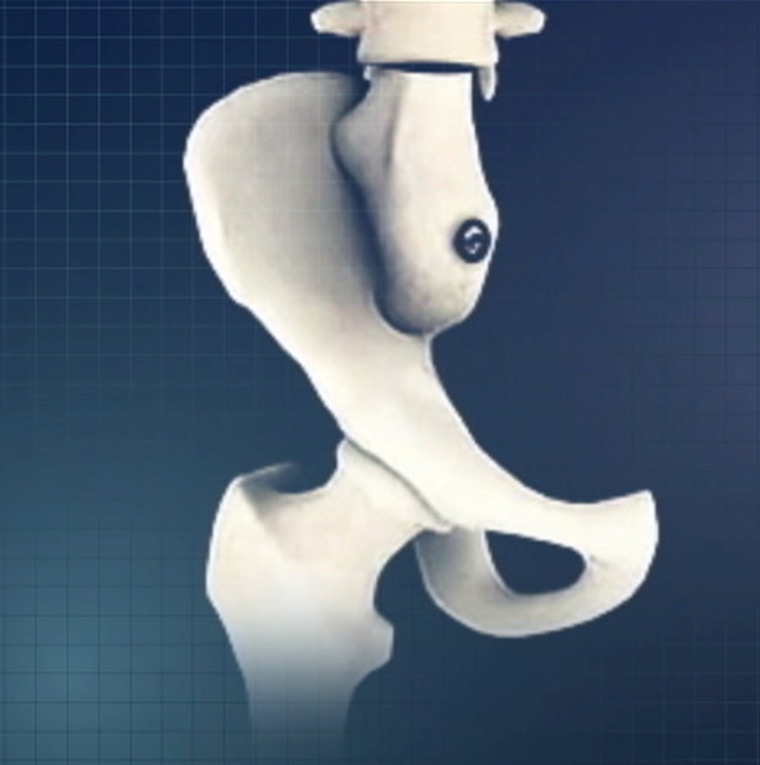 The procedure was radical, risky and untried, but it worked. In talking with Vieira, Daryl choked back tears recalling his first talk with his wife after the surgery. "I came in and the first thing she asked was, 'Am I dying?' And I said, 'No, you remember they said they were going to have to remove your leg?' And she said 'yes.' And I said, 'Well, they did that and you're cancer-free now.' And she said, 'Oh!' "
After what the medical community now calls a "pogo stick rebuild," Ollson has some use of her right leg, supplemented by a prosthesis. Three years after the surgeries, she's a doting mother to her two children and tools around the Canadian countryside on snowmobiles and all-terrain vehicles. Ollson employs crutches or a walker when she is out of the house, and mainly uses a wheelchair for at-home activities.
Best of all, she was able to walk down the aisle with husband Daryl, using only a cane, when the pair renewed their wedding vows on their 10th anniversary in May. "That was amazing," Ollson told Vieira. "Ten years is a long time. As the vows say, we'll be there for better or worse, richer or poorer — and we're just joking saying we've been through everything but the richer part!"
Braving the risksSpeaking on TODAY Thursday, medical correspondent Dr. Nancy Snyderman told Meredith Vieira that she spoke by phone to Ollson and came away admiring her courage.
"She said she knew this was going to be big surgery," Snyderman said. "But because she has kids at home, she said, 'Look, there's no option — I'm a mom, I'm willing to go to the Mayo Clinic, and I'm willing for them to do something that they have not done before.' "
Snyderman noted that doctors at the Mayo Clinic continue to monitor Ollson very carefully. Since the groundbreaking 2007 surgery, three other patients have had the same procedure. Only one has survived.
Dr. Yaszemski told NBC News Ollson is one patient whom he will never forget.
"She and her family have been super throughout all of this," he said. "They have never lost their enthusiasm for life. She has said, and I believe her, that she is not going to let this change the way she interacts with her family and raises her children."