/ Source: TODAY contributor
Erin Wood recalls her husband Brian as a selfless man who was counting the days until the couple welcomed the birth of their first child. And while she is filled with grief, she is equally filled with gratitude to him for sacrificing his life to save two others — hers and that of their unborn baby.
The Vancouver, B.C., couple were traveling through Washington state to visit family Friday when an oncoming Chevy Blazer weaved wildly. As the car hurtled at them head-on, Brian braked hard and swerved to the right, ensuring he would take the brunt of the crash as the Blazer slammed into them.
"It's pretty obvious if you look at the car that if it would have been a head-on crash, we both would have been killed, right along with our baby," Erin Wood told Carl Quintanilla on TODAY Monday from Vancouver.
"He definitely saved us. He made that choice, and I'm thankful for that."
It was a life cut short for Brian, 33, lead designer for Relic Entertainment, renowned in the computer gaming world for such games as "Company of Heroes." He would have been celebrating his fifth wedding anniversary with Erin on Friday; instead, she and family are planning his funeral for Sunday.
Drugs in oncoming carAccording to police, the driver of the other vehicle was trying to take off her sweater while her front-seat passenger took the wheel. Washington State Trooper Mark Francis told NBC News that the vehicle crossed over the center line while the driver and passenger "jerked the wheel, overreacted and overcompensated. [They] steered back to the left and lost control, and that's when they came head-on into the husband and wife."
Brian Wood was killed instantly, and two male passengers in the vehicle driven by Jordyn Weichert were ejected from the back and killed. Police found heroin, cocaine, marijuana and syringes in the Weichert vehicle, and a .25-caliber pistol was found on the body of one of the men killed. The Province newspaper in British Columbia reported all four occupants of the other vehicle were well known to local law enforcement.
"There is quite a drug history there ... so that leads us to believe there were drugs in their systems," Sgt. Jason Longoria told The Province.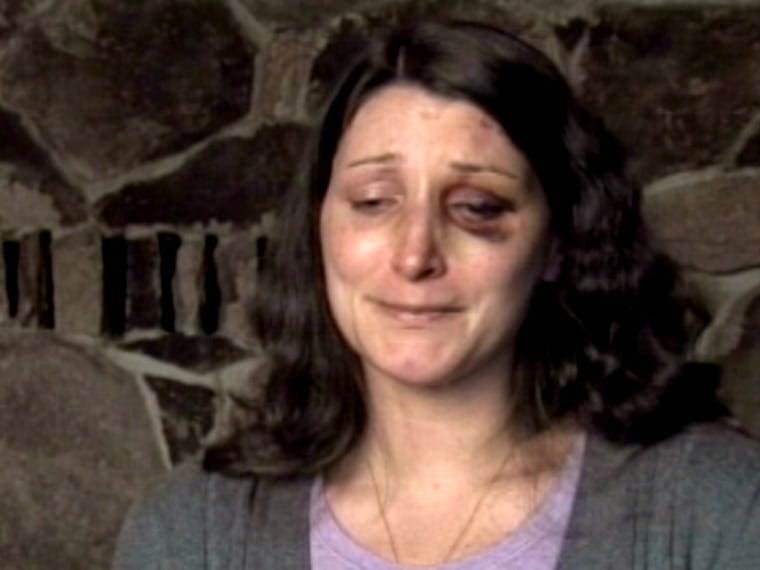 While driver Weichert is charged with three counts of vehicular homicide and one count of vehicular assault, and her front-seat passenger Samantha Bowling may be charged as well, Erin Wood says she is more sad than bitter over losing her husband. Though she still has a nasty bruise under her left eye, Erin was given a clean bill of health after the accident, as was her unborn child.
And for now, the 31-year-old mom-to-be's priority is delivering a healthy baby, due Nov. 5. "It gives me some comfort just to focus on [the baby] and to focus on the joy that we'll have once this baby is born," she told Quintanilla. "I'm just trying to draw a lot of strength right now knowing that [Brian] made that choice to save me and the baby, so I can't waste that gift — and he wouldn't want me to."
Keeping a journal
Wood recalled Brian talking excitedly about starting a family with her even before the couple married, and he was thrilled about his wife's pregnancy. She told NBC she is keeping a journal of what Brian was like from "stupid little things to more meaningful things" that she can share with their child at the appropriate time.
"He was very excited for this baby, and was always just incredibly loving toward me and putting me first; just an amazing guy," she told Quintanilla. She said Brian's ultimate sacrifice "breaks my heart, but it also fills me with gratefulness.
"I'm just glad he's being remembered as someone who was willing to make that sacrifice."
Fighting back tears, Erin Wood added that she hoped everyone takes a lesson from what her husband did.
"I really would give anything just to see Brian and hug him one more time," she said. "So if that just acts as a reminder to everyone to do that with people that they're blessed to have in their lives, that's my hope."