/ Source: TODAY contributor
Some dogs go a step beyond just being man's best friend: They also serve as canvases on which their owners express themselves through meticulous grooming and creative — and sometimes crazy — dye jobs.
TODAY featured three primped-up, pimped out poodles Wednesday, along with owners who not only lavish them with love, but them to the point where an everyday walk in the park turns into a fashion show. Owners and dogs alike appear on the new TLC series "Extreme Poodles," which follows the competitive groomers all the way to a live competition.
The poodles exhibited on the TODAY set were an eye-popping, electric trio. Lori Craig of Moore, Okla., showed off Duchess, done up as the Queen of Hearts. Angela Kumpe of East End, Ark., turned her dog Huxley into a veritable love letter to the city of New York — her fur was dyed with images of taxis, Rockefeller Center, the Statue of Liberty and the TODAY show logo. Nina Lehtonen of British Columbia, Canada, transformed her Runa into the belle of the beach, complete with dyed-in flip flops, water wings, inner tube and a sunflower.
'The love the attention'The ladies admit they're always looking for ways to top one another. And they insist their pets enjoy getting gussied up every bit as much as they enjoy working on them.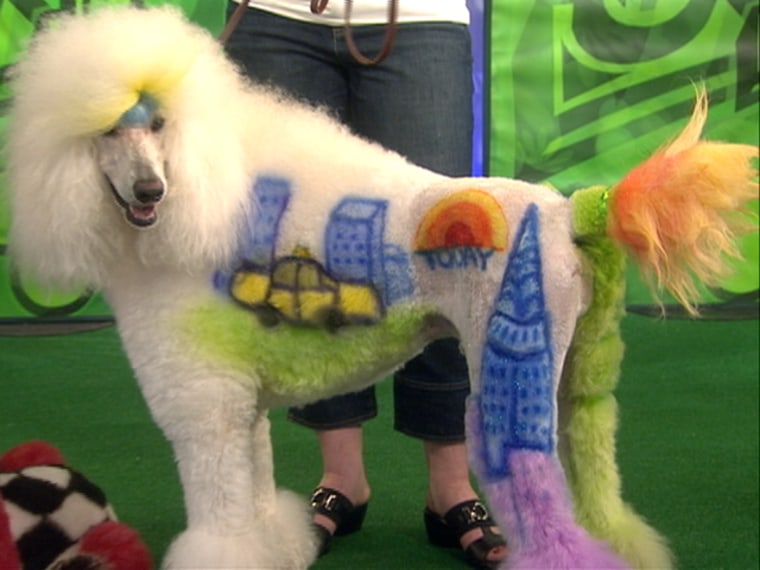 "They love the attention they get afterwards, so they know if they sit still and get it done, when they get off that table, people are going to be all over them," Craig told Natalie Morales. "They enjoy having it done because they know the attention [will come]."
The groomers note the magic doesn't happen in one sitting — they work on the canine creations an hour or two at a time over the course of several sessions. And if you want to get a competitive dog groomer hot under the collar, tell them they're abusing their pets.
"We are extremely defensive," Craig told Morales. "There is no harm in doing this. These are our family pets. If they do not like being groomed, we could not physically do this."
Kumpe told Morales she had the time of her life walking Huxley, in all her Big Apple glory, through Central Park. She said Huxley is "not going to be the same again" after all the attention she got.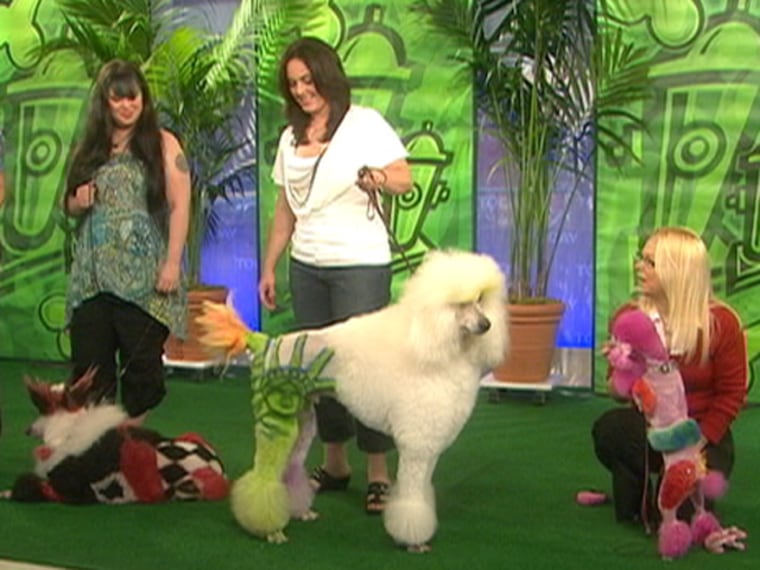 And Kumpe made it clear hers is a labor of love, not profit. She was just a young girl when she took a fancy to the poodles her aunt raised, and began experimenting by coloring them with Kool-Aid and food coloring. These days, she uses the non-toxic, vegetable-based dyes approved especially for dogs when she's readying a poodle for competition.
Kumpe's been on the competitive dog grooming circuit for eight years, and while prize money often reaches $5,000 for a first-place finisher, she's not padding her wallet even when she wins.
Yes, your eyes are playing tricks on you. These are not real buffalo, pandas and camels — but dogs creatively coiffed to look the part.
"You never break even on the money," she said. "When you put the time into it, the travel and take off work, all the props and costumes, you don't make any money off of it."
All three groomers aver they've "had a blast" doing "Extreme Poodles," saying it puts a human face behind groomers who often get saddled with a bad rap. Craig said viewers learn that the dogs used in show competitions aren't mere extensions of the groomer's artistic fancies, but are "active dogs that come from healthy families."
"Extreme Poodles" airs Sunday, June 13, at 9 p.m. ET on TLC. It is followed by "Super Pooches," which gives a behind-the-scenes look at raising and training show dogs, at 10 p.m.