/ Source: The Associated Press
The White House kitchen garden is surely home-grown, but it isn't organic, and there aren't any plans for it to be.
Assistant White House Chef Sam Kass, an old friend of President Barack Obama's who oversees the garden, says labeling the crops "organic" isn't the point, even though the White House only uses natural, not synthetic, fertilizers and pesticides.
"To come out and say (organic) is the one and only way, which is how this would be interpreted, doesn't make any sense," Kass said Monday as he walked among the garden's newly planted broccoli, rhubarb, carrots and spinach. "This is not about getting into all that. This is about kids."
Still, it has become a curiosity around the world and part of first lady Michelle Obama's pitch for healthy eating. She is clearly proud of it and she is asked about the garden everywhere she goes, her aides say. Embassies and organizations often call the White House with questions about how they can replicate it.
The kids to whom Kass refers are from local schools and are sometimes invited to the White House to help plant and harvest vegetables as part of Mrs. Obama's campaign to stem childhood obesity. Kass says they often say they don't like certain vegetables — peas, lettuce, spinach — until they eat the fresh veggies they harvested from the garden.
"They've never seen what broccoli looks like or where peas come from," Kass said.
A 'remarkable year' of gardeningLast year, the White House garden produced 55 kinds of fruits and vegetables and 1,000 pounds of food, about half of which went to local charities. Though the crop wasn't large enough to feed guests for state dinners, some of its herbs were used for seasoning.
The patch of lawn includes a bee hive tended by a carpenter who has worked at the White House for more than two decades and tends bees on the side. The hive has produced 134 pounds of honey so far, and Mrs. Obama packaged some of it up as gifts to the spouses of the world leaders who attended the G20 summit in Pittsburgh last year.
The honey also has found its way into the White House kitchen. Presidential chefs have used it for honey cupcakes and honey vinaigrette salad dressing.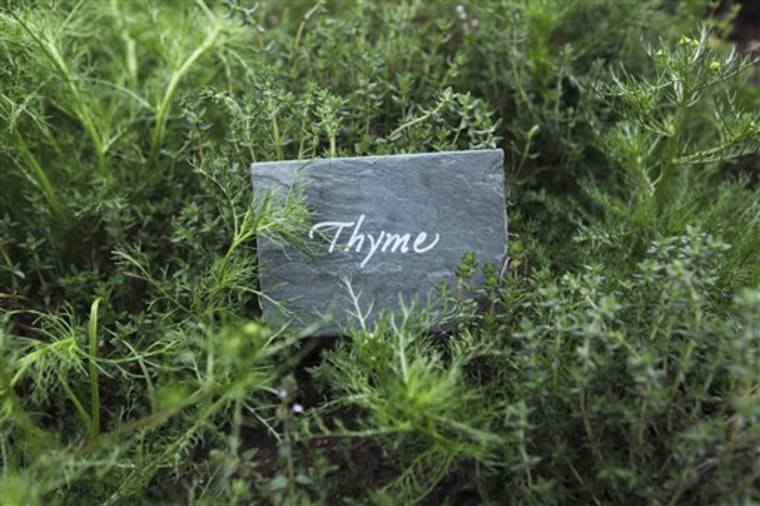 The chefs are harvesting the garden year-round. When snowstorms hit Washington earlier this year, Kass and his staff kept the veggies warm by setting up "hoop houses," plastic covers that trap heat from the sun. In early March, the chefs picked lettuce, spinach, turnips, arugula and carrots grown through the winter.
Kass, who cooked for the Obamas in Chicago, says the garden is partly tended by White House volunteers who shed their suits for jeans and come down to the lawn periodically to work in the dirt.
He said there have been very few problems in the garden, save some hungry squirrels who sneaked a few ripe tomatoes and some pumpkins that didn't turn out quite right. It was a "remarkable year," he said.
No chickens on White House lawnThis spring, the garden expanded from 1,100 square feet to 1,500 square feet and features a wide variety — broccoli, rhubarb, carrots, spinach, cauliflower, peas and collard greens. There are even some lettuces grown from seeds and sprouts that originated in Thomas Jefferson's garden.
Coming soon: corn, beans, cantaloupe, pumpkins, leeks and artichokes. Kass says they might even try their hand at pickling some cucumbers and beans for the first family.
Kass and aides to Mrs. Obama won't elaborate on why the garden isn't technically organic.
"What's really powerful about this garden is it shows kids where food comes from," he says. "It's captured attention around the world."
One thing that won't be added to the expanding patch of land? Eggs.
"We are not going to have chickens on the White House lawn," Kass confirmed.