/ Source: TODAY contributor
It's not just people who have to be tough and resourceful to live in Alaska; even the pets have to be made of sterner stuff. After all, those woods are full of bears and wolves and moose.
Enter Buddy, a German shepherd who lives in Caswell Lakes, Alaska, considerably north of Anchorage, with his best friend, a 23-year-old human named Ben Heinrichs, and Ben's parents, Lynnette and Thomas Heinrichs.
Buddy is the star of a 1-minute video shot on a state trooper's dashcam, and it's one of the most amazing things you've seen this side of the old "Lassie" and "Rin Tin Tin" TV shows and films. Except this wasn't a movie, and Buddy wasn't taking cues from trainers off-camera.
'Get help'Ben lives with his family in an area of winding country roads. On April 4, he was working in a workshop in a shed when a heater touched off a fire fueled by chemicals in the shop.
According to the Anchorage Daily News, Ben, who suffered minor flash burns on his face, fled the shop and slammed the door to confine the flames. Realizing that Buddy was still inside, Ben went back in to rescue his pet.
When he got Buddy outside, he told the dog, "We need to get help."
That's pretty much what TV's Timmy used to say: "Lassie, go get help!" And, like the star collie, Buddy took the advice to heart and took off running.
The Daily News reported that Ben initially thought Buddy may have run off to hide. The dog is rather shy, according to the family.
Instead, Buddy was actually looking for help. The dog dashed off and down the road, looking for someone — anyone — to help.
Lost trooperMeanwhile, neighbors has seen the fireball erupting on the Heinrichs' property and called the state police. Trooper Terrence Shanigan was dispatched to check it out, but his GPS froze up on him, and he was semi-lost in the twisting rural roads and about to take a turn in the wrong direction when he saw a dog in the road.
The dog was our hero, Buddy. When Buddy saw the trooper's car, he turned and started running back home.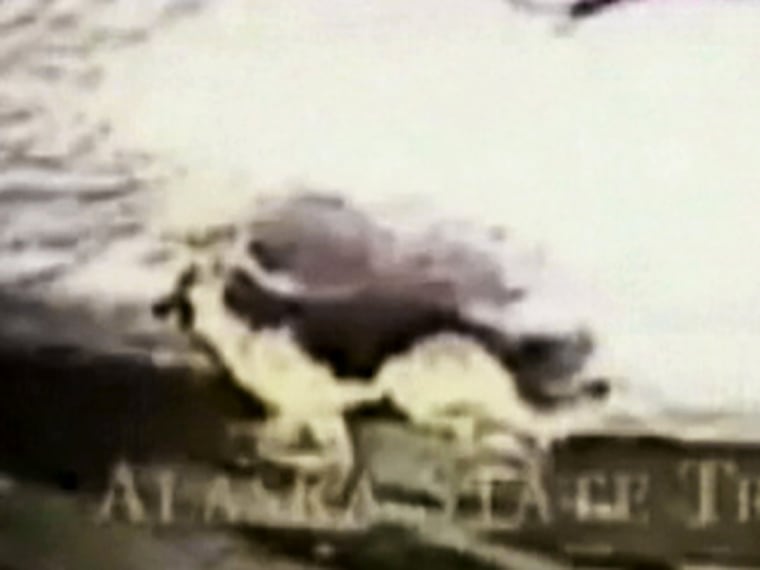 Shanigan's dashcam caught it all. A German shepherd takes off running down partially snow-covered roads, but keeps looking over his shoulder to make sure the car is keeping up.
Buddy sprints along for about a minute in a black-and-white landscape, the only things visible being what is illuminated by the police car's lights. Finally, the dog takes one last turn. As Shanigan turns with the dog, his windshield lights up with a bright yellow ball of fire that used to be the Heinrichs' workshed.
When Shanigan got out of his car, Buddy jumped up and made sure the trooper continued to the house. Then, according to the newspaper, Buddy retreated into the woods, seeing that his work as done.
A hero's rewardShanigan was able to guide fire trucks to the scene, in time for firefighters to save the Heinrich's home. The workshop was a total loss.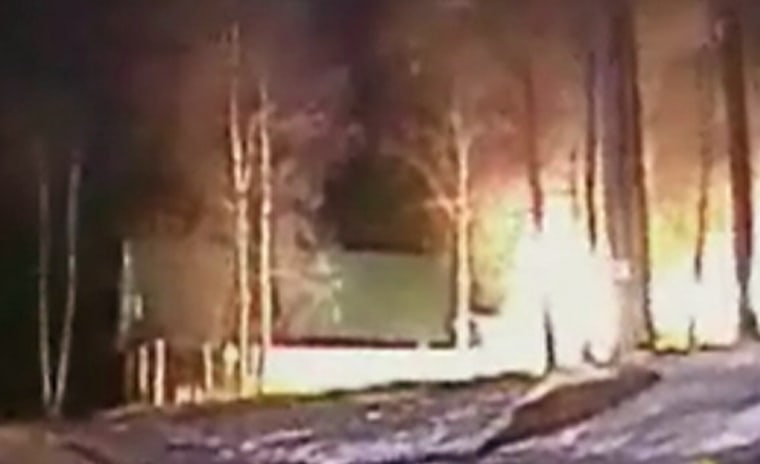 "Buddy's valiant actions saved Trooper Shanigan valuable time in responding to the fire," the Daily News quotes Alaska State Police Director Col. Audie Holloway as saying. "Buddy's pluckiness is a bright spot among an otherwise tragic event for the Heinrichs family."
In recognition of Buddy's Lassie-like heroism, the dog and his best friends were to be at state police headquarters in Anchorage Friday afternoon, where Buddy will be honored for his heroism.
He'll even get a prize — a silver-plated dog bowl engraved with his exploit.
He'll probably be more impressed if there's a fresh steak in it.
The Associated Press contributed reporting to this story.