Is Michael Jackson's accuser on one of his albums? The embattled pop star allegedly wrote love letters to the young boy he's been accused of molesting and, according to reports, those letters were addressed to "Rubba" — which is said to be Jackson's pet name for the child.
Jackson fans have heard from "Rubba" before: someone by that name did vocals for a song on Jackson's 2001 album, "Invincible". The credits of "The Lost Children" note: "Narrative by Baby Rubba and Prince Jackson."
Prince Jackson is, of course, Michael's older son. In the album notes, Jackson also thanks "Baby Rubba" — which he refers to as part of "my other family."
Fighting likes cats and dogs
The battle between Clay Aiken and People for the Ethical Treatment of Animals is getting beastly. And now, the "American Idol" runner-up is threatening to sue.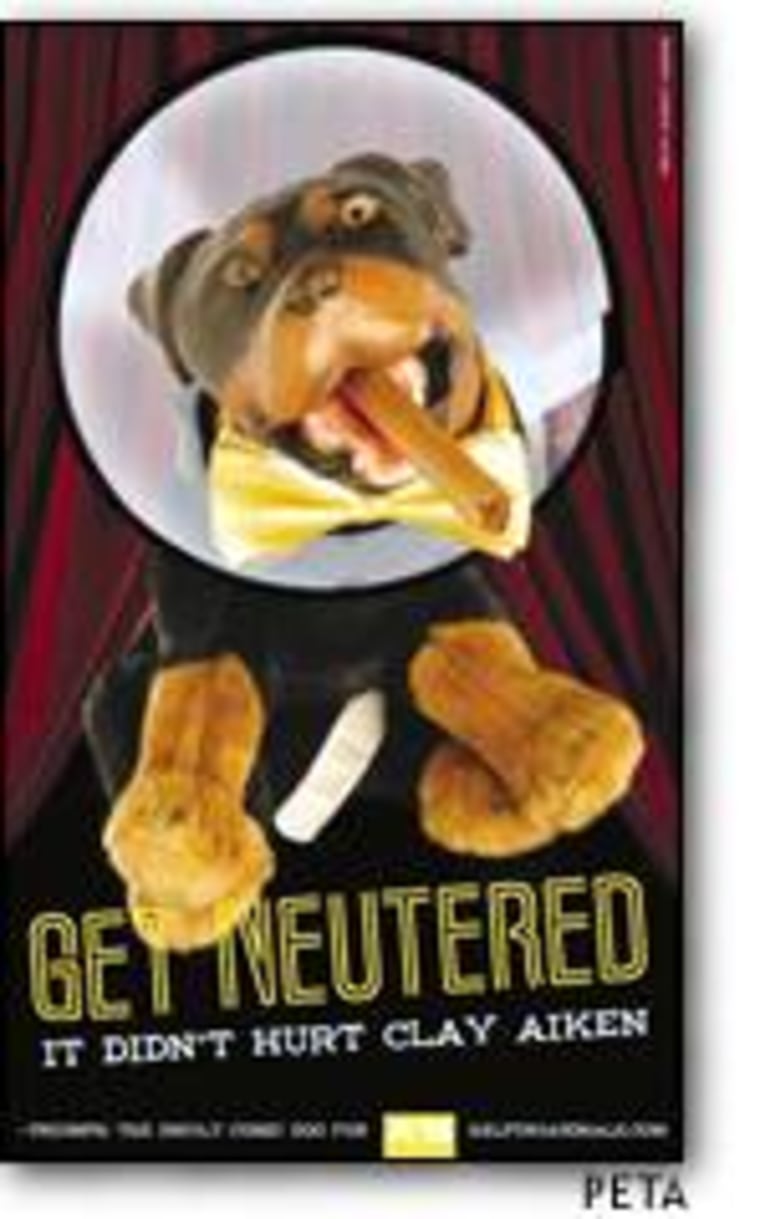 PETA went on the warpath against Aiken earlier this month after the singer was quoted in Rolling Stone magazine as saying he hates cats, he ran over one when he was 16, and he now thinks "cats are Satans."
PETA responded with an ad featuring Triumph the Insult Comic Dog and the tagline: "Get Neutered; It Didn't Hurt Clay Aiken." The singer has, in the past, hinted broadly at his sexual inexperience.
Aiken's lawyers have fired back, demanding that PETA withdraw the ad or he'll sue, noting that Aiken hasn't been neutered. It also insists that Aiken was misquoted in Rolling Stone.
"PETA acknowledges that Mr. Aiken retains his testicles and did not seriously imply otherwise," the group wrote back, and says that Aiken should have more of a sense of humor. It also says that if Aiken loves animals as much as the legal letter says, perhaps he should go public with those feelings. Rolling Stone, meanwhile, told the Scoop that it is standing by its "cats are Satans" quote.
Notes from all over
Jennifer Lopez will star with Robert Redford in the 2004 flick "An Unfinished Life," directed by Lasse Hallstrom ("The Shipping News") — but apparently, the movie was supposed to star "Mulholland Drive" star Naomi Watts and Paul Newman. Then-director Robert Altman ("Gosford Park"), who left after clashing with Miramax head Harvey Weinstein over the budget, told the Sunday Herald of Melbourne. "(Miramax) said, 'Good, we've gotten rid of Bob Altman, now we can get J.Lo,'" Altman told the paper, and went on to claim that Newman quit because he had wanted to work with Altman. A source close to the film, however, insists it was Altman himself who offered the part to J. Lo. "The scheduling got complicated and both Paul Newman and Altman left to work on other films." A Miramax spokesman told the Scoop, "We have made five great movies with Robert Altman over the years, but unfortunately, the timing didn't work out on this one. But we're thrilled with Lasse's work." . . . Tom Cruise is anti-war. "Wars don't resolve conflict, ideas do," "The Last Samurai" star told the Montreal Gazette. "You look how history keeps repeating itself." The paper noted that Cruise stopped short of attacking President Bush, saying, "I want a world without war and a world without insanity." . . . One of Michael Jackson's special friends claims that the singer dyes his son's hair blond. "Michael bleaches Prince's hair," the boy told the London Sun. "He prefers Prince blond — like Macaulay Culkin."
Jeannette Walls delivers the Scoop Monday through Thursday in MSNBC Entertainment.