/ Source: TODAY contributor
It may be the most exclusive neighborhood in the world. Money can't buy a room there: The only currency accepted is supreme athletic talent.
It's the Olympic Village, and its residents are the strongest, fastest, most competitive and most confident men and women in the world. Scattered among this population of athletic heroes are the greatest champions from across the globe, people who have won multiple Olympic medals and world titles and dominate their sports.
"You can't believe there's all these iconic champions from every sport you never thought you'd meet, and now you're having lunch with them," said Scott Hamilton, the 1984 Sarajevo Olympics men's singles figure skating champion and a participant in the 1980 Lake Placid Games.
100,000 condoms
The citizens of the village are young, remarkably healthy, and the definition of physically attractive. In such an environment, flirting is as natural as breathing.
"It's eye candy all the time. Everybody's checking everybody else out from moment they get there," recalled Cammi Granato, captain of the powerful U.S. Ice Hockey Team that won gold in Nagano in 1998 and silver in 2002 in Salt Lake City.
Inevitably, some athletes get beyond flirting. That's why the Vancouver organizers have laid in a stock of 100,000 condoms, which works out to 14 for each of the 7,000 athletes, coaches, trainers and officials housed in the Games' two villages. (Apparently, skiing, skating and sliding aren't the only activities at which Olympians excel.)
From Lillehammer to Sochi, Russia, see which gorgeous snowy towns hosted the games in the last century.
The distribution of free condoms at the Olympics goes back at least to 1992 and Barcelona. In 2000, Sydney organizers thought that 70,000 would be enough. They were wrong and had to send out for 20,000 more. Beijing also ordered 100,000 condoms with an Olympic motto: Faster, higher, stronger.
Laugh if you will, but also give the International Olympic Committee credit for acting like a responsible parent: In addition to handing out condoms, they run HIV and AIDS information campaigns in the Olympic Village. And the U.S. Curling Association has gone a step further: In partnership with Kodiak Technology Group, they have introduced the Hurry Hard condom, named for a phrase curlers chant to get their teammates to sweep the ice faster. Proceeds from the prophylactics — which sport a happy cartoon curling stone on their label above the slogan "Be smart, stay safe" — are split between USA Curling and Monterey County AIDS prevention.
But few athletes reach for the condom supply while their events are going on. They've spent four years since the previous Olympics working, training and preparing for one shot at glory, and they're not going to throw countless hours of hard work and sacrifice away for anything — even Norwegian cross-country champions and Chinese speedskaters.
The fact is, people with poor impulse control don't make it to the Olympic Village. "Olympians are surprisingly mature, no matter what age. It's required of you," said legendary skier Picabo Street, who won gold in the super-G in Nagano and silver in the downhill in Lillehammer. "If you act like an idiot, you really stand out."
Street's strongest memory of her three Olympic villages — she also skied in the Salt Lake Olympics — is the incredible level of energy radiating from so many hypercompetitive people at the pinnacle of physical and mental conditioning.
"It's hundreds of auras, which does lead to a huge movement of energy," Street told TODAY. "It's not normal, resting energy; it's jacked-up, hyped-up, on-the-brink-of-my-dream-coming-true, got-to-get-it, got-to-do-it energy, and it's there all the time."
Kind of makes you hyperventilate just thinking about it.
Room and no boredom
With the athletes so cranked up, Olympic organizers make sure to provide plenty of activities to soak up their excess energy, from video games to concerts to computers with Internet access.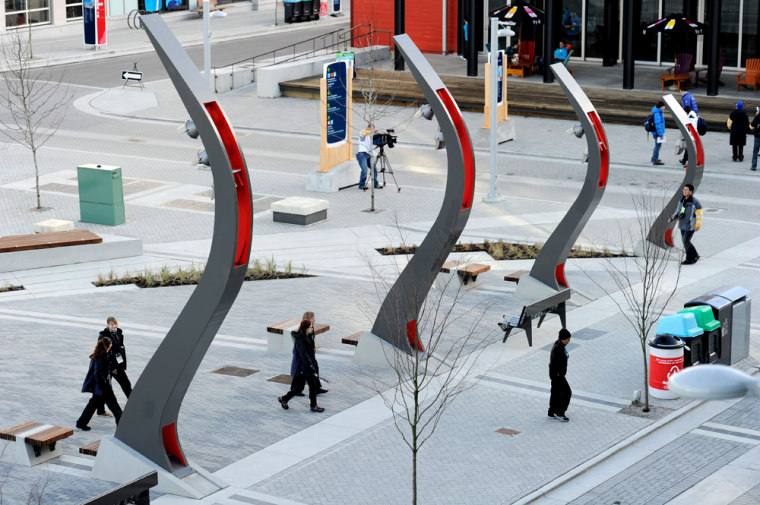 Vancouver has actually provided two villages — one for the skiing venues in the mountains outside of town, the other on the water in downtown Vancouver. Both will be sold as condos after the Games.
Individual teams are housed together in however many adjoining units they need. Athletes bunk two to a room, and bedrooms do not contain televisions.
Each venue has a separate lounge. In Vancouver the lounge is housed in a separate, 45,000-square-foot building, along with a post office, café, stores and an art gallery. Also available in the village are television lounges, game rooms with everything from Guitar Hero to pool and table tennis tables, training centers, and a 24-hour health clinic where athletes can get massages and other physical therapy.
Then there's the food. It's available 24 hours, and chefs attempt to satisfy as many international varieties of palate as possible. In Vancouver, that means different varieties of rice for Koreans, Japanese and Chinese cuisines. There are also McDonald's at each village, and the food there, as in the cafeterias, is free.
Night lifeThere are no lights-out times or curfews in the Olympic Village, but coaches and team officials keep an eye on their charges, some more strictly than others. The Austrians, traditional kings of the Alpine events, are kept on a particularly tight leash, according to Street, while the Italians seem to take more joy out of each day.
Alcohol is not allowed in the village, nor are prying reporters or most other visitors.
Ever since 1972, when Palestinian Black September terrorists killed 11 Israeli athletes and coaches at the Munich Olympics, security in Olympic villages has been as tight as organizers can make it. Once inside, the residents are in a virtual cocoon, insulated from the world outside.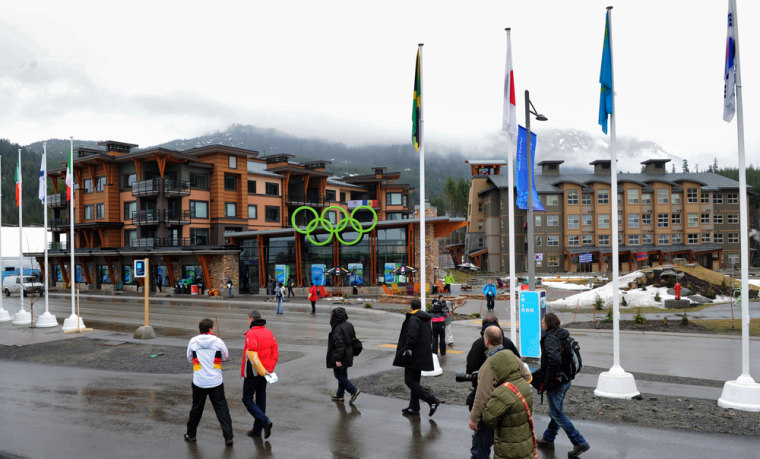 And once they finish their competitions after years of grueling work and constant self-denial, the Olympic Village residents are finally free to blow off some steam.
For many, that means going to town, hitting the bars and clubs, creeping back home in the wee hours and hooking up. The trick for partying athletes is doing it without bothering peers who still have to compete.
NBC figure skating analyst Sandra Bezic was a wide-eyed innocent of 15 when she skated in the pairs competition for Canada in 1972. She remains struck by the fact that even when they party, Olympic athletes are in control.
"Athletes who have trained so hard and respect their bodies so much, their letting loose is not even like normal teenager rebelling," Bezic said.
Still, some go overboard. In 1998, for example, NHL hockey players participated in the Olympics for the first time. The American team did poorly in the tournament at first, whereupon some players, after a bit too much sake, tossed their furniture out the windows of their high-rise dorms. The team was sent home in disgrace when it was eliminated from competition.
That was the same year the U.S. Women's team won its first Olympic gold medal. Granato said that U.S. hockey officials tried to confine the women to quarters, too, because of the sins of the men's team. "We ignored that for the most part," she said with a laugh. Gold medals demand celebrations.
Dress code
Out in the real world, few people would have the nerve to hang a gold medal around their neck and go out to a bar. But in the Olympic Village, gold medals are a perfectly acceptable fashion statement for any occasion. Athletes regularly wear them to the cafeteria, to the game lounge — and to bed.
"We slept with ours," Granato said.
And even in a society of champions, the medals are like magnets. Win a gold and everybody wants to be your friend. Rumor has it that male winners, in particular, have their pick of females.
They're hot in Hollywood, but many of today's biggest celebrities actually hail from the cooler climes of Canada.
TODAY asked '84 gold medalist Hamilton if that was true.
"Really?" he said in mock surprise. "Why didn't anybody tell me?"
That's the thing about life in the Village. You hear stories, but there are never names attached to them. It would break the code: As with Las Vegas, what happens in the Village, stays in the village.
So no one will go on the record when talking about certain female figure skaters — no home country was specified — who, as one former athlete put it, "really liked hockey players — and I use the plural. I think Sweden was a very grateful country for that."