/ Source: TODAY contributor
OK, ladies, think fast: Do high heels empower women in the workplace, or do they oppress us and ultimately harm us?
If your gut is giving you conflicting responses to that question, don't worry — that's normal. Depending on whom you consult, you could hear that towering footwear:
can boost your career by transforming you into a confident, strident force to be reckoned with;
can hamper your career by putting too much emphasis on your sex appeal rather than your brains;
can wreak permanent damage on your feet and ankles, including — but not limited to — bunions, corns, calluses, shortening of the Achilles tendon, ankle fractures and nerve damage, and
can improve your sex life because the act of wearing them makes you feel sexy and strengthens core abdominal and pelvic muscles at the same time.
Hmmm! Considering that all of the above may be valid, what's a working woman who isn't Carrie Bradshaw from "Sex and the City" to do?
A wide range of experts — from podiatrists to fashionistas to career gurus to anthropologists — agree on at least this one bit of advice for women: Tread carefully.
Lea Goldman, features editor for Marie Claire magazine, told TODAY she's utterly convinced that high heels can empower women at work. She said they help women look and feel confident and self-assured, and they also help them stand out from the pack.
"I don't care where you work, the office is a competitive arena," Goldman said. "And the fact of the matter is that most offices are run by men — not exclusively, but mostly. I believe that heels give you an important physiological advantage in that they bring you eye level to male superiors. Don't underestimate that 'leg up.' "
But even Goldman acknowledged that this fashion statement has its limits.
"The line gets crossed at stilettos," she said. "In most traditional workplaces they are simply a fashion NO. ...
"Heels that are too high send the worst kind of image to bosses and colleagues: tawdry. It makes your colleagues uncomfortable. It makes you look cheap. Look around to the woman you most admire at work. Unless you work at the Bunny Ranch, I promise you she's not wearing stilettos."
Dr. Helen Fisher, an anthropology professor at Rutgers University in New Jersey, is in the camp of those who think that sky-high heels are just too sexy for most workplaces.
"High heels thrust out the buttocks and arch the back into a natural mammalian courting — actually, copulatory — pose called 'lordosis,' " Fisher said. "Rats do it, sheep do it ... lions do it, dogs do it. ... It is a naturally sexy posture that men immediately see as sexual readiness. [Heels] are a 'come hither' signal. ...
"When women wear high heels at work, they send sexual signals that should be avoided if they want to be taken seriously."
A symbol in transition?
For decades, feminists and supporters of equality in the workplace have similarly advised women to avoid anything that might reduce them to mere sexual objects. However, in a recent article in the British newspaper the Daily Mail, writer Maureen Rice argued that women have been able to turn the tables when it comes to high heels.
"Heels may be inextricably linked with sex — and they are sexy — but over the past 10 years or so women have reclaimed them as symbols of female power, not subjugation," Rice wrote.
"The best careers advice I've ever had came a few years ago from my female boss. 'Whenever you know you are going to have a challenging meeting,' she said, 'and especially if that meeting is mainly with men, wear high heels.' She wasn't being flippant — she was right."
Likewise, Goldman of Marie Claire magazine made the case that stubbornly comfy shoes in the workplace indicate a woman isn't a go-getter.
"Take a look around — you rarely see women in power strutting around in ballet flats," Goldman said. "Even their 'flats' have a small heel of some kind. Flats scream either demure or comfortable. Neither is an image you want to project at work."
But what if you're just someone who wants to look nice at work and also wants to avoid agony? After all, the pain and suffering endured by high-heel-wearing women is so common that recent quips about it on "The Daily Show with Jon Stewart" elicited howls of laughter from the studio audience.
Women are "fashion slaves to the man," contributor Kristen Schaal told Stewart during the segment. "Why else would we cram our feet into high heels, causing permanent damage, just to bring our butt and our boobs 3 inches closer to your eye level?
"By the way, quick tip, ladies: I find that if I have a formal dance to go to, the best way to alleviate some of that discomfort is to remove your big and little toe and cram it right in. Keep those shoes coming, Jimmy Choo! I'd hate to think cutting off those toes was a mistake!"
Loving your feet and your career
Actually, plenty of reasonable compromises exist for women who want to avoid lasting damage to their feet. It may sound obvious, but fashion experts and foot doctors recommend finding attractive shoes with slightly shorter heels.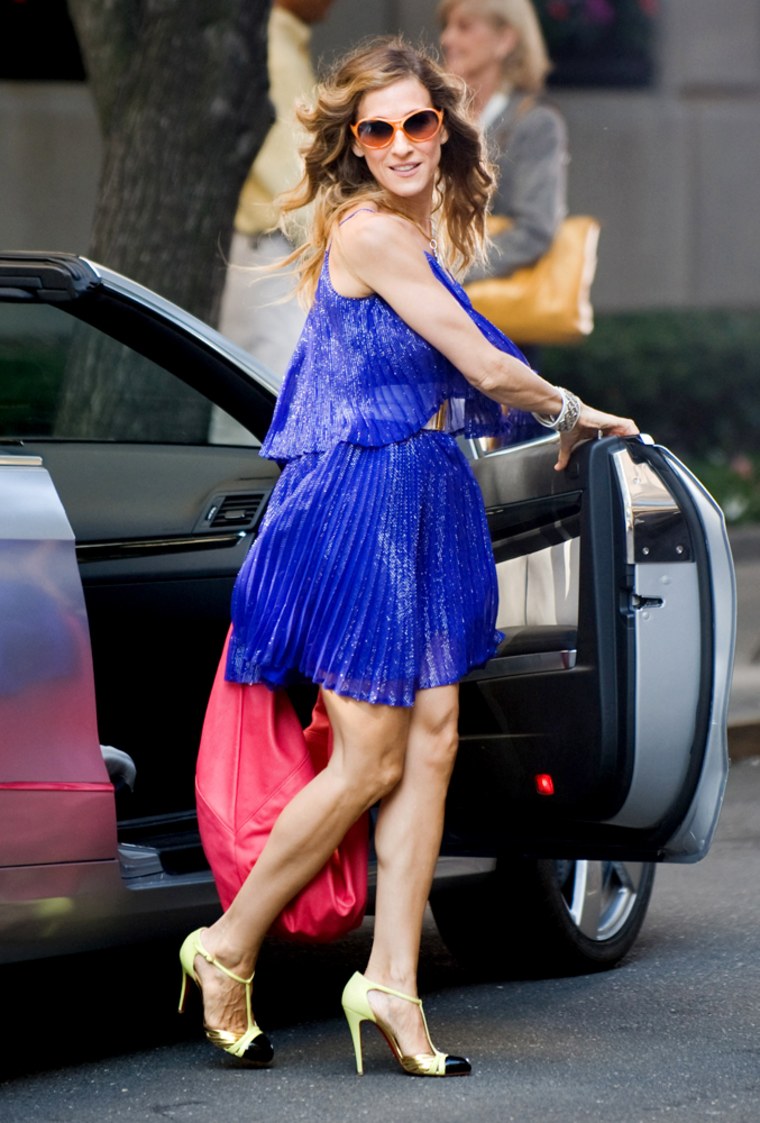 The official position of the American Podiatric Medical Association is that anything higher than 2 inches is medically unsound; podiatric surgeon Dr. Suzanne Levine recently told TODAY that 2½ inches can be OK.
"The ideal heel height to wear for eight to 10 hours a day is about 2½ inches," Levine said. "It is a good height. And then you can splurge. You can wear 4-inch heels when you go out for dinner."
Other tricks for saving your feet include:
Wearing sneakers or comfortable flats while walking to and from your destination, then switching to high heels only after you arrive.
Wearing high heels that fit well — meaning that they aren't too tight or they don't have a big gap in the back after your feet slide forward in the shoe.
Wearing a chunkier or thicker heel to improve balance and stability.
Wearing open-toed heels to take at least some pressure off of your toes.
Cushioning the bottom of your feet with products such as full-shoe inserts or silicone metatarsal pads.
"You really have to pamper your feet and take care of your feet," Levine advised.