/ Source: TODAY contributor
First the first lady got America talking about the right to bare arms. Now people are buzzing about whether it's right for her to bare her legs.
During a recent family vacation to the Grand Canyon, Michelle Obama stepped off Air Force One in a pair of "short shorts" that some are calling inappropriate.
The midthigh jeans shorts Obama sported are something most American women would wear without a second thought. But were they a fashion faux pas for a first lady?
Short notice
"I think the question is, what could be more appropriate than shorts for hiking the Grand Canyon with your family in mid-August?" said Mary Tomer, who founded Mrs-O.org, a Web site that monitors Obama's style, on the TODAY show Wednesday.
Any first lady's fashion choices are closely watched, but interest in Obama's style has bordered almost on obsession. When Obama showed her spectacularly toned arms in a sleeveless gown at the Inaugural Ball, it sparked such a media maelstrom, you'd think she'd shown up in the nude.
So why does anyone care what Michelle Obama is wearing — other than that she's young [45], beautiful, modern, and head of the hippest first family since the Kennedys?
"I think women have really connected to Michelle Obama, recognizing there are moments when she's dressed down, moments when she's dressed up, that she's playing different roles," Tomer told TODAY's Matt Lauer. "That speaks to a lot of women."
A new informalityRobin Givhan, a fashion editor and staff reporter for The Washington Post, said she was "ambivalent" about the first lady's shorts — mainly because stepping off Air Force One makes it an "official" photo and so should, perhaps, be considered a more formal moment. 
"I think in many ways it's symbolic," Givhan explained. "We don't see first ladies looking informal, and I think it's a wonderful thing that she's bringing informality to that position. But we're still grappling with what the first lady is supposed to be all about."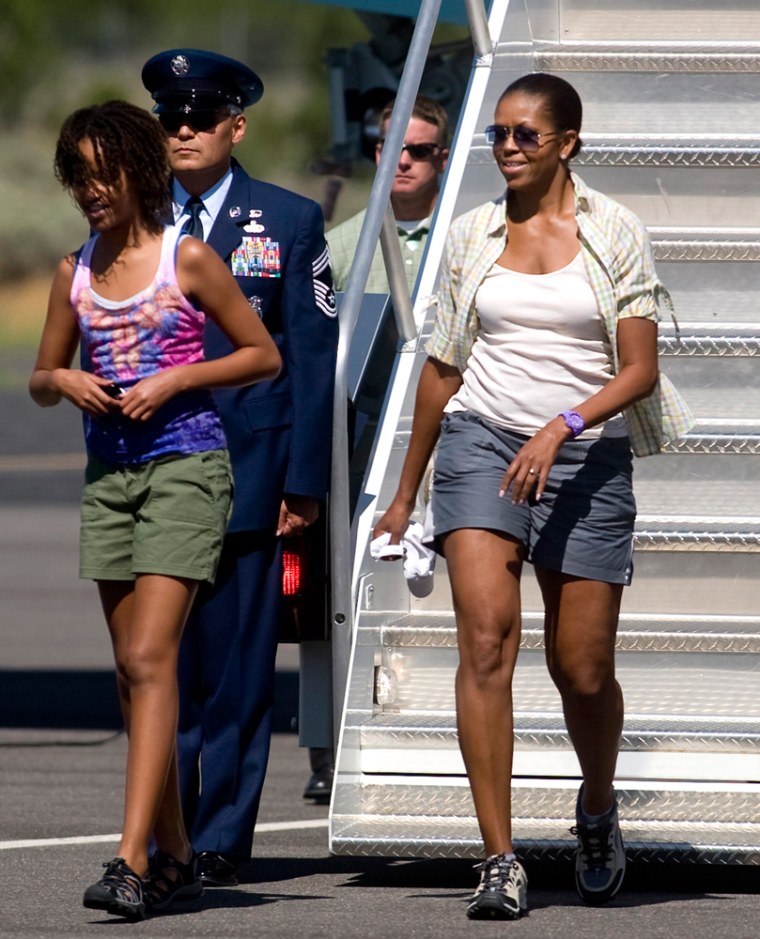 Givhan added that President Obama, who has been photographed wearing shorts and exiting Air Force One wearing jeans and a baseball hat, has been given much more leeway in how he presents himself in public.
Many argue that it's more important to have a first lady who is comfortable in her own skin — even if that means revealing a little more of it.
"I think people are starting to see her as someone who's breaking a lot of barriers and boundaries in terms of fashion, in terms of what people think is appropriate for a first lady to wear," said Nia-Malika Henderson, White House reporter for Politico.com.