Cats get a bad rap on the Internet, frequently stereotyped as LOL ignoramuses, forever shredding grammar like a half-dead mouse in what the World Wide Web would have us believe is their endless quest for "cheezburgers."
Despite the pigeon-holing, cats play piano on YouTube and have their own Facebook profiles, and kitties who tweet exhibit a working knowledge of sentence construction that challenges those of their human Twitter compatriots. So it was only a matter of time before a feline got around to earning an online high school equivalency diploma.
Rescued from a ditch when she was no more than a teeny, tiny ball of fluff, Oreo C. Collins, a 2-year-old tuxedo cat from Macon, Ga., may be the very first in her family to obtain a 'high school diploma' — online or off. (Of course, we may never know for sure because, as she wrote in her "life experience essay" portion of the test, she's adopted.) Kelvin Collins, president and CEO of the Better Business Bureau of Central Georgia and Oreo's rescuer, encouraged Oreo to seek her "education," by taking part in the BBB's ongoing investigation of online diploma mills.
"Oreo's a really smart cat," Collins said in a telephone interview with msnbc.com. So smart that Oreo garnered mostly As in the online test, with some of her credits earned from her aforementioned life experience essay about her adoption into the Collins family. No doubt that's why Collins solicited Oreo's help in the Better Business Bureau's experiment to expose Internet diploma mills.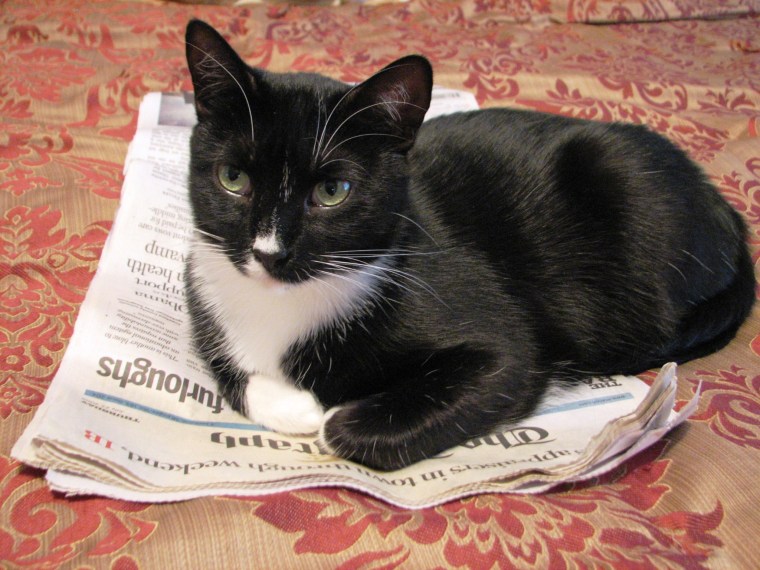 Noting her humble beginnings by the side of the road where Collins found her during his son Brennan's football practice, Oreo's benefactor said he "is tickled pink to give her an opportunity to get an education." Following a test and a $200 fee Collins paid for out of his own pocket, the young cat received her diploma from Jefferson High School Online.
In the spirit of full disclosure, it should be noted that Collins did help Oreo with both the answers and the essay. But to be fair, Oreo stayed in his lap throughout the test, and Collins got a little help, too.
"If you miss a question, the test gives you a hint that tells you  the answer is," Collins said.
Of course, there are naysayers to Oreo's awesome accomplishment. As the Better Business Bureau wants people to know, Oreo's so-called "high school diploma" is not the same as a General Educational Development (GED) diploma.
"The GED Tests cannot be taken online,"  GED Testing spokesperson Cassandra M. Brown told msnbc.com. "They are only available for in-person testing at an Official GED Testing Center." Brown said via e-mail that the GED Testing Service, a Program of the American Council on Education, has issued warnings about programs like Jefferson High School Online.
Collins said that while he knows Oreo was in it for the education, he concedes that the cat's "degree" serves as a cautionary tale to those who might be lured into spending well-earned cash on useless diplomas. "We (the BBB) do a lot of stories on these diploma mills, but a lot of times consumers really don't get it until you show them an example of how they (the diplomas) aren't worth much."
It's a bitter lesson too for Oreo's human brothers Brennan, 12, and Brad, 15. "I told them I'm going to ahead and make them earn their high school diplomas the old-fashioned way," said their dad, Kelvin. "They're really jealous, especially considering school started yesterday."
Oreo may be a little jealous, too. "She would have loved going to high school," said Collins. "She's very social and very nosy."
Unfortunately, Oreo can forget about college, too. "I chose Jefferson High School Online because it was one of the cheaper diploma mills," he admitted. "If you want to get a 'college degree,' that's $800 to $1,200." Instead, she's been rewarded for her academic achievements with extra treats and a fancy new automatic kitty litter box (which, given her intelligence, she figured out right away).
The point is, cats (and their humans) looking to follow in Oreo's groundbreaking paw steps should either consider staying in school, or make sure they have the facts. That goes for employers, too, added Collins, since diploma mills such as Jefferson High School Online offer diploma verification services "graduates" may utilize when applying for jobs.
Meanwhile, Oreo remains unemployed, having yet to test the usefulness of her new diploma, which may be all the more worthless given the fact that Collins admittedly lied about Oreo's age on the test. No need to worry about her future, Collins assures. "Like Oreo wrote in her test essay, she always lands on her feet."