/ Source: The Associated Press
When comic book store owner Dave Luebke heard that after 67 years, the carrot-topped everyman of the comic world, Archie, was proposing to va-va-voomy rich girl Veronica instead of girl-next-door Betty, he decided to protest by selling his copy of the series' rare first issue.
Luebke's Archie Comics No. 1 is expected to sell for around $30,000 when Dallas' Heritage Auction Galleries offers it Friday.
"Betty is it. Not Veronica," said Luebke, whose Richmond, Va., store has more than 1 million comics in stock. "This is serious."
And, he said, 99 percent of his customers agree that perky, blond Betty is the clear choice over shiny dark-haired Veronica in the seemingly never-ending love triangle.
"It's amazing how many stories they've gotten out of this over the years," said Barry Sandoval, Heritage director of operations of the comics division.
The Archie Comics Web site shows Archie proposing to Veronica on bended knee on the cover of No. 600, which hits comic book stores Aug. 19. That begins a six-issue story arc that takes place in the future — when the perpetual high schoolers have graduated from college, said Victor Gorelick, editor-in-chief of Archie Comics.
He said people all over the world are reacting to Archie's choice and "mostly everyone feels bad for Betty."
For those heartbroken by Archie's choice, Gorelick remains coy, advising: "I just tell them to stick with it. Read through it and you'll see what happens. A lot happens. A lot goes on."
The Archie Comics Web site shows the proposal issue is followed by an issue with a cover featuring the couple at the alter, Veronica proclaiming "I do!" and Archie saying "Do I ever!" In the next issue, twins are on the way.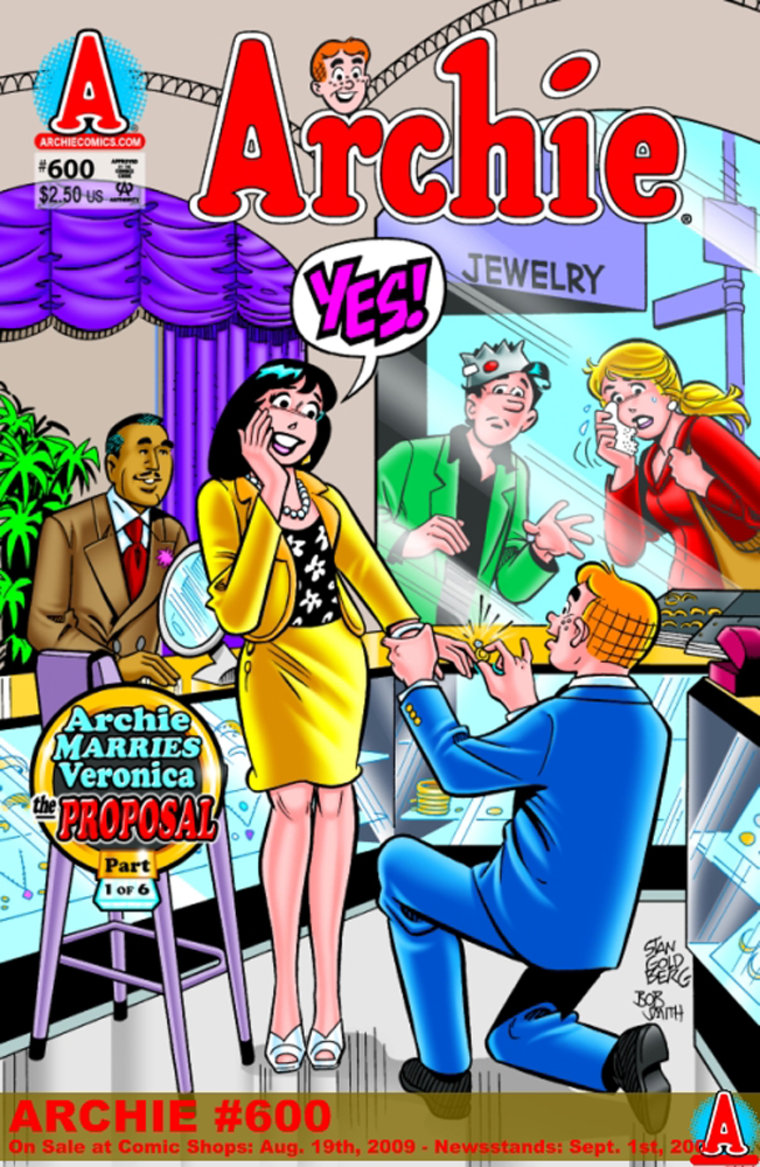 After the six-issue story arc, the gang will return to high school, Gorelick said.
Tom Michael, a teen comics collector from Iola, Wis., has a feeling all might not be what it seems.
"I have a feeling that the last issues will have him asking Betty to marry him," Michael said.
Sandoval, who said Luebke's No. 1 is in excellent condition, suspects Luebke's reason for selling might have a bit more to do with the money than anger.
Luebke concedes that the economic downturn was a factor, but he said his outrage on behalf of Betty is real.