Most of us have bought a kitchen gadget that ends up collecting dust. I finally removed a juicer from my kitchen counter after it sat there unused for three years. Now there's an empty space, I thought I might replace it with something really useful — like a smoothie machine.
So I contacted a company representative at backtobasicsproducts.com, known for its kitchen gadgets, and she sent me the latest model, a Smoothie Plus, to test. Billed as the "ultimate blender," the new-and-improved machine will be available in department and house ware stores on Nov. 1. Suggested retail price is $59.99.
But what is a smoothie machine and how is it different from a regular blender? After much experimentation and a careful reading of the instructions, the primary difference seems to be that smoothie machines have special features to make smoothies smoother.
Backtobasicsproducts.com smoothie makers come with a container that narrows more sharply at its base than most blender dispensers and a patented plastic stir stick that bobs around while it blends. The dispenser design and the stir stick help keep the ice cubes and fruit down in the blades. Other blenders can leave behind chunks of ice and fruit, says a company representative.
Backtobasicsproducts.com smoothie machines also have a patented dispenser valve with an on/off switch. The valve lets smoothie makers dispense the blended drink through a nozzle rather than pour it from the container's spout.
The design may be innovative but after making smoothies out of a mixture of seasonal fruits, I'm not convinced smoother is better. First of all, the bobbing stir stick just made me nervous. I also like my smoothies a bit on the chunky side.
Secondly, the machine has to be turned "on" for the dispenser valve to work, which only prolongs the already irritating blender sounds.
Also, speeds are limited to mix, smooth and pulse. Even after reading the directions several times, it's not exactly clear what each speed accomplishes. "The pulse button adds more mixing power; makes the blades turn faster when you have either "mix" or "smooth" buttons pushed … creating a smoother textured drink," explains a company representative.
Lastly, the smoothies were smoother but they didn't taste any better than ones I've made in a cheap plastic blender for years.
On the plus side, the backtobasicsproducts.com smoothie machine comes in a range of cool colors or chrome — for an extra $20-$30 — and it looks great on the kitchen counter. It's also a good time to pick up the mid-range Smoothie Pro, which recently has been discontinued. The Pro 600, originally priced at $64.99, now sells for $49.99 at several places online including Miami-based goodmans.net and kitchencollection.com in Chillicothe, Ohio.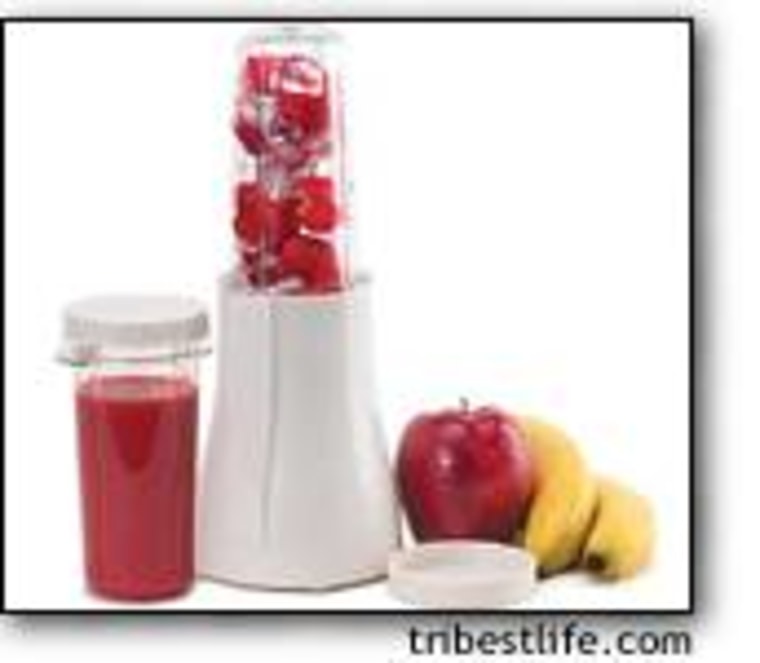 There are other smoothie machines on the market. High-end commercial smoothie blenders can run as high as $875 at blenders.net. I wouldn't even venture there.
Santa Fe Springs, Calif.-based tribestlife.com makes a clever, portable personal blender. "Everything is done in one cup," says a company representative about the slender device, which measures 4 ½ inches at its base.
Talk about easy to use. Just pour ingredients into the clear plastic cup, twist on a top that houses the blade, set it on the counter and press for one pulse or twist for continuous blending. Twist off the top and drink. A minimum amount of parts also makes it relatively easy to clean. The downside — it cost $59.95.
In the end, at least for now, I'll stick with a regular old blender with about 10 speeds. I like having the speeds, even if I don't use them all. Classic blenders are not as bulky as the smoothie machine — more space on the counter to add other kitchen gadgets. And low-end models of traditional blenders usually cost a lot less. Department stores frequently run sales on blenders. Recently, a 10-speed Hamilton Beach blender with stainless steel blades sold for $19.99 at target.com and sears.com.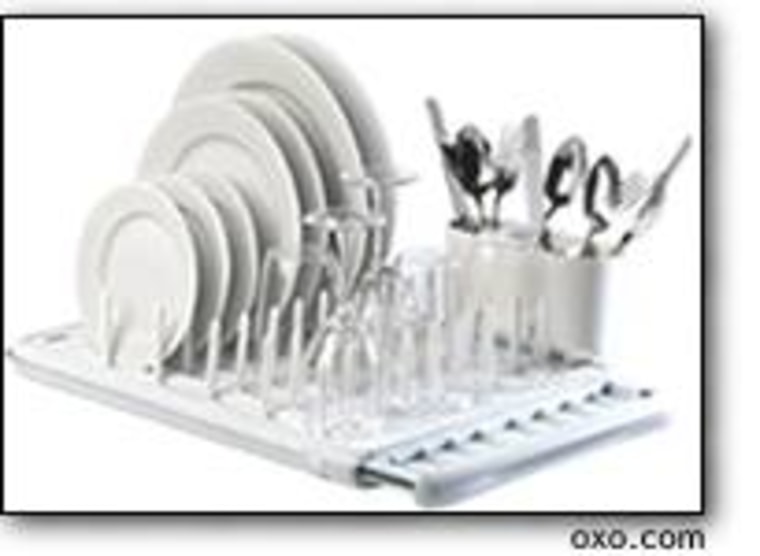 Sometimes simple is just better, which brings me back to an old favorite — Oxo International's Good Grips. The series of ergonomic kitchen gadgets, which the company introduced in 1990, continues to wow me. What sets Oxo Good Grips apart from other kitchen utensils is the patented rubble handle. As the name implies, it not only feels good but also is flexible enough to fit any grip.
Oxo product designs have even won them a place in the permanent collections of the Museum of Modern Art, Cooper-Hewitt National Design Museum and Chicago Athenaeum Museum of Architecture and Design.
Oxo International now makes more than 350 products, which range in price from about $6 for ordinary kitchen tools to $50 for the "uplift tea kettle." The kettle features a special handle that simultaneously opens the sprout when the kettle itself is lifted.
Oxo also continues to add products to its line. Recently, the company introduced a rotary grater, priced at $15. It comes with an air-tight compartment to store extra shavings in the refrigerator. This September, the company will unveil its pop-up dish rack. The dish rack, priced at $39.99, features posts that pop up to stack dishes, and that retract when not in use. The design was based on travel hair brushes with bristles that pop up, says a company representative. Consumers can now view and purchase items online at oxo.com. Other retailers, that carry Good Grips, include bedbathandbeyond.com, cooking.com and kitchenetc.com.
Another manufacturer known for its sleek designs is bodum.com. Less is definitely more at bodum.com. Simple, modern and efficient defines this line of moderately priced house wares.
The family-owned business, founded by Peter Bodum in Denmark, is best known for its coffee makers. As a matter of fact, in 1958, bodum.com introduced the world to the first mass-marketed coffee maker, a simple two-chambered glass device designed by architect Klass Klaeson.
Since then, the company has expanded its wares but remains true to its basic principles. Form follows function in the product's design, from simple drinking glasses to the series of classic to "bistro nouveau" tea presses.
Bodum.com now sells some of its collection online. Cyber-savvy consumers can take advantage of the deals in the company's online factory outlet. Current outlet finds include classic-yet-simple glass bowls, reduced from $15.95 to $7.95; and a Sumatra coffee set, marked from $29.95 to $19.95. The "Brazil French Press," which features a heat-resistant glass beaker, comes with two 7-ounce coffee cups.
Bodum products at also sold at tabletools.com, kitchenetc.com and surlatable.com. For the best deals, check for seasonal sales.
Teri Goldberg is MSNBC.com's shopping writer. Write to her at