/ Source: Forbes Traveler.com
Ever think about swiping those luscious 400-threadcount sheets from the hotel bed and taking them home with you? What about the cozy cashmere throw or the flashy red umbrella sporting the Plaza Athénée logo?
There's good news for consumers who want to create a luxury hotel fantasy at home: Hotel suppliers are making their lines of sheets, towels and other amenities available directly to shoppers.
Frette linens, for instance, sells its products to 8,000 hotels around the world, accounting for a third of revenues for the Italian company. Since October 2008, Frette has been supplying a retail shop at Boston's Mandarin Oriental Hotel where guests can purchase all the linens used in the hotel, from dinner napkins to bath towels. The least expensive item: a single bath towel for $100. The shop also sells Frette products that are not offered as amenities to hotel guests, like lingerie and a sheared mink throw for $18,000.
Frette believes the retail shop will promote its brand with consumers. "Beyond the technical quality of our product," says Frette Chief Executive Paul Raffin, "the emotional connection that guests have with the hotel lingers longer than what an advertisement in a magazine offers."
These hotel-specific products also offer advertising opportunities for the hotels themselves. Many of the products, like the $125 cotton waffle robe from W Hotels, are emblazoned with the hotel's logo.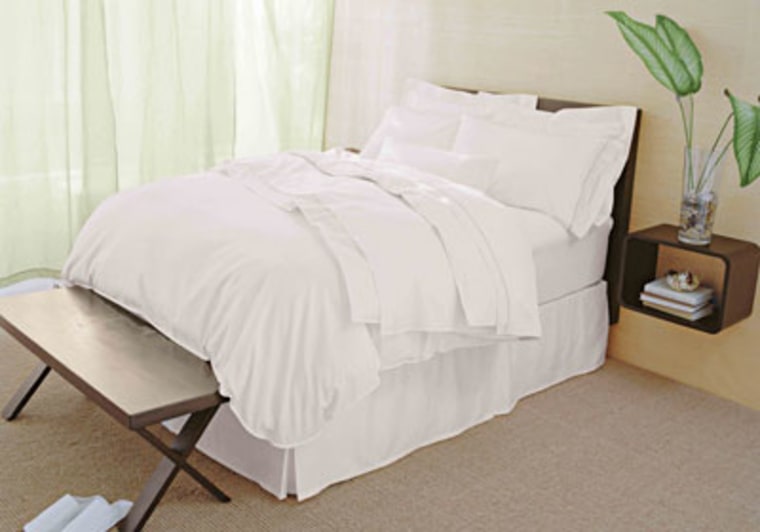 The idea of selling hotel amenities directly to consumers started a decade ago when Westin introduced its Heavenly Bed, a Simmons mattress made of steel coil springs in individual pockets that adjust to the weight and contour of a person's body. Just one week after its introduction, dozens of Westin guests called to find out how they could purchase the bed for their home. Since then, 30,000 beds have been sold.
The idea has proved profitable online as well. In 2003, the W Hotels chain launched Whotelsthestore.com, an e-commerce site dedicated to amenities offered at the hotel, such as waffle bath robes, cashmere blankets and Bliss bath products. Today, the company's online shop generates 78 percent of its total retail sales. (There are also five brick and mortar stores across the U.S.)
From 2003 to 2006, online sales increased by 50 percent each year. While growth slowed to 40 percent in 2007 and 25 percent in 2008, the amenities were still selling.
More recently, the newly reopened Plaza Hotel on New York's Central Park put its specially made Mascioni linens on sale at the hotel. The products will soon be offered on the Plaza's Web site. For $60 each, guests can purchase a 100 percent Aegean Turkish cotton towel embroidered with The Plaza's emblem.
Hotel goers can even buy the distinctive wallpaper at The Marcel at Gramercy, the new boutique hotel in Manhattan's Gramercy Park neighborhood. The paper is coated with bits of granite and mica and sealed with resin. It sells for $56 a yard at Phillip Jeffries in Fairfield, N.J., and at the company's 63 worldwide showrooms.
At the Andaz Liverpool Street in London, guests can pick up the $42 filament-free Morphy Richards electric kettle in the hotel gift shop. Plug it in at home and fantasize about being on vacation.