The relatively violence-free Iraqi elections mean "substantial" numbers of U.S. troops will be able to return home from Iraq within a year, President Barack Obama told NBC News on Sunday.
"We are in a position to start putting more responsibility on the Iraqis, and that's good news for not only the troops in the field but also their families, who are carrying an enormous burden," Obama said in an interview with Matt Lauer, anchor of NBC's TODAY show.
Obama gave no details, but he said his administration would make its intentions on troop levels in Iraq and Afghanistan known in coming days. He said he arrived at his assessment after extensive discussions with the Joint Chiefs of Staff and U.S. commanders in the field after Saturday's provincial elections across Iraq, the first since 2005.
But Americans should not take that to mean that the terrorist threat itself was lessening, the president cautioned.
"Here's what I think is important for everybody to understand: We've got real threats, and we have to remain vigilant," he said. "We have to make sure that we don't let up, because there are people who would be willing to do us harm."
At the same time, he said, "when you meet the people who are charged with keeping America safe, it gives you enormous confidence. They are on the case day in and day out with extraordinary professionalism."
Obama flexible on stimulus billObama, who was interviewed from the Map Room of the White House during the run-up to Sunday's Super Bowl, was unabashed about using the game for his own purposes.
After the interview, he joined 15 key members of Congress whom he invited to watch the game with him — seven of them from Pennsylvania or Arizona, home states of the Pittsburgh Steelers and the Arizona Cardinals. His goal was to build bipartisan support for his $825 billion-plus economic stimulus plan, which passed the House last week without a single Republican vote.
Obama signaled that he was willing to accept changes in the bill after Senate Republican leaders when it comes up for a vote there this week.
Echoing the sentiments of many Republican lawmakers, Sen. Kay Bailey Hutchison of Texas, a key member of both the Appropriations and Commerce committees, said Sunday that she would help lead opposition to the bill unless major changes were made.
In an interview on NBC's "Meet the Press," Hutchison said the bill as passed by the House put too much emphasis on spending on social programs that would not give the economy an immediate boost. She called for deeper tax cuts and redirection of spending to heavy construction projects to repair the nation's highways, which she said would to deliver a swifter kick.
"Everyone agrees that we need stimulus. We do,"  Hutchison said. "But when we're talking about redoing this bill, if we're talking about just adding more, I think we will be wasting a lot of money and adding to the debt."
Obama acknowledged Republican complaints.
"The important thing is getting the thing passed, and I've done extraordinary outreach, I think, to Republicans because they have some good ideas. I want to make sure those ideas are incorporated," he said.
"I am confident that by the time we actually have the final package on the floor, that we are going to see substantial support" from Republicans, he added. "People are going to see that this is a serious effort. It has no earmarks [and] we're going to be trimming things out that are not relevant to putting people back to work right now."
First family settling inTwelve days into his presidency, Obama said he was settling into his new life comfortably. The president's mother-in-law has moved into the White House to help keep an eye on the Obamas' daughters, Malia, 10, and Sasha, 7.
If anything, Obama said, living in the White House has brought him closer to his daughters, whom he frequently missed seeing when he was a senator in Washington while his family remained home in Chicago. Now, he said, "I've got this nice home office."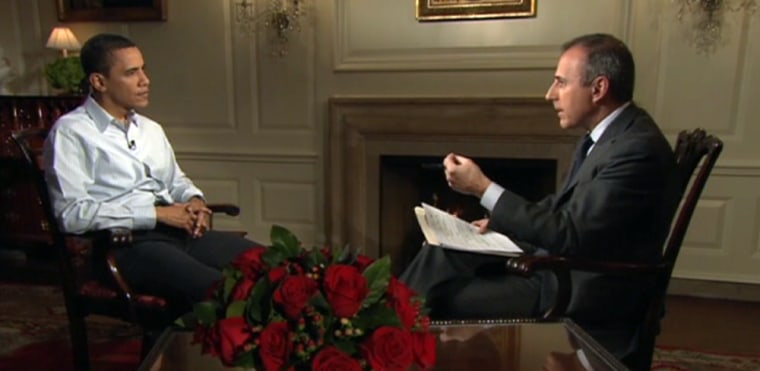 "At the end of the day, I can come home," he said. "Even if I've got more work to do, I can have dinner with them. I can help them with their homework. I can tuck them in. ...
"I'm seeing them now more than any time in the last two years, and that's been great for the whole family," he added.
More sobering, however, is the growing realization of the enormous weight on his shoulders as president, especially "having to sign letters for troops who have died and sending letters to their family."
That is "where you realize every decision you make counts," Obama said.
NBC News aired part of the interview live Sunday afternoon. It said it would air more of the discussion Monday morning on the TODAY show.