/ Source: TODAY contributor
As federal investigators continued their probe into whether a flock of birds caused the pilot of a passenger jetliner to ditch the plane into the icy Hudson River, survivors of Flight 1549 were only too happy Friday to share their stories of survival and thank the heroic crew and rescuers.
"It's great to be alive today," Martin Sosa, one of 150 passengers on the Charlotte-bound plane, said Friday on TODAY.
One by one, passengers who were aboard US Airways Airbus A320 lined up to hail pilot Chesley "Sully" Sullenberger III for safely ditching the plane in the frigid waters of the Hudson River opposite midtown Manhattan. An apparent bird strike knocked out both of the plane's engines shortly after takeoff from New York's LaGuardia Airport.
"It's hard to believe we survived that," Sosa said. "We're forever grateful for the pilot and for all the wonderful people who helped us."
'Something hit something'
Sosa and his 4-year-old daughter were seated separately from his wife and 9½-month-old son on the flight. His wife Tess didn't like the arrangement, but the man seated next to her and her baby in Row 19 quickly put her at ease.
"He seemed like a very calm, cool and collected gentleman. He had traveled an awful lot, and he also mentioned he was the father of five children. He was taken by my son right away," Tess Sosa told TODAY's Matt Lauer Friday in New York.
So when she heard a sound "like something hit something," she turned to the man, whom she identified as Jim Whittaker, for reassurance. He calmly looked up from his reading material, looked out the window, and said in a matter-of-fact tone, "Oh, something hit the engine."
"Are we going to be OK?" she asked.
"Yes," he said.
"Are you sure?"
"Yes."
"He said, 'We're turning around and we're heading toward the runway. We're going to be fine.' "
Bracing for impactAs Tess Sosa told the story, her infant son, Damian, squirmed and fussed on her lap, oblivious to how lucky he and his family were to still be alive and not at the bottom of the Hudson River. He had to share space on mom's lap with his 4-year-old sister, Sophia, who had been seated with her father and Tess Sosa's husband, Martin Sosa, in Row 23.
After the impact and as the plane began descending not toward another airport but toward the Hudson River, Tess Sosa said she could hear Sophia, who was trying to leave her dad to get to her mother. She turned around and yelled back, "We're gonna be OK, Sophia. We're gonna be OK."
When a voice on the intercom told passengers to brace for impact, Whittaker volunteered to take Damian and brace him for impact. "I just trusted him," Tess Sosa said. "Because he mentioned that he'd been on scary flights before."
'Like a roller coaster'
Martin Sosa took over the narrative for his wife. "It was like a roller coaster," he told Lauer. "It was just like you see in movies. It was a sharp, abrupt impact. Next thing we know, water's coming into the cabin."
Martin said his next thought was: "So now we survived the impact. What's going to happen next?"
Like other passengers, both of the Sosas described semiorganized chaos as ice-cold water began flooding the cabin and passengers rushed to get off.
"People were just trying to jump over each other, jump over the seats," Martin Sosa said. "Some people were actually going for their luggage. Everything you're not supposed to do, people did."
Lauer asked him if people at least followed the classic dictum of getting women and children off first.
"That's debatable," Martin Sosa said, adding, "A lot of people were very valiant, trying to help people through."
One of the people climbing over seats was Tess Sosa, who saw that as the only way to get off the plane. "It wasn't easy," she said, crediting a man she knew only as "Brad" for finally helping her get into the aisle and back together with her husband and daughter.
On the wingThe family ultimately found themselves together on the wing of the sinking plane, standing in water that was getting steadily deeper.
After getting his family on a life raft, from which they were transferred to waiting ferries that had responded to the rescue effort, Martin Sosa stayed on the wing, trying to pull the raft closer to make it easier for others to be saved. "My hands were turning blue," he said. But, like everyone else on the plane except for a woman who broke both her legs, he suffered no serious injuries.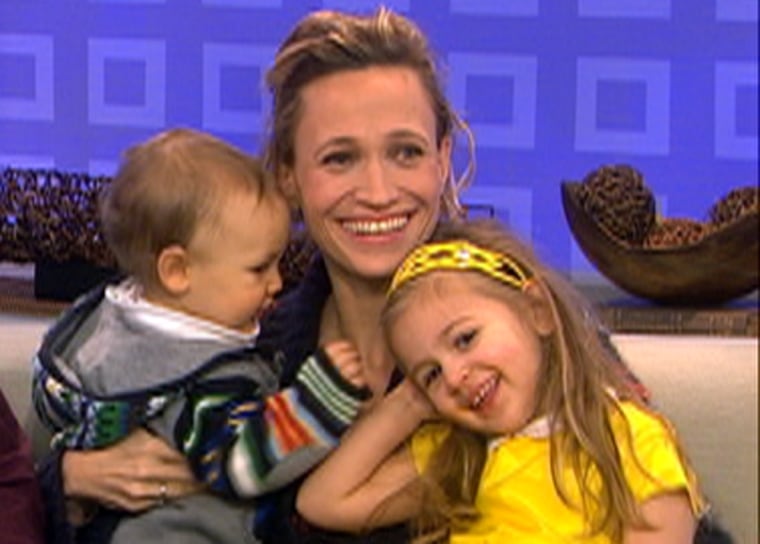 The family had been on their way to Charlotte, N.C., where they had planned to be with Tess Sosa's mother, who was to undergo surgery on Friday. Those plans had to be rearranged, but no one was complaining.
That included the Sosas' young daughter, Sophia. She stayed quiet throughout the interview, but during a break, Lauer said she told him: "The plane turned into a boat, and that's not supposed to happen."
Because it is quite rare for commercial jetliners to land on waterways, federal officials are investigating why the US Airways' pilot was forced to do so Thursday.
Although it is suspected that a flock of Canada geese flew into the engines, the exact cause of the accident has yet to be determined, Kitty Higgins of the National Transportation Safety Board (NTSB) told TODAY's Ann Curry in a live interview from the Hudson River waterfront, where salvage crews were working to recover the downed airplane.
'I heard an explosion'
The FBI almost immediately assured the public that foul play was not suspected, but investigators do want to be sure that it was birds, not mechanical problems, that caused both engines to fail.
Dave Sanderson, 47, of Charlotte, who works for Oracle Corp., was headed home after a business trip. The married father of four was in seat 15A, on the left side of the plane.
"I heard an explosion, and I saw flames coming from the left wing and I thought, 'This isn't good,' " he said. "Then it was just controlled chaos. People started running up the aisle. People were getting shoved out of the way."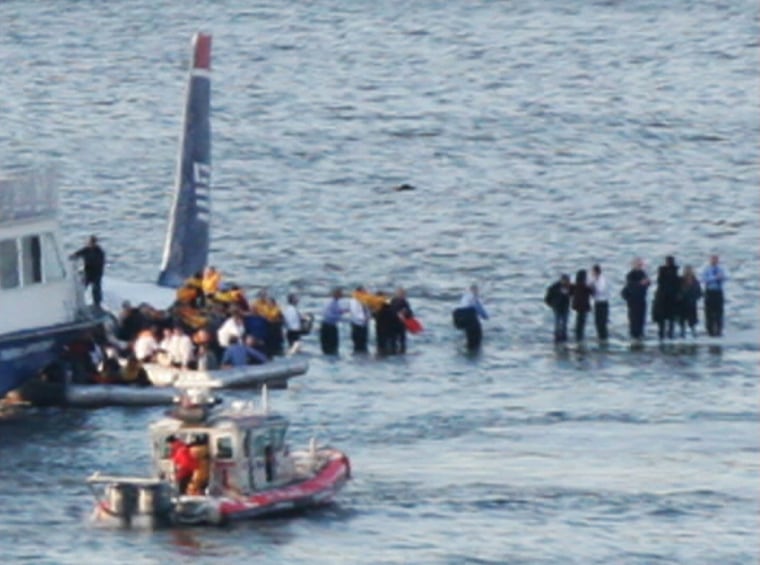 The NTSB's Higgins said that investigators would interview passengers after talking first to the pilot, co-pilot, flight crew and air traffic controllers today. Higgins told Curry that bird strikes are not uncommon, but engines are tested for such incidents before they are put into service.
"Obviously, we have not seen something of this significance in quite some time," she said.
In most investigations, Higgins said she and her colleagues investigate what went wrong to cause a tragic crash.
"In this accident, although there were some things that went wrong, there was so much that went right," she said. "We want to learn from that."
While investigators sought out witnesses, divers and recovery crews were working to pull the plane from the river. After ditching opposite 48th Street, the plane floated some four miles down the river to the Battery at the tip of Manhattan.
As the plane glided down the Hudson River, passengers described the cabin as being filled with the sounds of people praying.
One of the people appealing for divine rescue was 31-year-old Jeff Kolodjay of Norwalk, Conn., who was on his way with his father to North Carolina, where they were planning to join friends for a golf expedition.
"It's really weird," Kolodjay told Lauer. "You think 'I might die,' and a lot of things go through your mind."
"You think the plane might explode, or I may drown," added another passenger, Denise Lockie.
Lockie, who works for Staples and frequently flies between New York and Charlotte, was sitting in Row 2 in the first-class cabin. After the engines shut down, she looked at a pilot who worked for a different airline and was on the flight as a passenger. Lockie asked, "Are we going down?"
The pilot said nothing, just nodding her head yes.
"I thought my life was over," Lockie told TODAY's Hoda Kotb and Kathie Lee Gifford in a second interview. "The gentleman that was sitting on my left, we were embracing each other and praying. Even while thinking this was the end, Lockie said she and the man in the next seat kept saying, "We're gonna make it. We're gonna make it."
When the plane hit the water, Lockie lost her glasses. "I can't see without them," she told Lauer. She agreed that the exit was chaotic. "The front of the plane — it was brutal," she said, adding later that as she was sliding down the emergency chute, other passengers were jumping off the plane and into the river. "We didn't know if it was going to explode," she explained.
Passenger Linda Hahn told Lauer that she joined those praying. She described other passengers as helpful during the evacuation: "Everybody was really helping each other and it was amazing," she said.
'Strange-looking boat'
The evacuees were loaded onto ferryboats that left their normal routes to rush to the scene. Vince Lombardi, the captain of one of the boats, told Lauer that he was leaving to make his trans-Hudson trip when he looked up the river and saw something odd.
"That's a strange-looking boat," he told a crewman. "He said, 'I think that's a plane.' "
Lombardi realized that's what it was. "I hit the throttle," he said, heading as fast as he could to the scene of the crash. Lombardi said he and other ferry captains acted as quickly as they did thanks to drills they go through several times a month to prepare for emergencies.
Everyone praised Sullenberger, the pilot. Another passenger, Billy Campbell, said that after
everyone was off the plane, he overheard the co-pilot telling Sullenberger, "You know, Sully, no one's ever had a successful ditch before. You pulled it off."
Campbell said Sullenberger stayed at the front of the plane, making sure everybody got off. After the cabin cleared, witnesses say the pilot made two more passes through the cabin to make sure no one was left behind before he abandoned his aircraft.
As Campbell exited, he said "Thank you" to the heroic pilot.
"He just said, 'You're welcome,' " Campbell told Lauer. "It was a remarkable moment."
The Associated Press contributed to this story.