/ Source: TODAY contributor
Jaci Dalenberg can be forgiven if she is a little extra-doting on her three new granddaughters. After all, she had them all to herself for nearly eight months.
In a remarkable display of a mother's love, the 56-year-old Cleveland resident acted as a surrogate in carrying triplets for her daughter, Kim Coseno, who desperately wanted to start a family with her husband, Joe. Kim, 36, had a partial hysterectomy that doomed any chance of her having children on her own with Joe. But then her mom stepped up and volunteered to carry a baby (babies, as it turned out) on Kim's behalf.
"It's just another thing I'm doing for my daughter, you know, a mother's love," Dalenberg told Meredith Vieira on TODAY Tuesday via satellite hookup from Cleveland. "They really wanted and were really sincere about having children, and they're both great people."
A Thanksgiving giftDalenberg appeared on TODAY with Kim and Joe Coseno and the family's OB/GYN, Dr. Robert Kiwi, to detail their amazing baby journey. The girls born October 11, Elizabeth Jacilyn and identical twins Carmina Ann and Gabriella Claire, are still in a natal intensive care unit at Hillcrest Hospital in Mayfield Heights, Ohio, but they are expected to be home with the Cosenos by Thanksgiving.
Kim Coseno is already immersing herself in her new mother's role, learning how to juggle three hungry daughters as she gives them their bottles at Hillcrest Hospital. While she barely contains her enthusiasm over the day her babies will be home, she's still in awe of her own mother's accomplishment in giving her the gift of children.
Coseno, who has a teenage daughter and teenage son from a previous marriage, had nearly given up hope of starting a family with Joe, her husband of six years. But Dr. James Goldfarb of the Cleveland Clinic told NBC why it wasn't necessarily a lost cause.
"She did have one ovary remaining, so she did have eggs that were very viable and very possible to produce a pregnancy," Dr. Goldfarb explained.
A flicker of hope
It was Dalenberg's offering to carry those eggs for her daughter that made the Cosenos realize for the first time that it might be possible to have children of their own, Kim Coseno told Vieira. "We had been in such a dark period for so long, and we all of a sudden had a little glimmer of hope that there would be a chance we would have a baby," she said.
Those hopes dimmed when a first in vitro procedure on Dalenberg proved unsuccessful. But the Cleveland Clinic, where Dalenberg works in records, offered to fund another attempt through its "Partnership for Families" program. The family jumped at the chance.
The second try was successful — and then some. Two eggs were placed in Dalenberg, and one of them split into identical twins, giving the Cosenos a ready-made family of three.
Dalenberg said she was "in shock for about four days" after learning she was carrying triplets. But "after that, it was fine, like 'I can do this.' "
Joe Coseno told Vieira: "Jaci's health was the primary concern before we even started this." She was put through a battery of tests to make sure she had the health and stamina to see the pregnancy through.
Dr. Kiwi said Dalenberg "had four pregnancies previously, so she knew what she was getting into. But nevertheless, at this point in your life, going through a pregnancy isn't just a walk in the park."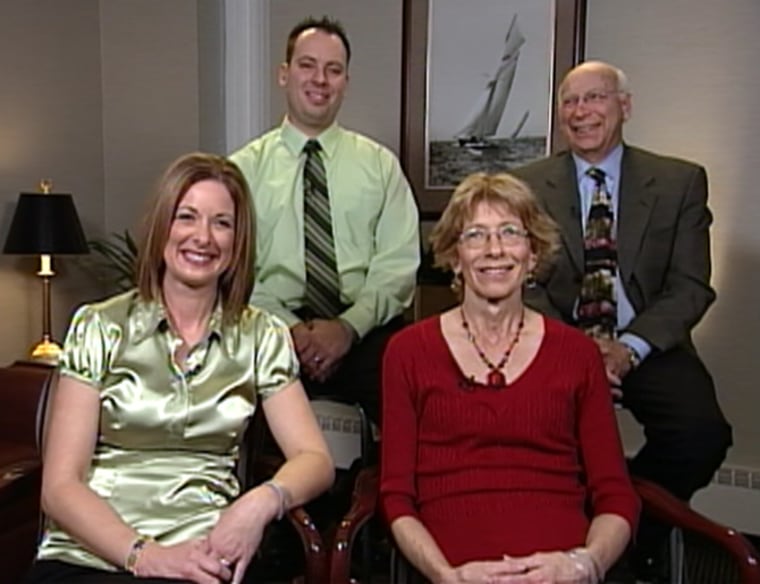 "One of the twins had stopped growing and really wasn't doing as well as it should be in the uterus," Kiwi told Vieira. "The testing we had done showed that the baby might be compromised if we didn't deliver fairly soon."
As TODAY rolled video of the delivery supplied by the syndicated show "The Doctors," Kim recalled the miracle of seeing her mother give birth to her children. "Elizabeth was the first baby to come out," she said. "She was screaming at the top of her lungs. It was awesome, the best feeling in the whole world."
Now weighing nearly 4 pounds, Elizabeth is due home Thursday. Twins Carmina and Gabriella, both at 3 pounds, are expected to follow shortly.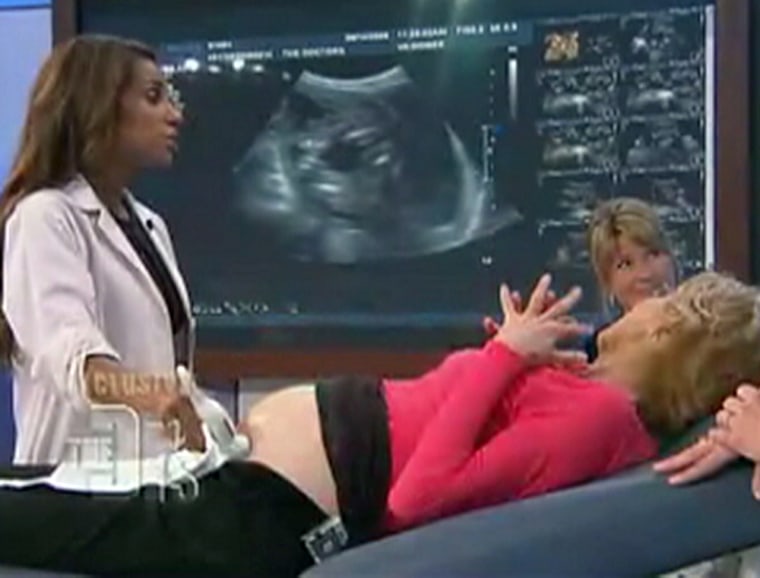 As for new-mom-times-three Kim, she is readjusting her life for what will surely be a hectic and costly time in the Coseno household. She left her job as a nurse to be with her babies, but with a monthly bill of $1,000 just for diapers and formula looming, she says she's looking for "a job that would be perfect for a stay-at-home mom ... not that taking care of the little girls won't keep me busy." Not to mention looking after her 13-year-old son.
But Coseno isn't complaining. She says she will never forget delivery day at Hillcrest Hospital.
"It was the most incredible experience of my life," she told Vieira. "It was the most touching, the love I felt for my mother at that moment, and those babies. I can't even describe it, it was so great."