/ Source: TODAY contributor
Petra Davis still doesn't remember much about the bear attack that nearly took her life, which is probably a good thing. What she does know is that she's not keen on taking any more bike rides at night.
"I don't know about riding my bike in the dark again," the blond teenager told TODAY's Meredith Vieira Monday in New York. A tracheotomy scar on her neck and a barely visible scar above her left lip were the only visible signs of the attack that nearly took her life at the end of June.
An accomplished biker, cross-country skier and runner, Davis was 13 hours into a 24-hour trail-bike race in Far North Bicentennial Park in Anchorage, Alaska, when she was attacked by a bear — probably a grizzly. Davis, 16, was 15 years old at the time of the attack and was competing in the race for the third straight year.
Fuzzy memories
She still doesn't know why she was targeted by the bear.
"I remember coming up to the trail," Davis told Vieira. "There's a little bump at the crest — I remember cresting that. There's little things that might come out later, I'm not sure. The actual bear attack is really fuzzy. And then I remember crawling back to the trail, and pretty much the whole time that I was with Peter and the paramedics."
"Peter" is her long-time friend and coach, Peter Bassinger, who was also participating in the race and who accompanied her to TODAY. He was the first rider to come upon her after the attack.
"When I came upon her, she was bloodied," Bassinger told Vieira. "It was a dark trail. I didn't know who she was. I could just tell someone was hurt."
She was more than hurt. The bear punctured a lung, broke eight ribs, mauled her right leg and nicked her carotid artery, leaving her a bloody heap in the trail.
Despite her injuries, Davis somehow had managed to call 911 on her cell phone even before Bassinger arrived. On the tape of the call, her voice is a gasping and desperate whisper.
"Please help … bear," she tells a dispatcher, who keeps asking her where she is.
"I'm … I, I can't talk," she responds. "I can't talk."
Davis said she remembers making the call. She also remembers Bassinger carrying her down the trail to get away from the place she was attacked. And, she remembers unlocking the phone's keyboard for Bassinger so he could call 911 again.
A matter of minutes
It was only after he had moved Davis that Bassinger recognized the mauled girl as his friend. He called 911 twice more, but was unable to get a connection. He then called the race director, who called for help. It took rescuers, escorted by armed police against the possibility of another attack, more than half an hour to get to Davis and Bassinger.
Another few minutes and she would have bled to death from the damaged carotid artery. Yet, miraculously, Davis was still conscious.
She has said that she didn't feel any pain from the attack. It was only later in the hospital, that she really began to feel the effects of the damage inflicted on her.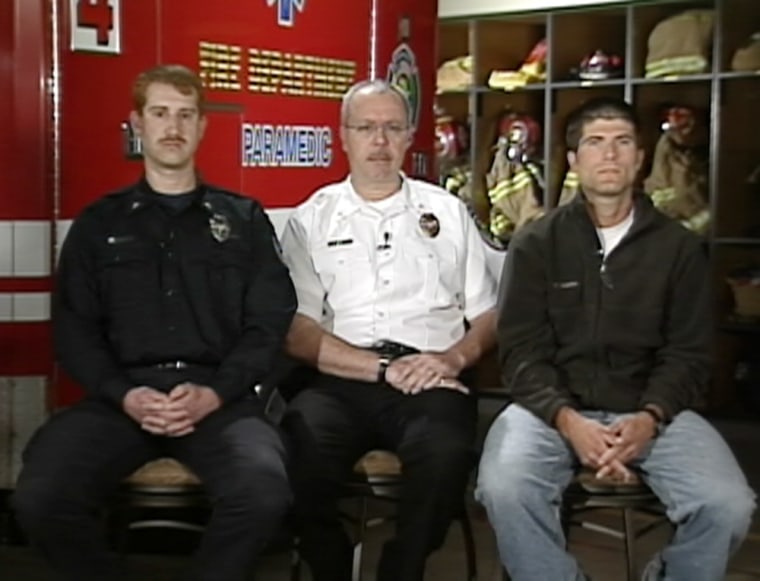 Davis underwent several surgeries in the days after the attack and spent 20 days in the hospital. She's still undergoing physical therapy and has scars on her back, side and right leg. But, she said, she's almost 100 percent back.
"I'm doing good," she told Vieira. "The only thing that's really hard for me right now — I can't run very well. I can run for a minute or two. Because of my nerve damage, my calf cramps up. But other than that, I can pretty much do everything. My range of motion is completely back. It just takes a little more effort to lift my right arm than it should."
More bears in areaAccording to The Anchorage Daily News, this has been a bad summer for bear attacks in the city. It is believed that measures to restore salmon runs to rivers and streams have attracted more bears to the area. No one knows for sure whether Davis was mauled by a black, brown or grizzly bear; all are native to the area. But a grizzly sow was killed later in the summer after attacking a woman not far from where Davis was mauled, according to newspaper reports.
Davis believes the bear attacked her more out of fear than aggression.
"I think that I hit it, and it was startled, and I scared it and it just put me down. But I'm not sure," she told Vieira. "Some people think it charged because I was too close, or maybe I was going too fast. I just think mostly it was scared."
The race Davis participated in has since been moved from the park where she was attacked. It had been reported that Davis wanted to enter the race again next summer, but she told Vieira that she wouldn't race next year.
"I've been riding my bike again," she told Vieira. She's even been to one of the trails she was on, but hasn't yet revisited the Rovers trail where she was mauled.
She's also nervous about being in the dark, even off her bike.
"I've been in the dark, which wasn't a very good experience," she said. "But I think that's getting better."