MSNBC.com is tracking Santa's journey around the globe, including sightings and videos from the various stops along his route and links to our Santa Tracker map. Join us Christmas Eve and Christmas Day to see where Santa has been and when he's coming your way! Happy Holidays from all of us at MSNBC.com.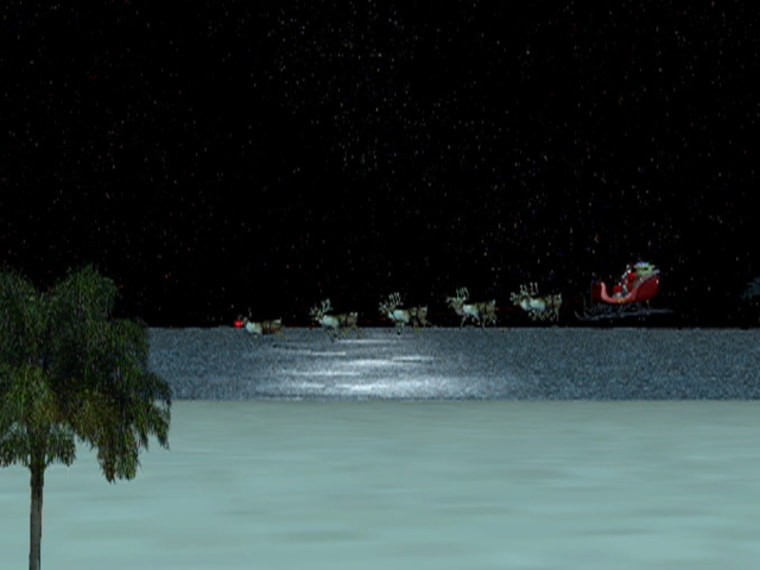 Dec 24: Lihue, Kauai, Hawaii – Santa stopped to rest under the palm trees of Kauai, Hawaii, this morning after delivering gifts to the last house on his list. "He sat down on the beach and poured sand out of his big, black boots," one onlooker said, "then harnessed all of the reindeer back onto the sleigh and reminded them that they couldn't be late for breakfast at the North Pole with Mrs. Claus."
Santa gets fueled up in Seattle –
Santa gets fueled up in Seattle –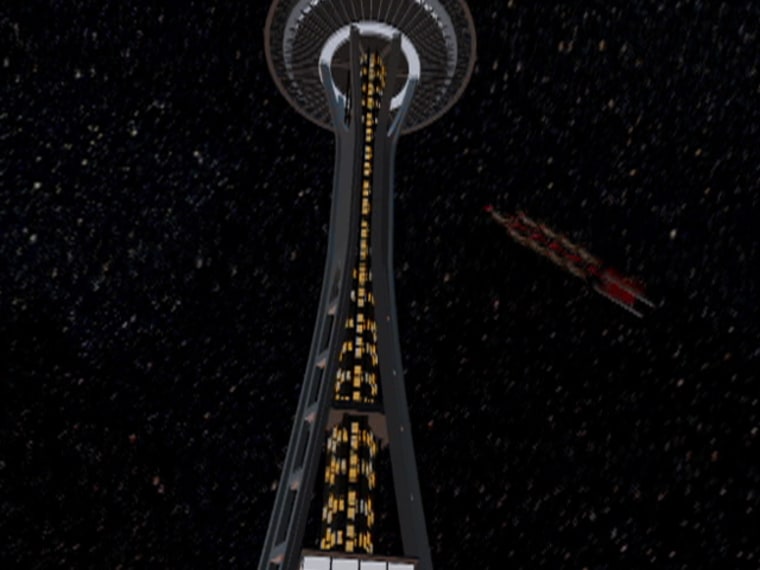 Dec 24: Seattle, Wash. – After a brief stop for a peppermint mocha and a gingerbread donut at a Seattle coffee house, Santa and his reindeer paused to take in the view from the top of the Space Needle. Our Santa expert tells us that the Space needle is a key landmark on Santa's journey, letting him know that his trip around the world to deliver presents to all the good little boys and girls is almost complete.
Santa spotted in the Rockies –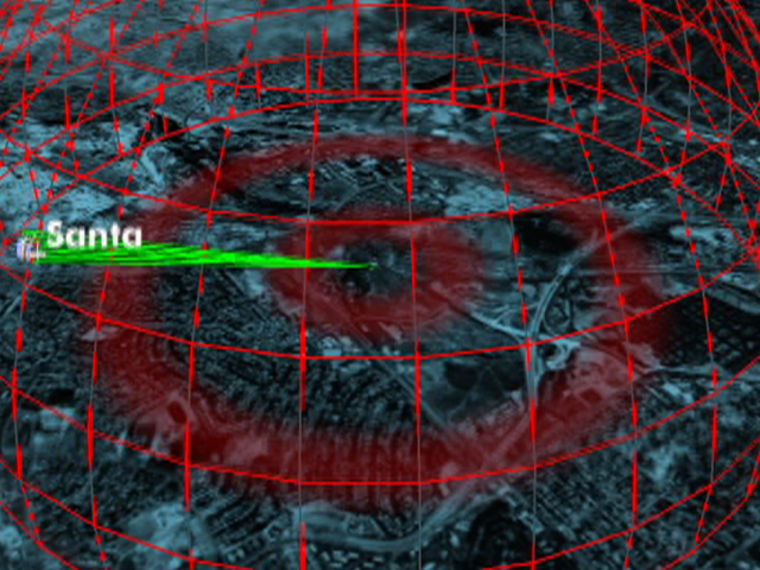 Dec 24: Evergreen, Colo. – Two young sisters spotted Santa early this morning from their tree house window in Colorado Springs.  "I know we should have been in our bed," said the older of the two, "but I just knew that our tree house would be a great Santa lookout spot. We saw him sliding down our chimney!" This is an important sighting because it means that Santa is nearly to the West Coast and Hawaii – which is always his final destination before heading back to the North Pole.
Prancer nails the triple axel in Canada –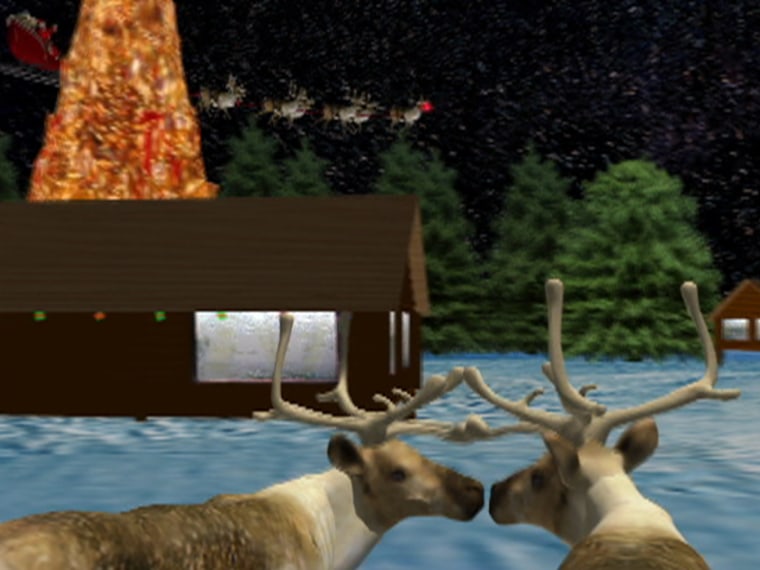 Dec 24: Reindeer Lake, Saskatchewan, Canada – An amazing sight is being reported by several local children along the frozen banks of Reindeer Lake in Canada. Prancer, one of Santa's lead reindeer, has donned ice skates and is performing twirls and jumps in an ice dancing spectacle worthy of the Olympics. It has been rumored for years that Prancer has several family members in the area, and the show is likely a way for Prancer to give thanks to friends and family for their support over the years.
Santa shows off in St. Louis –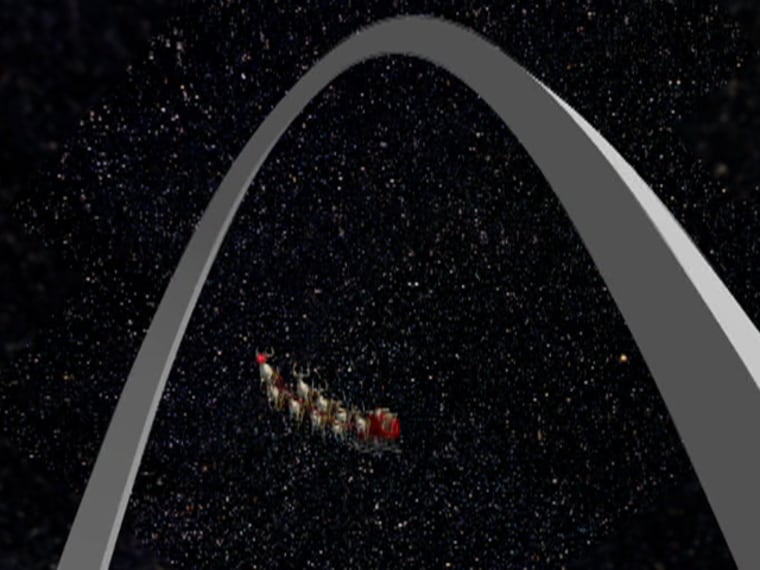 Dec 24: St. Louis, Mo. – Santa and his reindeer are accustomed to fancy flying, but the latest reported sighting of the man in red was truly spectacular.  Santa experts are positive that it was in fact Mr. Claus and his horned team flying upside down through the St. Louis Arch, adding that centrifugal force allowed all of the presents to stay safely within the sleigh.
Santa takes a bite of the Big Apple —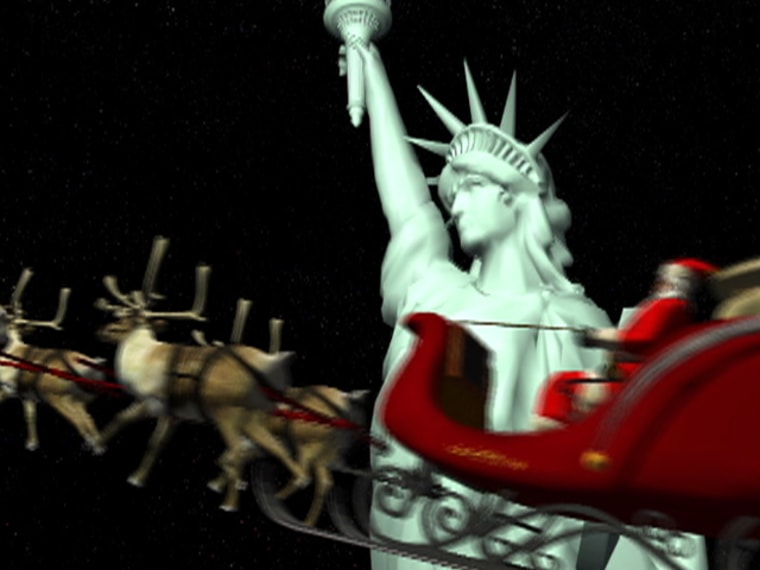 Dec 24: New York City, N.Y. — The custodian responsible for cleaning the crown of the Statue of Liberty claims to have spotted Santa flying over the mouth of the Hudson River this evening.  When asked about what he saw, the gentleman replied, "Yep, I saw Santa. Since I was so high up on the statue, I got a real close look. Santa's bag looks mighty full this year." This confirms our first Santa sighting of the year on the east coast of North America.
NASA identifies Santa above Cape Canaveral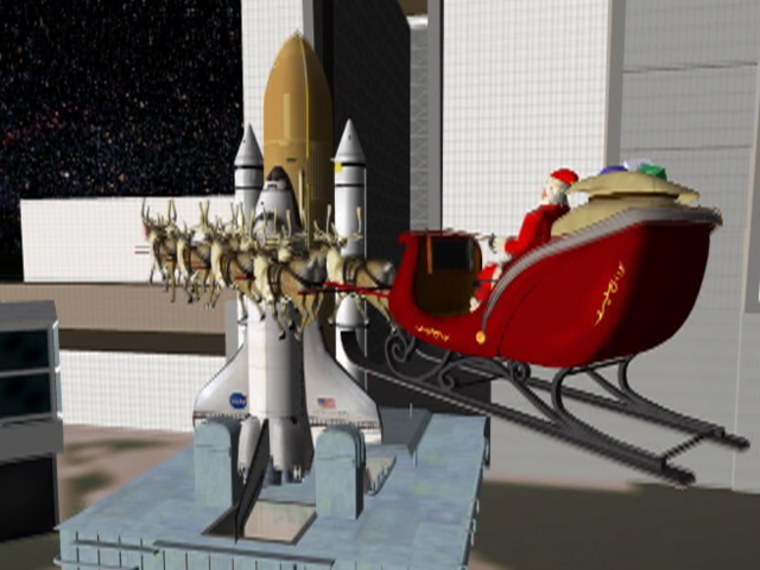 Dec 24:  Cape Canaveral, Fla. — As a group of astronauts were just finishing up Christmas Eve dinner in Cape Canaveral, they heard a loud rushing sound outside the NASA base window. "At first I thought that someone was firing up the space shuttle," one of the astronauts said, "but then we realized it was Santa flying by in his supersonic sleigh!" According to unidentified sources, NASA has performed secret studies with Santa's reindeer, investigating their incredible flying techniques for possible incorporation in to the space program.
Santa stuns South American scientists -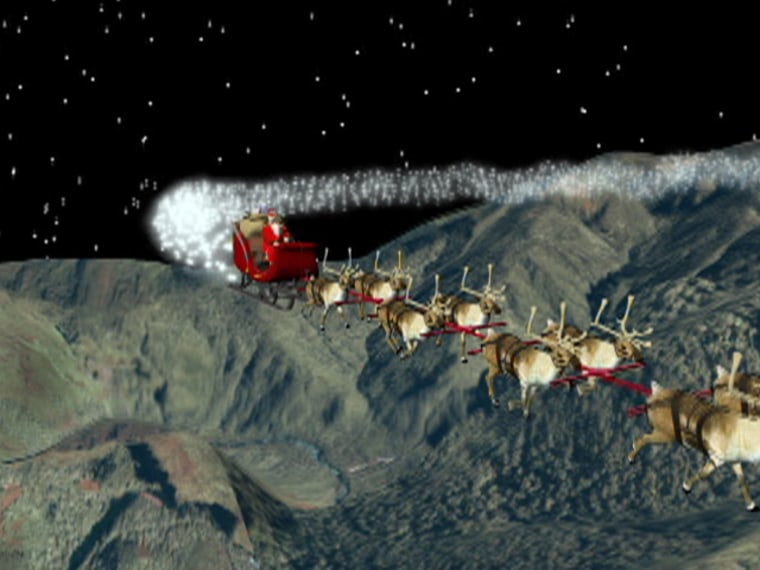 Dec 24:  Machu Picchu, Peru — No one was actually there to witness the sighting, but scientists at a space observatory in Peru tell authorities that they have spotted a UFO that could only be Santa and his reindeer shooting across the night sky above Machu Picchu. One of the scientists exclaimed, "It was amazing! I was looking through the telescope and the entire night sky just lit up." This scientific sighting confirms that Santa Claus is ahead of schedule and already making his rounds in South America.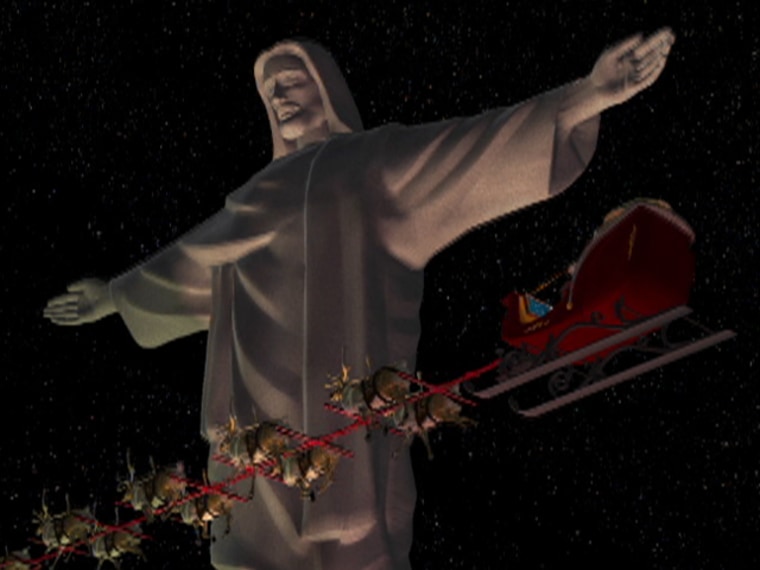 Dec 24: Rio de Janeiro — Copacabana beach was rocking even more than usual this evening as Santa flew his sleigh just over the tropical waters.  Crowds of late-partying sunbathers cheered as the reindeer splashed their hooves in the surf. "His reindeer were flying really low over the water and pulling him along in his sled," one woman said. "We are so happy to see Santa in Brazil!"
Santa refuels in the Mid-Atlantic — 7:20 p.m. ET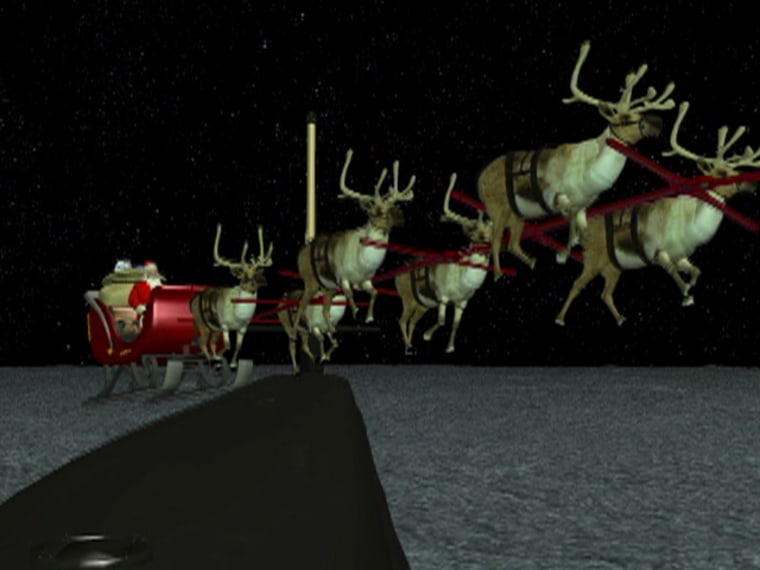 Dec 24:  Lajes do Pico, Azores – The latest Santa sighting has just been confirmed in Azores, a group of islands in the middle of the Atlantic Ocean. "I had fallen asleep while I was hiding behind the couch waiting for Santa" said a 6-year-old Azores resident.  "I heard a quiet thud as Santa slid down the chimney. I thought I was still dreaming as I watched Santa fill our stockings. All of a sudden, Santa noticed I was there and gave me a quick wink. Then he was off as quick as he arrived!"
Santa completes European leg of his journey —
Dec 24: London, England — Santa was seen by several last minute shoppers in the wee hours of the morning flying along the Thames River in London's West End.  The United Kingdom and Ireland are typically Santa's last European stops, which means he should be moving into the Western Hemisphere within the hour.
Santa flies circles around Eiffel Tower —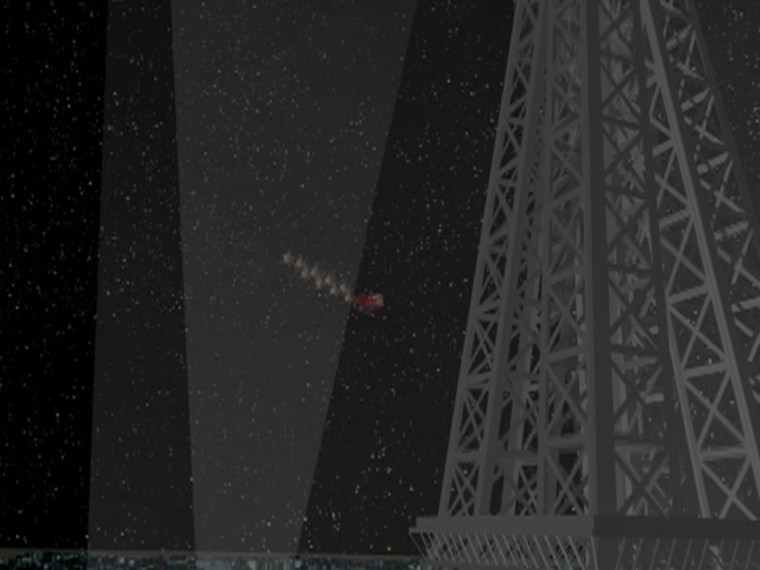 Dec 24:  Paris, France — Tourists at the top of the Eiffel Tower saw something unexpected over the Paris skyline late tonight when Santa made an appearance over the City of Lights.  "I had just reached the top of the Eiffel tower and was taking in the view when I saw Santa and his reindeer flying through the night sky," said an American tourist.  "Soon, cheers erupted all over the city from others who saw the magical sleigh.  Everyone cheered so loudly that Santa actually circled the Eiffel Tower and waved to all of us!"
Santa goes cuckoo for Germany —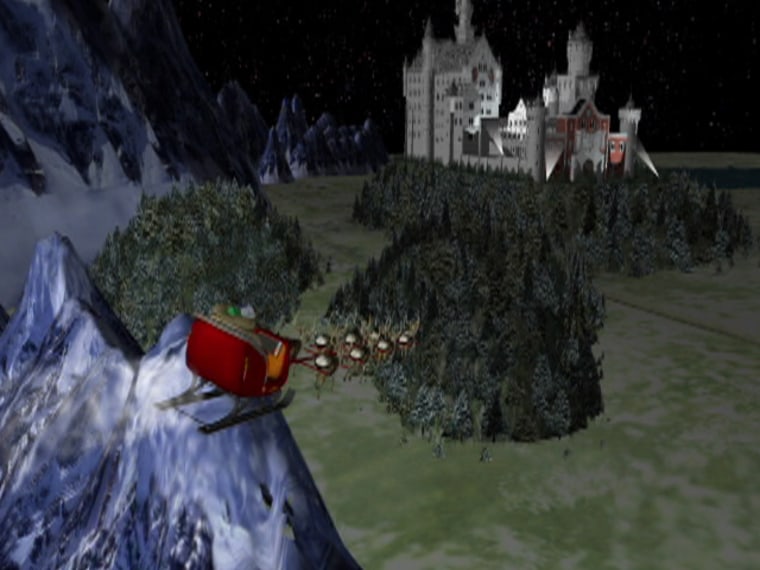 Dec 24:  Baden-Baden, Germany —  It has been confirmed that a cuckoo clock maker in the Black Forest of Germany saw Santa flying overhead while he was out on a late-night walk.  Already halfway through Europe, Santa is getting closer and closer to us here in the United States!
Santa stops for spaghetti in Rome —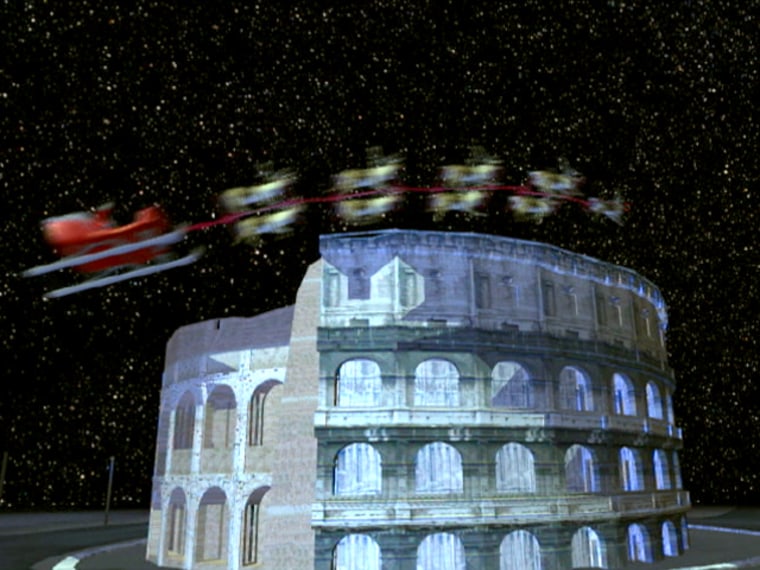 Dec 24:  Rome, Italy — Northbound again, Santa's first European sighting has been confirmed in Rome. After tossing a coin in the Trevi fountain, Santa was spotted rushing out the back door of a popular pasta restaurant. "Oh yes," said the head waiter, "St. Nicholas stops in for a quick plate of spaghetti and meatballs every year."
Santa cozies up with the Sphinx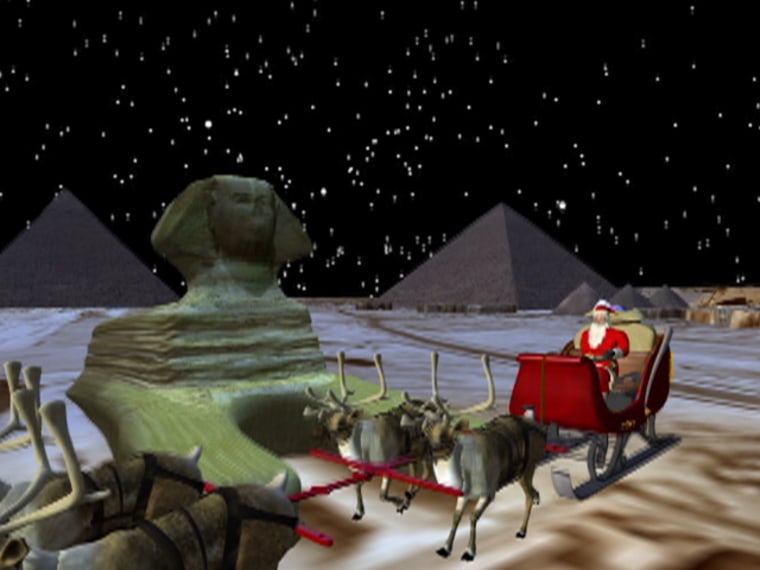 Dec. 24: Cairo, Egypt — Santa was spotted with his reindeer taking a quick break and warming up on the paws of the mysterious Sphinx.  Egypt is the quarter mark on Santa's 24-hour trip around the world and has always been a quick but cozy resting spot. Our sources tell us that Santa was there for nearly 90 seconds before getting back to work — a record resting time for Santa on Christmas Eve!
Santa takes an Astronomical Journey —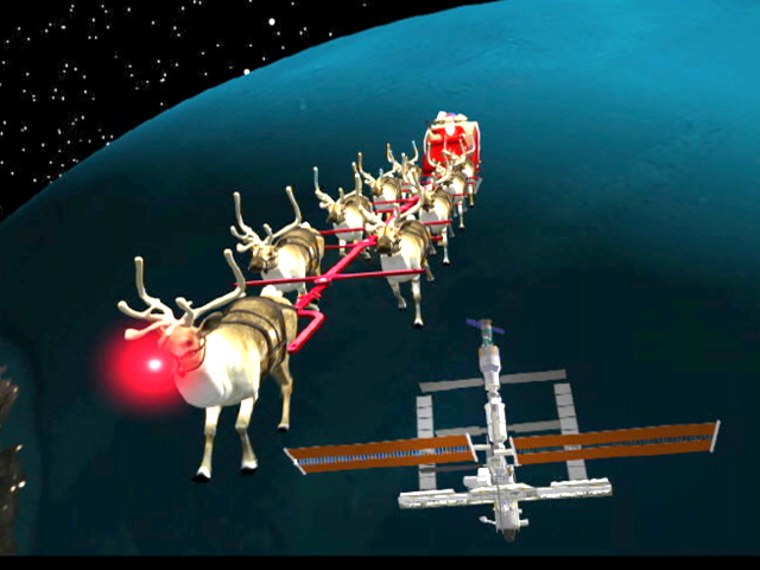 Dec. 24: International Space Station — Astronauts at the International Space Station were just finishing up a routine space walk when the captain of the group spotted a red blur out of the corner of his eye. "I must say, some of us had wondered if we would miss our visit from Old St. Nick, what with us being way out in space and all. We're thrilled that Santa hasn't forgotten us!"
Santa gets athletic in India —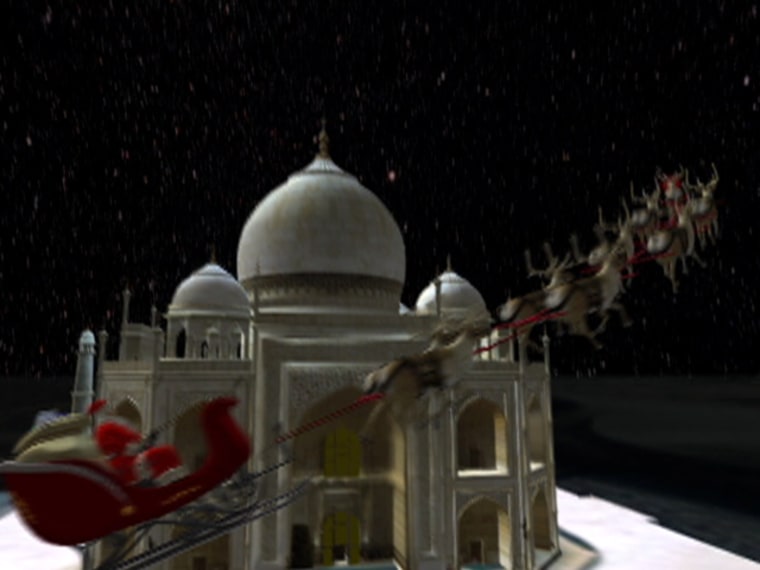 Dec. 24:  Agra, India — With no flat rooftop to land on at the Taj Mahal, Santa was seen tonight lowering himself down into the palace via a red rope while his reindeer hovered in formation. "You wouldn't think a man with such a big jelly belly could be so agile," said a Taj Mahal security guard, "but this just shows that when it comes to delivering Christmas presents Santa will do whatever it takes. I wonder if he practices yoga."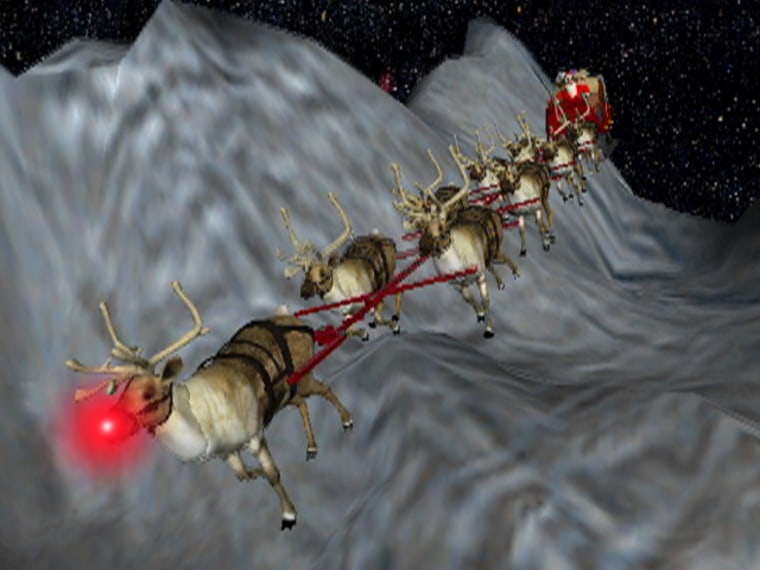 Dec. 24: The Himalayas — Just 40 minutes after he was spotted over the Great Wall of China, Santa was heard urging his reindeer over the Himalayan mountains in Nepal. "First we heard the bells jingling, and then we heard Santa call out all of his reindeer by name," said one 7-year-old Himalayan local, "I'm so excited I can't go back to sleep!"
Santa seen hovering over Great Wall —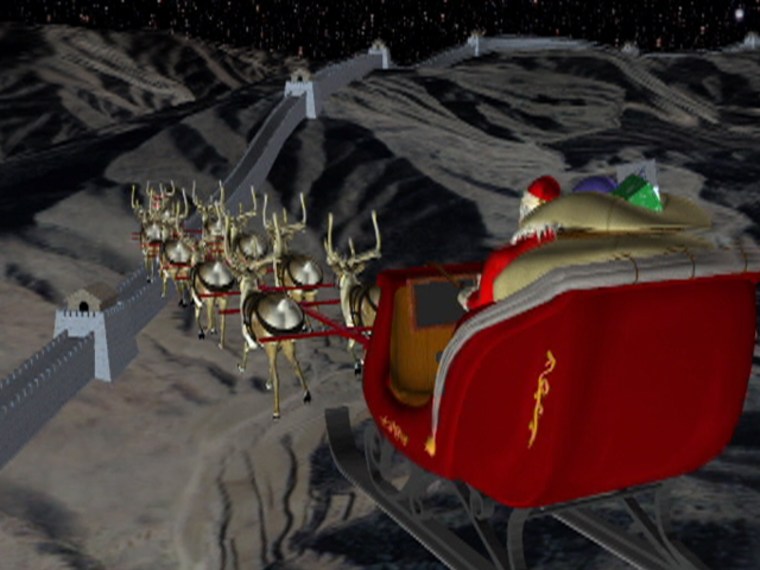 Dec. 24:  The Great Wall of China — Santa has already made it over to Asia's mainland after some early morning island hopping from New Zealand to Australia and then Japan. Santa and his reindeer are making record time this year, and it's a good thing! Asia is the most populated continent on earth, so Santa has millions of stops to make here before he can get to the rest of the children all over the world. In fact, anonymous elves have reported that almost half of their workshop time is dedicated to making toys for good little boys and girls in Asia. 
Santa Spreads Christmas Cheer in Japan —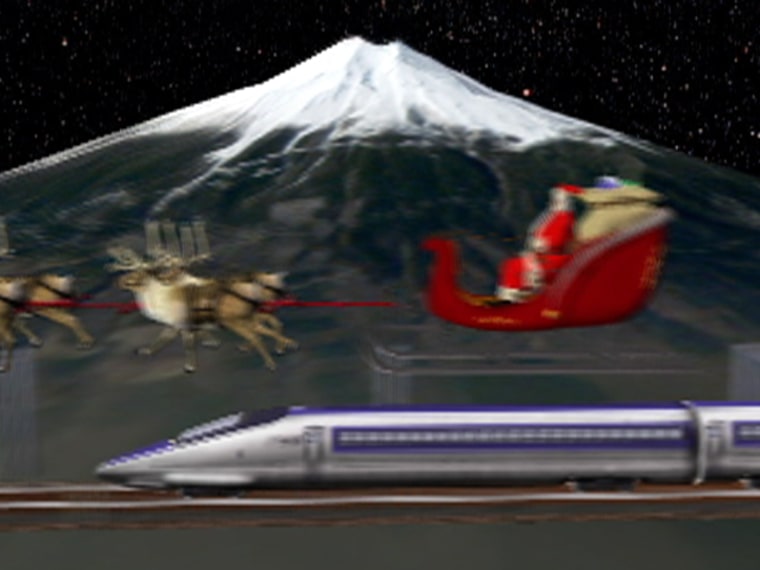 Dec. 24: Tokyo, Japan — Rudolph's glowing red nose was difficult to spot amidst all of the flashing lights in downtown Tokyo, but local businessmen returning home late from work have reported seeing Santa's sleigh whiz overhead. According to one man, "We all made sure to rush home — everyone knows that Santa won't come if you aren't in your bed, fast asleep!"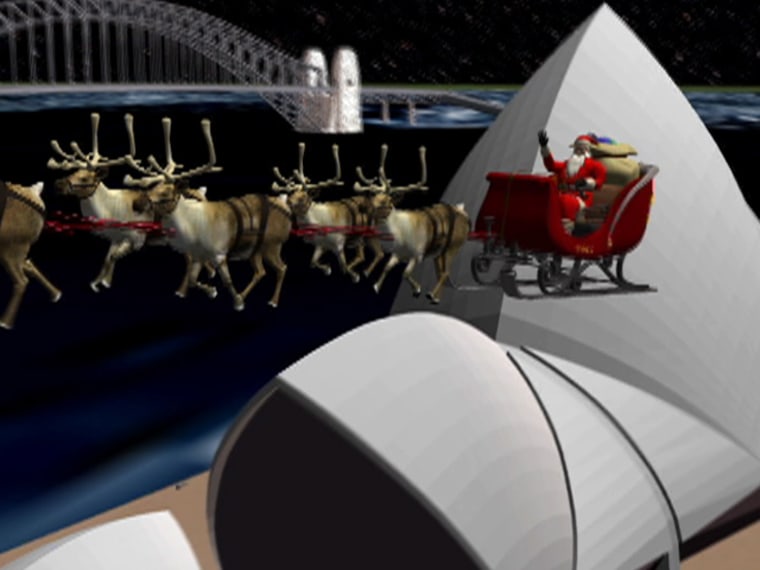 Dec. 24: Sydney, Australia — Only two hours after his sighting in New Zealand, Santa has now been spotted over Sydney harbor in neighboring Australia. Sydney resident Nathan Lily, age 9, said: "I couldn't sleep, so was I looking out my window, and then I saw him! It was definitely Santa – I counted all 12 reindeer!"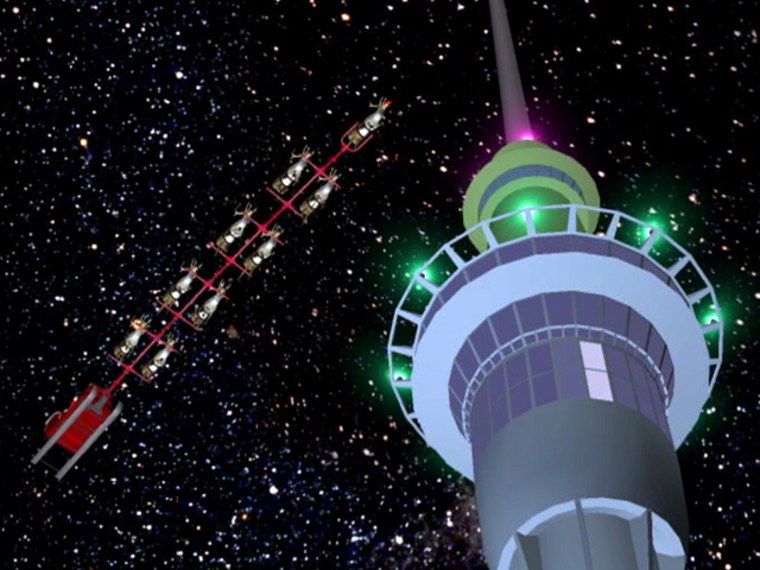 Dec. 24: Auckland, New Zealand — Keen-eyed Santa spotters in New Zealand have provided the first confirmed sighting of Santa Claus as his worldwide journey begins. Auckland is traditionally one of the first cities to spot Santa, as he moves from the North Pole, over Russia and then across the Pacific Ocean. 
Santa departs the North Pole —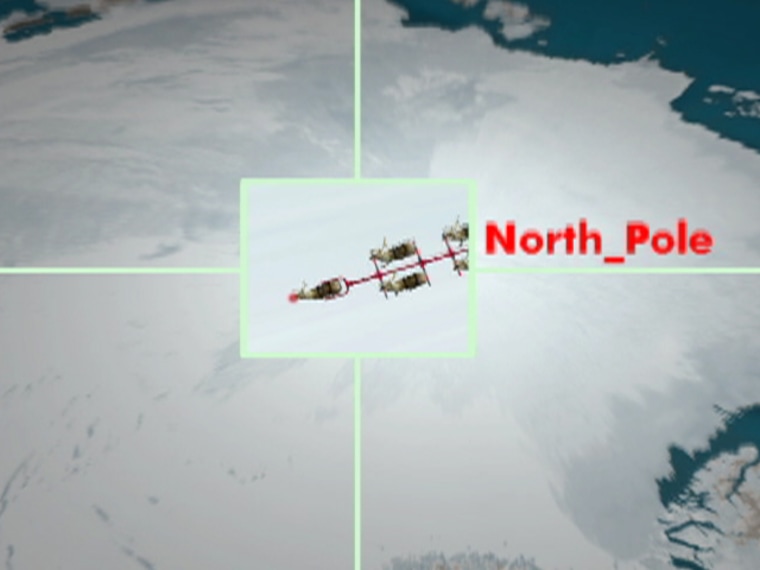 Dec. 24: North Pole — Rudolph's nose is shining brightly again this year as Santa and his team departs from the North Pole. They were last seen heading due South at a rapid pace and are expected to arrive in the South Pacific soon.
Brought to you by MSNBC.com.