Just in time for Thanksgiving, Martha Stewart demonstrates a Midas touch that will add a festive glimmer to your holiday decorations:
Golden harvest wreath how-to This 22-inch wreath form was decorated with about 90 magnolia leaves, 150 wheat stems, and 25 feathers. If you can't find magnolia leaves, use any other sturdy, broad leaf. This wreath can last for several years: After the holidays, place it, front side up, in a flat box cushioned with tissue paper. Keep it in a cool, dry place. If a few of the magnolia leaves look tired when you unpack it, replace them with freshly painted ones.
Tools and materials
Floral spray in brilliant gold
White feathers
Magnolia leaves
24-gauge gold wire
Gardening shears
Wheat stems
22-inch wire wreath form
Hot-glue gun
1. On a clean, dry surface protected by paper in a well-ventilated area, spray the feathers and the top sides of the magnolia leaves gold. Let dry.
2. Bundle 3 leaves with a small piece of wire; snip end. Bundle 5 wheat stems with wire, and snip end. Repeat with the remaining leaves and stems. Wrap the bundles to the wreath form with a single piece of wire, alternating and overlapping bundles of leaves and stems. Keep them tight and close together.
3. Once the wreath form is covered, insert the feathers at equal intervals. Glue in place.
Oak-leaf cornucopia how-to The cornucopia, that traditional symbol of fall's abundance, assumes a stately presence, thanks to a coating of shimmering floral spray and a wreath of gold-leafed oak leaves and acorns. The stems of pale gourds are given a burnished sheen as well, and gold-rimmed dessert plates and Venetian glassware reiterate the palette. A caramelized apple spice cake, rich with pecans, is frosted with a brown-sugar-meringue buttercream and adorned with marzipan pumpkins and acorns dusted with luster to complete the glowing scenario. At the table, below, a napkin and a handwoven sparkling favor echo the cornucopia's shape, while more gilded leaves and acorns festoon the napkin and the place card. Sugared almonds and pine nuts fill the cornucopia favors.
We used faux gold leaf for this project, but metallic floral spray also works well. A large sheet of gold leaf covers about 6 leaves and 8 acorns. If you paint, omit the liquid adhesive, gloves, gold leaf, and brush.
Tools and materials
Spray primer in white
18-inch cornucopia basket
Floral spray in brilliant gold
Acorns, gourds and oak leaves
T pin or thin awl
6-inch lengths of fine gold or copper wire
Paintbrush and soft-bristle brush
Size liquid adhesive
Cotton gloves
Faux gold leaf
Hot-glue gun
Floral tape in brown
1. On a paper-covered surface in a well-ventilated area, spray the basket with primer. Let dry. Follow with 1 or 2 coats of floral spray. Let dry. Set aside.
2. Remove caps from acorns; set nuts aside. Poke 2 holes in the top of each cap with T pin. Thread wire through holes, and twist ends together. Repeat with remaining caps; set aside.
3. Paint nuts with adhesive. Let dry. In a draft-free room, wear gloves to lift 1 gold-leaf sheet from packet. Tear off a piece, and wrap it around nut. Smooth it with your fingers. Use brush to even out the texture of gold leaf and remove any flakes. Repeat with remaining nuts.
4. With the hot-glue gun, secure nuts to caps. Let dry. Wrap each acorn stem tightly with brown floral tape.
5. Cover 1 side of each oak leaf in gold leaf, following step 3. With the hot-glue gun, secure wire to the back of each oak leaf. Let dry.
6. Make a cluster of leaves and acorns by wrapping their wires together with floral tape; do not snip wire. Repeat. Attach cluster to the next with floral tape until the garland is long enough to cover the basket's rim. Secure with hot glue. Let dry.
7. If desired, gild the gourd stems following step 3.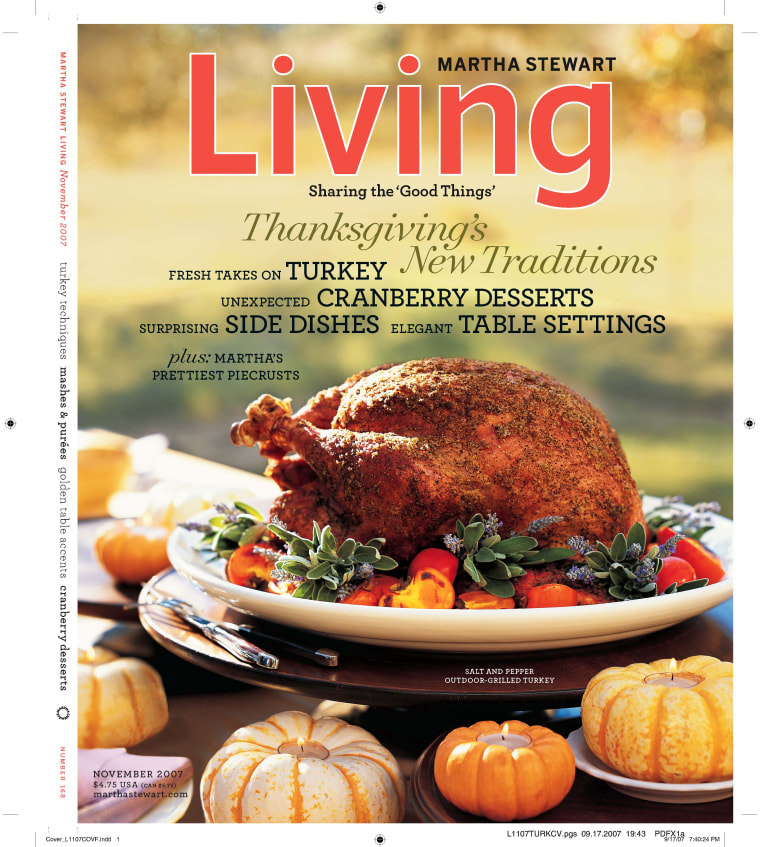 Tools and materials
10 feet of gold lametta ( 1/4-inch tinsel roping)
Scissors
Styrofoam cone
Sewing pin or T pin
1. Cut four 7-inch pieces and one 4-inch piece of lametta.
2. Twist the long pieces together at their midpoints to create a star with 8 points. Hook end of short piece to center to add a ninth point.
3. Trim ends to same length; space evenly.
4. Hook end of remaining lametta near center of star.
5. Trim cone so tip measures 4 inches. Place tip at center of star; secure with pin.
6. Press the 9 lametta lengths against cone. Tightly weave remaining lametta through the lengths until all but 1/4 inch of cone is covered.
7. Remove cone. Bend ends over last row.
8. Curve the tip of the cornucopia.
For more great Thanksgiving tips and decorating ideas, check out the