/ Source: msnbc.com contributor
When I found myself cramming three small dogs and two cats into a Mazda Miata for a trip to the veterinarian, I realized it was time for me and my husband to acquire a second car — a dog car, to be exact.
It's not unusual for soccer moms and carpool parents to choose a vehicle based on their children's needs, but increasingly, pet owners — especially those who hate to leave home without their dogs — are right there with them.
More and more often, dog owners are hauling their pooches with them on errands and outings, making capacity for this precious cargo a hot topic among the "barkoisie."
And auto manufacturers are paying attention. At the Tokyo Motor Show a couple years ago, Honda displayed a dog-friendly concept minivan with second-row seats that transform into a dog crate (smaller dogs can ride in the glove box carrier), removable flooring that's easily cleaned and a tailgate box for storage. Honda's W.O.W — Wonderful Open-hearted Wagon — hasn't gone into production, but the company's Element has a huge fan base among dog owners. And Volvo has a cargo-area cage structure that can be purchased as an accessory and installed in its XC-70 wagon or XC-90 SUV.
"It's an issue of safety," says Daniel Johnston, product communications manager at Volvo. "A 60-pound dog at 35 miles per hour on impact weighs about 2,700 pounds, so you want to properly restrain it in the car."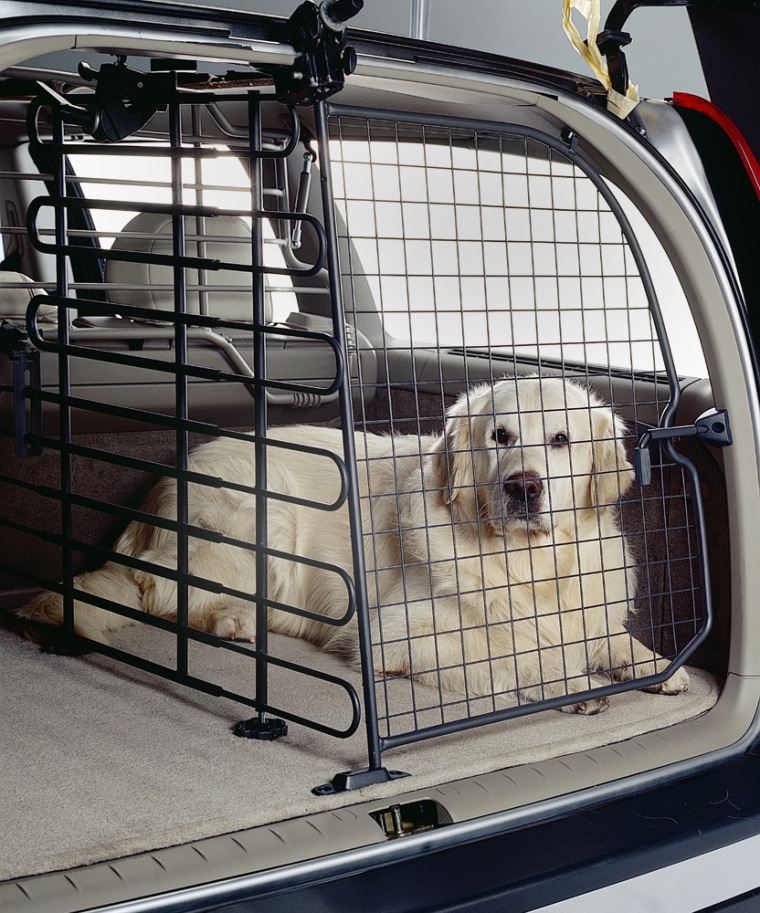 The question of what makes the ideal dogmobile has become something of an obsession for Gina Spadafori of Sacramento, Calif., who drives with three flat-coated retrievers and a Shetland sheepdog.
Spadafori started thinking about replacing her 10-year-old Voyager minivan the day it got stuck in a ditch at field training. A friend with four-wheel drive had to pull her out. So she began looking at cars with a dog-owner's eye and posting reviews of the cars she test-drove on the PetConnection.com blog, based on their suitability as dogmobiles.
"I started doing it as a lark, thinking I would take the cars I most wanted to drive, talk to the manufacturers and get testers for a week, and go through the top 10 or so that I thought fit the bill and then I would buy a car and that would be the end of it," she says.
More than 35 car reviews later, Spadafori has launched DogCars.com, where she reviews SUVs, minivans, wagons and crossovers. No sports cars or sedans need apply.
"There was so much interest from people who had opinions and who had retrofitted cars after they had been purchased," Spadafori says. "When I started doing this, most of the manufacturers were surprised that anybody would take on the job of reviewing cars from the point of view of a dog owner, but when I point out how popular dogs are, how many people have dogs and how many people do things with their dogs, they say, 'Oh yeah, well of course that makes sense.'"
Dog people can be quite passionate about the vehicles that meet their needs. Lexiann Grant of Little Hocking, Ohio, drives a Chevy HHR that she loves.
"The entire back opens up and lays flat for easily fitting crates and carriers, along with plenty of devices to hook them in place so they don't slide around," she says. "The back entrance is low to the ground so senior pets have an easier time climbing in and out. The bonus is the mileage — 36 miles per gallon [on the] highway, about 27 in town."
The Honda Element contingent includes Jean Fogle of Fort Valley, Va. "It's easy to clean out, the seats are easier to remove than our van's, and there's plenty of room. I know quite a few people who leave the seats out and just fill it with crates."
Dog trainer Pam Dennison of Blairstown, N.J., has three border collies and three crates that measure 24 inches by 36 inches. She fits them into a Dodge Caravan. The back seats? Well, they're sitting in her basement.
For now, Spadafori still has the minivan, but she has her eye on the Honda Element. She also likes the Nissan Xterra. Her ideal dogmobile would be economical to buy and to drive with a squared-off back, seats that fold flat and windows in the back that roll down for additional ventilation.
"Some of these high-end cars have beautiful buttery leather and thick, plush carpet and you think, 'Huh, does dog barf clean up out of that?' So I tend to like moderately priced cars that are fairly economical to run and yet have versatile cargo spaces that can be well adapted to whatever you and your dog want to do," she says.
Me? After test-driving a Mazda Tribute, waiting impatiently for the Mazda 6 wagon to make an appearance and then disliking the styling, I drove a Subaru Outback home.
I now feel confident that if we have to evacuate in the event of an earthquake, we won't have to leave my husband behind.
Kim Campbell Thornton is an award-winning author who has written many articles and more than a dozen books about dogs and cats. She belongs to the Dog Writers Association of America and is past president of the Cat Writers Association. She shares her home in California with two Cavalier King Charles spaniels and one African ringneck parakeet.