BUELLTON, California - A couple of years after the movie "Sideways" planted this gorgeous wine area firmly on the map, I pull into the now-famous Hitching Post restaurant. It's one of the few places around here still serving dinner (and wine) after nine o'clock. I half expect to see a tour bus full of folks with cameras and an on-premises gift shop, but aside from a few snapshots of the film's cast and "Sideways" cocktail napkins, I could be in one of a thousand "family-style" restaurants somewhere in America.
I take a seat at the bar, scope out the by-the-glass list on the blackboard and order the first wine of my brief trip to the Santa Ynez and Santa Maria Valleys on the Central Coast north of Santa Barbara — the 2005 Sauvignon Blanc from Beckmen Vineyards. It's superb. "Sideways," of course, was fueled by pinot noir and gave the grape status — and sales — it hadn't seen in this country. But the region, it turns out, is about far more than "pinot," as Miles, the film's wine-obsessed, brooding main character, called it.
The Beckmen sauvignon, grown a few miles down the road on the Purisima Mountain in Los Olivos, is lush and crisply acidic with notes of lime and a long, mineral-driven finish. This is not generic California sauvignon, I think to myself.
Dinner comes out quickly — a succulent, grilled smoked pork chop — and it's time for a glass of red. I choose one of several pinots on the board — the 2004 Hitching Post "Highliner" Pinot Noir. Frank Ostini, who owns the restaurant, has also made wine under the Hitching Post name with partner Gray Hartley for 20 years or so, sourcing grapes, as do many wineries in the area, from vineyards that sell off all or part of their fruit. The Highliner is deep and concentrated with notes of dark berry and earth, typical of the area's style.
(Ostini, by the way, reveals that the actor Paul Giammatti, who played Miles and showed masterful command of the geeky wine rituals of swirling, sniffing and gurgling, had no special interest in wine, and that the actors got tired of using fake wine so they switched to the real stuff during production.)
I spend the night in the Santa Ynez Inn a couple of miles away. The neo-Victorian bed & breakfast, in the tiny town of Santa Ynez, has a real luxury feel and is as charming as B & Bs come. It's a far cry from the shabby motel where Miles and his buddy Jack (Thomas Haden Church) flopped down. The night manager greets me with a glass of Au Bon Climat's 2005 Santa Barbara County Pinot Blanc/Pinot Gris blend. A few sips of the easy-to-drink, fruity wine and I'm done for the evening.
In the morning I set out to see why the area is gaining a following for its syrah and other varieties best known in France's Rhone Valley. I hook up with Jeanette de Luca of Stolpman Vineyards at the Los Olivos Grocery and follow her as she drives way too fast up the serpentine dirt roads that lead to the Stolpman property in Ballard Canyon, adjacent to Beckmen and to Rusack Vineyards, whose pinot noir, syrah and chardonnay I have enjoyed and reviewed in recent years.
"We believe wine starts from the ground up," de Luca tells me as we stand in the dusty vineyard in the hot, late-morning sun. "And we can't make great wine without having a great vineyard site." Key to the Stolpman site are the sloping hills on which the vineyards lie, which allows the ground to capture and retain more of the sun's heat; the fog that comes in off the Pacific Ocean at night and cools things down, and something else.
De Luca picks up a white rock near a vine. "Throughout our vineyard you'll see limestone lying around," she says, explaining that the roots of the vines embed themselves in the limestone two feet below the surface. "It gives the wine structure, acidity and dimension." In other words, it helps make the wine complex and about more than just the opulent fruit that is the hallmark of California wines.
Back down in the valley, at Stolpman's tasting room in nearby Solvang, I see what she means as we taste the two current releases of syrah, Stolpman's signature variety. The 2004 Estate Syrah is dark and complex with notes of violets, black cherry, smoke, herbs and mocha. The '04 "Hilltops" Syrah, from a warmer parcel on the vineyard, is more powerful and concentrated. Even young, the wines are exceptional and should develop beautifully with bottle age.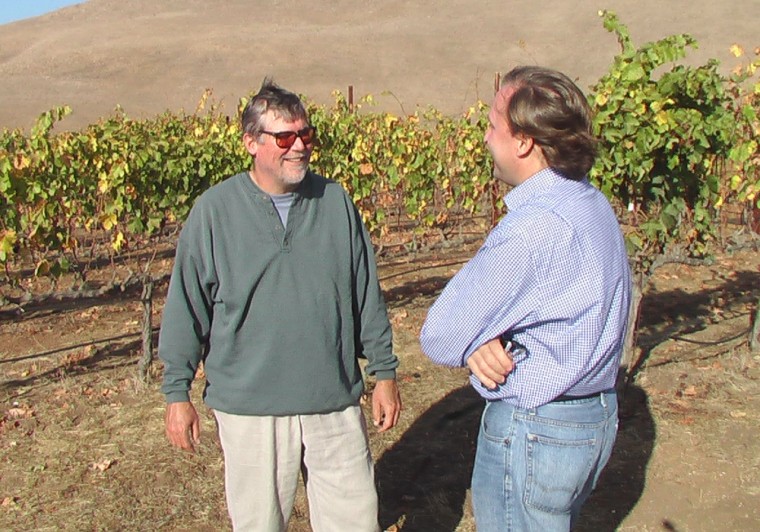 As lunchtime approaches, I drive 30 minutes or so north to the Santa Maria Valley, then head east at the town of Santa Maria, passing miles of vegetable and strawberry farms and finding it hard to imagine that they make great wine in these parts. That is, until I approach the mountains and the entrance to Bien Nacido Vineyards.
The 2,000-acre property, with 800 acres planted to vines, is the best-known vineyard in the region and one of the most famous in California, supplying fruit to dozens of wineries in the area. Nicholas Miller, whose family has owned Bien Nacido since 1969, guides me to a winery on the property that is shared by two of the most important labels in Santa Barbara County — Qupé and Au Bon Climat, owned by Bob Lindquist and Jim Clendenin, respectively.
Inside the warehouse-like building the men are holding court, as they do each Friday afternoon, at a communal lunch for a dozen or so winery and vineyard workers dressed mainly in T-shirts, shorts, denim and camo. Clendenin has prepared a delicious Thai lunch, including the stir-fry noodle dish Pad Thai. Then, of course, there are the wines — a dozen or more spread across the long table. Along with everyone else, I taste (and spit) my way through them, swallowing a sip or two of some.
The whites include Qupé's '04 "Hillside Estate" Roussane, with its floral notes; Au Bon Climat's '04 "Hildegard," a pretty blend of pinot blanc, pinot gris and aligoté (an obscure French variety), and Au Bon Climat's '03 "Nuits Blanches au Bouge" Chardonnay, which is reserved, subtly oaked and more Burgundian than California. Among the reds: Au Bon Climat's '03 and '04 "Knox Alexander" Pinot Noirs and four vintages of Qupé's "Hillside Vineyard" Syrah - the '01, '03, '04 and a barrel sample of the '05. All the wines have an elegance marked by ample fruit without being jammy or overly alcoholic and have good acidity to keep things in balance.
The syrahs are from Qupé's top vineyard block at Bien Nacido. The '01 resembles the '05 in that both vintages were on the cooler side; they're lean and still enclosed while hinting at the sweet earthiness of the fruit that is their hallmark and that will emerge over time. Lindquist says of the '01, "It's not as giving as the '03 or the '04. But it's all there. It just needs a little time to show its stuff." The '03 and the not-yet-released '04 are doing just that with a ripeness that reflects the warmer conditions of those vintages.
Lindquist notes that syrah was first made in California only about 25 years ago but is now the state's fastest-growing variety and does well in a variety of climates. "Syrah delivered what merlot promised," he says.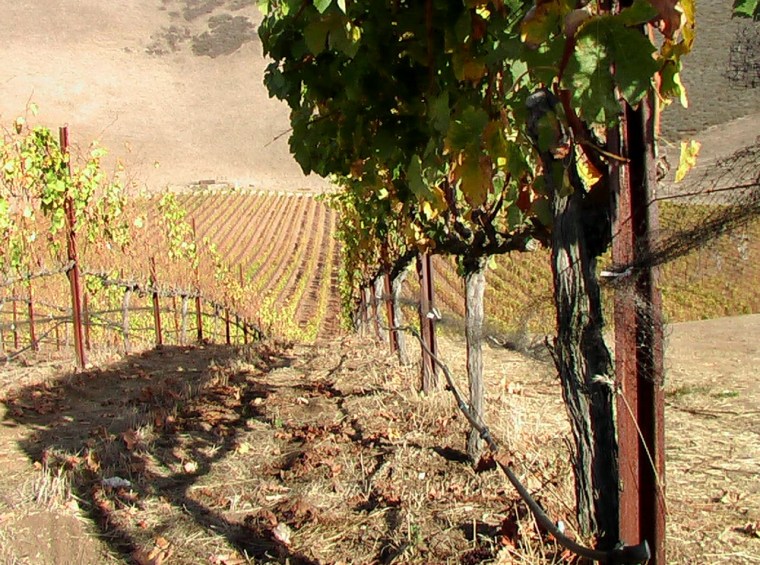 After lunch, Lindquist, Nicholas Miller and I drive up to the Hillside Estate vineyard, known as Z block, hidden on the far side of a mountain and not visible from the valley. Lindquist tells me that cattle used to graze here until he looked up from is tractor one day about 15 years ago and noticed something. It was late in the afternoon and the sun was still shining on the hills, which face southwest. He says he knew with that kind of exposure the grapes and the wine from this piece of earth we're standing on would be special.
And something else makes the climate here "just right" in his view. He points to the vast expanse of the valley in front of us, reaching all the way to the Pacific 15 miles away. The valley is unusual, says Lindquist, in that it extends from east to west, as does the Santa Ynez Valley. This allows an undisturbed flow of cool, ocean air that we feel as a light but steady breeze on this afternoon. For the vineyards (and us) it's like an air conditioner in the hot sun. And it's like this most of the year, resulting in syrah that ripens fully without achieving over-the-top levels of sugar and alcohol.
That style has driven Lindquist and defined Qupé's wines. The syrahs are balanced and elegant with an acidity that, says Lindquist, "gives you that mouth-watering, make-you-want-to-have-more character." He sums it all up simply. "My goal," he says, "is to make wine people can drink, and my ultimate goal is to make a bottle of wine that two people can sit down with and have with their meal, finish the whole bottle without getting hammered, and then actually wish they had a glass of wine left in the bottle." For many, achieving that goal is elusive. Bob Lindquist succeeds.
A Select Santa Barbara Wine List
Beckmen Vineyards 2005 Sauvignon Blanc, $16
Hitching Post 2004 "Highliner" Santa Barbara Pinot Noir, $44
Stolpman Vineyards 2004 Syrah, $25
Stolpman Vineyards 2004 "Hilltops" Syrah, $40
Au Bon Climat 2005 Santa Barbara County Pinot Blanc/Pinot Gris, $14
Au Bon Climat 2004 "Hildegard" (Pinot Blanc, Pinot Gris, Aligote), $35
Au Bon Climat 2003 "Nuits Blanches au Bouge" Chardonnay, $45
Au Bon Climat 2003 & 2004 "Knox Alexander" Pinot Noir, $45
Qupé 2004 Roussane, Bien Nacido Hillside Estate, $40
Qupé 2003 Bien Nacido Hillside Estate Syrah, $45
Most of the wines have limited production and can be ordered through the web sites of the wineries.
Edward Deitch's wine column appears Wednesdays. He welcomes comments from readers. Write to him at