• Feb. 27, 2005 | 12:30 p.m.
When the reporter becomes the story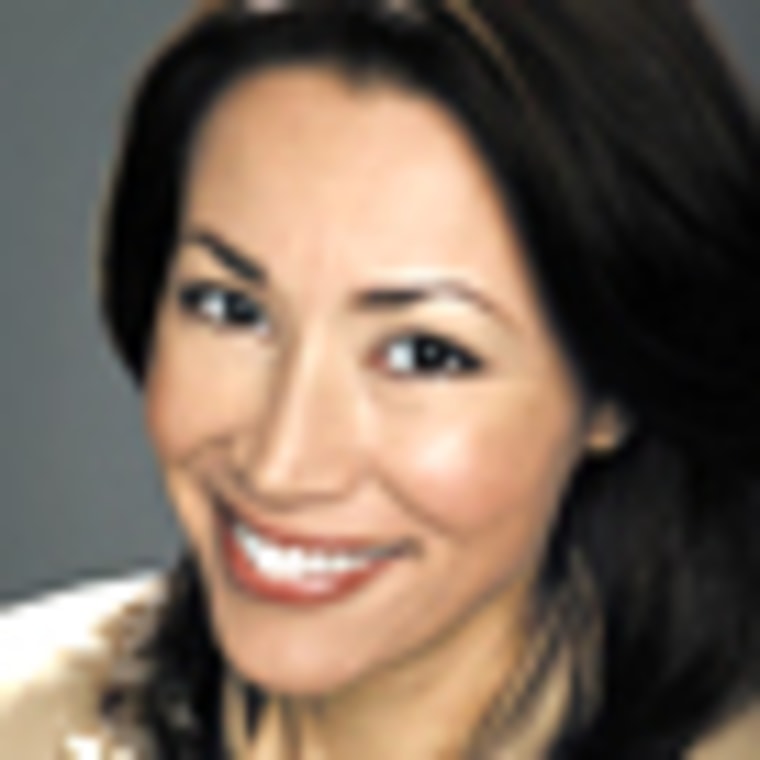 Can this reporter be really honest? I am absolutely mortified about the "Today" show extravaganza coming up on Wednesday, about, well, my hair.
Forgive me for assuming you've seen the numerous TV promos announcing this event.  I'm told no less than 100 other people are actually going to join me, all of us cutting our hair for Locks of Love, the charity that makes wigs for children who've lost hair because of alopecia (Click here to find out more about alopecia) or chemotherapy.
Yes, it's a sweet, good deed, that hopefully will inspire others, but oh, my Lord! Can I tell you Katie Couric is actually supposed to cut my hair? Do you know an entire school is supposed to join us via satellite, because its students also want to cut their hair with me?
Listen, this all started as a personal thing between me and my little girl, who, with her friends, wanted to donate hair to Locks of Love. My daughter Mac asked me to join their effort in honor of my mother who died of cancer, and my sister, who survived it.
When she asked, of course I immediately said yes, not thinking that it would make me look like a woman having a middle-age crisis. 
The "Today" Show is making it a big deal, in part because it will help people, and yes there is wisdom in that, as there is the possibility that some good will come of it.  But in my core, I know the best gifts are given anonymously, without needing attention or even thanks.  I am also a reporter who doesn't like being part of the story, so much so, I have to be convinced to do what in the profession is called a "standup." 
The real rub?  Later, the same day as the big hair event, I am flying to Africa for NBC News, to report on the ethnic cleansing in Darfur, a subject of international importance.  I can only hope the stories I bring back will generate as much public interest as my hair.
• Feb. 20, 2005 | 12:56 p.m.

Cheney and the press
Some of us at NBC News winced watching the White House press corps getting slugged repeatedly last week.
The vice president said "jealousy" may have had something to do with how it reacted when a small town Texas paper broke the news of his hunting accident.
Fox News, which disputes the perception that it is a conservative cable news network, repeatedly criticized reporters for making the accident too big a story.
Numerous letters to the editors complained of a news "feeding frenzy" and called the press corps, "a shark's tank."
Even the man the vice president shot, Harry Whittington, said he was surprised what had happened had become such a big deal.  He looked so unexpectedly good at his televised news conference, the public had to be wondering that as well.
Here's a basic about reporters.  We are trained to sniff out anything that smells of a cover-up and the delay and the method the vice president chose to report his hunting mistake smelled bad.
Did the questions directed at White House spokesman Scott McClellan at the first news conference on the shooting, sound a touch strident? Yes, especially outside the beltway, where a lot of people were feeling sorry for Vice President Dick Cheney and the shooting victim.   But let's be honest, questions needed to be asked. Why did the vice president choose to not call the president? Why did he wait to notify the American people about the accident?  The delay in getting answers contributed to how big the story got.
Now moving on, the White House press corps may be slightly bruised, but it affirmed for us in the events of last week, that it puts seeking truthful answers to tough questions above its popularity with the public.
America, would you really want it any other way?
• Feb. 13, 2005 | 11:09 a.m.
Is freedom of the press not so free?
It's sobering, isn't it, to live in a time when cartoons can get people killed. 
The toll as of this writing: about a dozen people dead in widespread protests against Danish newspaper cartoons satirizing the Prophet Muhammad.  America's media have shown the intense violence. But in a show of unnatural cohesion, nearly every one of the big news networks and major newspapers have refused to show you the actual cartoons for fear of the potential consequences.
Is it the responsible thing to do? Yes. But make no mistake, this is a kind of censorship.  
The American media, once tenacious about protecting the public's right to know even the most incendiary facts, today is getting pretty skilled at withholding significant information.
Now, we routinely shield the identities of kidnapped Americans, with a vague hope that the anonymity might improve their chances for survival, until we have no choice but to report about them, because their videos show up on Al-Jazeerah. 
Good reporters, perhaps even the best among us, have had to admit they have bowed to government pressure to sit on stories in the interests of national security. James Risen of the New York Times says his newspaper waited a year to publish the National Security Agency wiretapping story after administration officials argued the story could jeopardize continuing investigations.
Maybe in every case so far the self-censorship is justified.  
Attorney General Alberto Gonzales recently told a Senate committee, "The enemy is listening." It sounded a lot like the World War II warning, "loose lips sink ships." 
In March 2003, aboard the USS Constellation, I talked my way into a mission briefing and heard a commander tell his fighter pilots they were going to be part of the first wave to bomb Baghdad.  He said, "Gentlemen, you will forever judge yourselves by how you act on this night because tonight, you are going downtown." My heart stopped as I looked into the eyes of these fresh-faced young men, who suddenly sat up a little straighter as they took down the coordinates.
We knew the war would begin in a few hours but did not break this news, though we had the technology to do so, for fear we would put American lives in danger.
Can reporters really make any other choice but to protect America when America is at war?  No. But we also can't forget that in our nation's history, the national security argument has been used as an excuse to avoid public scrutiny.
Some believe the war against al Qaeda could last into several more presidencies. As our legacy of self-censorship grows, I wonder how long America will trust reporters to fully report the truth?
A democracy cannot survive without a free press. And as war makes America's press less free, there appears to be reason to worry about the health of both.
• Feb. 6, 2005 | 8:00 a.m. The Truth Behind the New York Times Headline
A week ago, the New York Times angered some of us at NBC News when it announced the wounding of ABC anchorman Bob Woodruff and cameraman Doug Vogt with this headline:
ABC NEWS ANCHOR
IS BADLY INJURED
BY BOMB IN IRAQ
_______________
LATEST BLOW TO NETWORK
________________
Cameraman Also Injured —
Field Reports Were a Ratings Strategy
The last line, "Field Reports Were a Ratings Strategy," sparked the anger. Sure it was fair to report the emerging anchor team at ABC News was field reporting on major stories. But to headline that Bob was in Iraq as a ratings strategy was insensitive and inaccurate.
The truth is, reporting on the war appears to be a big ratings loser. Consistently, the American people have chosen not to watch in-depth reporting on the war. News executives, already worrying about the safety of their employees, also have to wonder if Americans just don't want to hear the reality. Those are some of the reasons we see so little war reporting beyond the casualty counts and the basic developments of the day.
At the same time, many of us who go to dangerous places to report the news can almost hear Americans crying out for clarity about the war.  We want to report in-depth on how the troops are holding up, how commanders on the ground assess the potential for victory and how the people of Iraq and Afghanistan are affected.
But with the perceived lack of public interest and the enormous risks involved in gathering the facts and images, it is getting harder and harder to report on these stories.
We are experiencing a softening of news coverage across all networks. We see it in newspapers too, with the number of soft features appearing more often on front pages as circulations decline.  
There are still examples of courageous war reporting against these odds on all the networks and in newspapers. But are Americans getting the full story?  No.
Will the wounding of Woodruff and Vogt have a further chilling effect on television war coverage?  Yes is my bet — at least for the short term. 
But if I and many reporters of like mind can have our way, the chilling effect will not last long — we can't afford to let it.
We live in historic times that demand us to rise against our fears. Each one of us must find the courage to do what we can to leave our children a safer world. News organizations must report the truth, even if America may not want to hear it.
And America must find the courage to stay informed.