Thanksgiving is only weeks away, and while that may still seem like an eternity to gear up for the big meal, it's time for you to start getting ready. Fortunately, we are here to help every step of the way with this step-by-step guide to planning your Thanksgiving.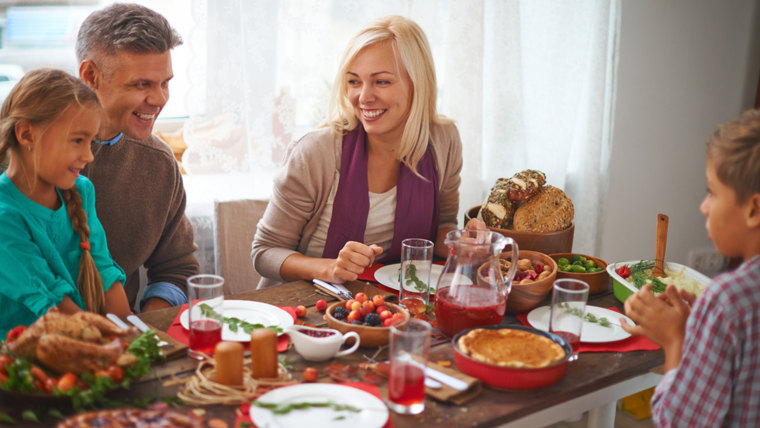 Two weeks before Thanksgiving:

Make your guest list and invite friends and family you haven't yet contacted. Be sure to ask if anyone has any dietary restrictions.
Decide your Thanksgiving menu — consider the number of people you will be entertaining.
If you're throwing a potluck-style meal, ask guests if they would like to contribute a special dish.
If you are planning to cook a turkey, decide whether you're going with a fresh, frozen or smoked bird. 
When selecting a turkey, it can be tricky to figure out exactly what size you need to purchase. Martha Stewart recommends approximately 1 1/2 to 2 pounds per person, but you can also use Butterball's turkey calculator to get a recommended size specific to your guest list. And be certain the bird will fit in your freezer, fridge and oven!
Stock up on staples (butter, sugar, flour, eggs) when grocery shopping.
Make or purchase bread and rolls and freeze them for later.
Purchase disposable supplies, if using, such as paper plates, napkins, cups.
One week before Thanksgiving:
Decide on a centerpiece — or DIY one — and gather any other tabletop decorations.
If you're buying a frozen turkey, purchase it now.
Prepare your cranberry relish and store it in the fridge.
Select wine to go with your meal.
Ask your kids to help organize games for the younger guests.
Thanksgiving week: Monday
Clean out the refrigerator — which can be done in only 15 minutes with these tips. 
Go shopping for perishable items on your shopping list.
Place your turkey in the fridge to begin defrosting — and check out Butterball's advice for cooking a turkey if it's your first time. 

Thanksgiving week: Tuesday
Iron linens, if necessary.
Polish silverware, if necessary.
Print out recipes and make sure you have all the ingredients needed.
Thanksgiving week: Wednesday
Cut up bread for stuffing. Season as desired and place on cookie sheet(s) in a preheated (then turned off) oven overnight to dry. Store in plastic zip-top bags.
Chop vegetables, fruits and herbs for stuffing and seal in plastic zip-top bags.
Prepare pies. Cover and refrigerate.
Prepare any make-ahead side dishes (roasted vegetables, casseroles). Cover and store in the fridge.
Set up an extra table and chairs if more dining space is needed.
Chill drinks. If you're short on refrigerator space, store them in a cold garage or out on the porch — or place drinks in a large basin filled with ice and water. 
Thanksgiving morning:
Prepare the stuffing. Cover and refrigerate.
Wrap your roasting pan with foil or use a disposable roasting pan or cooking bag for a quick cleanup.
Clean the turkey, removing the bag of giblets. Place the turkey in the prepared roasting pan and put it back in the fridge.
Simmer the giblets, adding water as needed until tender. Then refrigerate, covered with liquid, until needed for the gravy.
Use your slow cooker if extra space is needed to keep menu items warm.
Children can help set the table and create place cards for each setting.
Prep any pre-dinner appetizers.
Clean as you go to avoid big cleanups later. 
Four hours before dinner:
Stuff the turkey.
Put the turkey in the oven. The roasting time will depend on size of the bird. 

Three hours before dinner:
Clean green beans, cover and set aside. 
Cook sweet potatoes.

Two hours before dinner:
Peel potatoes, then cube them and cover with salt water — simmer until tender. 
Finish preparing any additional vegetables.

One hour before dinner:
Fill a small pitcher with half-and-half or milk for coffee — cover and refrigerate. Fill sugar bowl.
Set out appetizers along with napkins and small plates, if using.

One half-hour before dinner:
Remove the turkey from the oven. Let it sit 20 minutes before carving.
Reheat bread, vegetables and other side dishes, if necessary.
Make gravy, using the drippings from turkey and the giblets.
Mash the potatoes.
Place vegetables, cranberry sauce and other side dishes in serving bowls.

Serve dinner!

Whisk the gravy and pour it into a gravy boat.
Open wine and pour into decanters or glasses.
Set out a pitcher of water so people can help themselves.
Make sure there are salt and pepper shakers on the table.

After dinner:
Put coffee on to brew and boil hot water for tea.
Set out the milk or cream and sugar, as well as tea bags.
Serve dessert, coffee and after-dinner drinks.
If the weather permits, take a walk to enjoy each other's company and digest.
A version of this story originally appeared on iVillage.