Ah, spring. It's the season that brings us both allergies and cleaning urges. Thankfully, a good vacuum can be used to help aid both!
But with over 450 different models out there, where do you even begin to figure out which one is best for you and your home?
To answer that question, we chatted with The Sweet Home's Liam McCabe, who recently published the results from over 300 hours of research and testing of vacuum cleaners done over the past four years. Below, he shares some of the most important tips from their findings: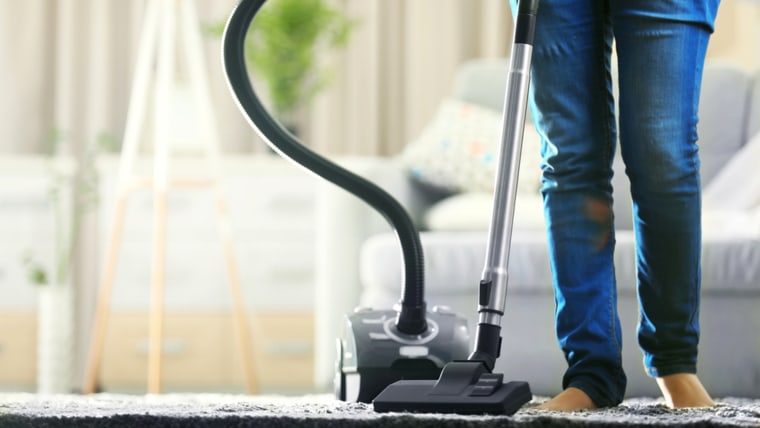 1. Consider the kind of flooring you have. While this may seem obvious, McCabe points out that some people — including him before he started the research — might not put too much weight on this factor, but it's really important. "If you have bare floors, you don't need an expensive high-end vacuum," he said. "But if you have shag carpets, you're going to have to think about a different approach." In their research, McCabe and his team found that vacuums featuring cleaning heads with a manual height adjustment work best for high-pile carpets. See the recommendation.
RELATED: No straight lines! Here's the 1 pattern you should make when vacuuming
2. Consider the size of your house. If you live in a smaller home, cordless vacuum cleaners are convenient, "But it really boils down to the quality of the battery," he noted. "Look at the voltage — 18-20 is a good baseline. That gives you enough power to get chunks off the floor. For battery life, I'd recommend getting something would would last 11-12 minutes for smaller apartments. If you have two floors with carpet, you'll probably want a plug-in because they're better cleaners for the most part, and you don't have to worry about battery life." See the recommendation for small homes and big homes.
3. Consider what you'll be cleaning up. "There's nothing inherently special about vacuuming up pet hair," he said, "but if you have carpet you'll definitely need a vacuum with a brush roller. And if you have lots of hairy pets, a canister is gonna fill up quickly, so a bagless one would make more sense." See the recommendation.
RELATED: What to look for when shopping for a vacuum
4 .Remember that you get what you pay for. McCabe recommends spending a minimum of $150 on your new vacuum. "I know that's a little hard for someone to understand when there are $30-$50 ones out there," he said. "But you really don't want to skimp on something like this — it improves your air quality and is the only object that really cleans your carpet." If you're willing to splurge, he says there are some really nice high-end ones that cost up to $1,200, but that $400-$500 is a reasonable price for a top of the line one that will last for a long time without much maintenance. Another note: bagged vacuums generally last longer than bagless and they're better for people with serious allergies. McCabe notes that even though you're paying more upfront and buying replacement bags, "When you spend that much, you can get one that will pay for itself through the years." See the recommendation for affordable and high-end.
5. Don't forget you can get them repaired. If buying a new vacuum isn't possible right now, but yours is on the fritz, McCabe reminds us that it's possibly a really easy fix. "We had a writer on staff who bought one of the vacuums we tested and found it didn't work after a couple of months. I told him to take it to a vacuum repair shop, and the guy just pulled out a clog in a few seconds." So in other words, don't be too quick to throw your old one away. It could just need some love.
RELATED: Vacuum those tiny, pesky crevices with this 1-step hack