Editor's note, April 16, 2020: Due to the COVID-19 outbreak, Lauren Singer has made changes to her shop and waste-free practice during social distancing, which she details here.
Is living a zero-waste lifestyle realistic? One New Yorker is proving it's not only possible, but it actually looks pretty appealing, too.
In 2013, Lauren Singer decided to reduce how much trash she creates. After taking steps like mastering the farmers market, figuring out how to make her own toiletries and even launching an eco-friendly laundry detergent company, she's proudly living a no-waste life.
The New Yorker didn't grow up in your typical "green" home. "My family isn't like this at all," she said. "They were the least environmentally friendly ever." It wasn't until she was studying environmental studies at NYU that the idea to trim her amount of trash even came to mind.
"I had a class with this girl who was using a lot of plastic in every class," Singer told TODAY Home. "I was really judgmental of her. We were environmental students and she was making so much trash. Then I went home and saw that every single thing I had was made of packaged plastic."
Singer first decided to learn how to reduce her food waste. She began shopping at the farmers market to eliminate packaging, and she learned how to compost in her one-bedroom apartment. All food she doesn't eat goes into a large bowl in her freezer, which she empties once a week at her neighborhood's composting bin.
"That was a learning curve for me," Singer admitted, although she said her grocery bill actually decreased (as did her waistline) with the change. "I was buying prepared foods so learning how to buy raw vegetables was interesting." Aside from buying foods in reusable bags, she also would use glass jars to refill on essentials, like milk, beer and other items that typically come in plastic containers.
After that, she began making her own toiletries and cleaning products, from toothpaste to house cleaner, and using menstrual cups for that special time of the month.
Singer also began to shop exclusively at secondhand stores for clothes instead of buying new products, and found ways to swap out several of her home products for biodegradable versions. (Yes, toilet paper included.)
Bit by bit, Singer was barely creating any non-recyclable or non-biodegradable trash. In fact, every piece of trash she's produced over the last three years sits in a single Mason jar in her Brooklyn apartment.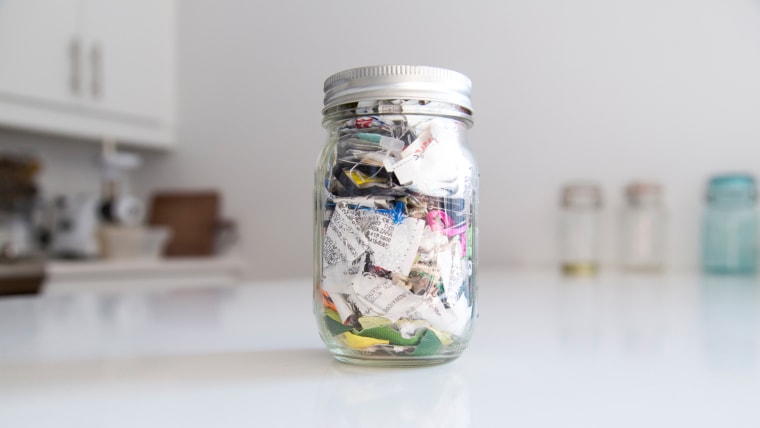 "It's baby steps, one thing after another," she said.
Those baby steps haven't only led to a drastic reduction in her trash pile, but she also launched an eco-friendly laundry detergent company, The Simply Co., and she travels the world sharing her story with others.
"I would never have thought this was going to happen."
If you feel so inspired to reduce your waste, here are Singer's tips:
Don't devote yourself to living a zero-waste life right away. "You're going to set yourself up for failure."
"Start by looking at your trash and see what you're throwing away. You can't decide to solve a problem until you know what the problem is."
"Most people don't plan. You find yourself needing to grab things on the go all the time and because of that, that's where a lot of trash comes from. When I learned how to plan out my day and my week and buy food accordingly, I didn't have to buy stuff on the go anymore."
"Do one-time swap outs. Use reusable bags for the plastic bags, reusable water bottles for your plastic water bottles, etc." One swap out of hers TODAY.com editors adopted: using bamboo toothbrushes instead of plastic ones.
"Learn how to make products yourself, because product packaging is really unsustainable."
This story was originally published on April 22, 2016.