This past weekend, Michelle Obama unveiled her last official White House Christmas tree, and, along with that, all the gorgeous holiday decorations throughout the White House. The theme for this year's celebration is "The Gift of the Holidays," and inside the first family's residence, elegant and festive touches everywhere capture the true essence of the season.
According to the White House, part of the decor was inspired by Mrs. Obama's Let's Move campaign, which played into the theme, "The Gift of Good Health." And in the library, children's school supplies were incorporated as were ornaments that spell "girls" in 12 different languages in honor of the Let Girls Learn initiative — "The Gift of Education."
"The Gift of Families" was represented in the State Dining Room by 56 gingerbread houses — one for each of the American states and territories.
Below, see five of our favorite decorating moments spotted at the White House this year.
1. A celebratory ceiling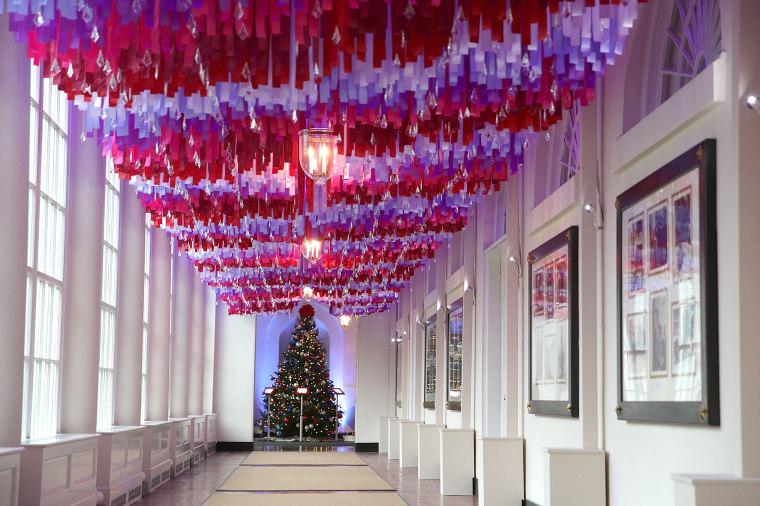 When planning our holiday decor, we tend to stick to livening up the walls and floors, but this gorgeous display in the East Wing of the White House gives us serious inspiration to look up. Get this look in your own home by using colorful crepe paper or ribbon to make your hallway ceiling more festive.
RELATED: See the stylish private White House rooms the Obamas call home (for now)
2. Giant dogs and other playful touches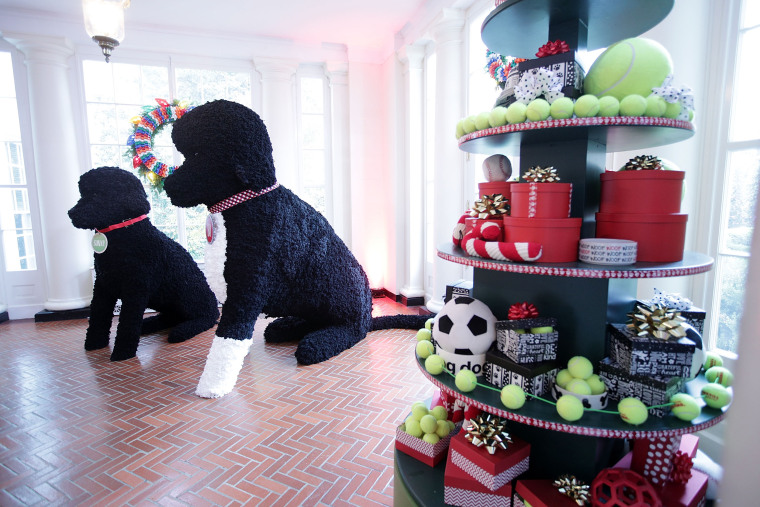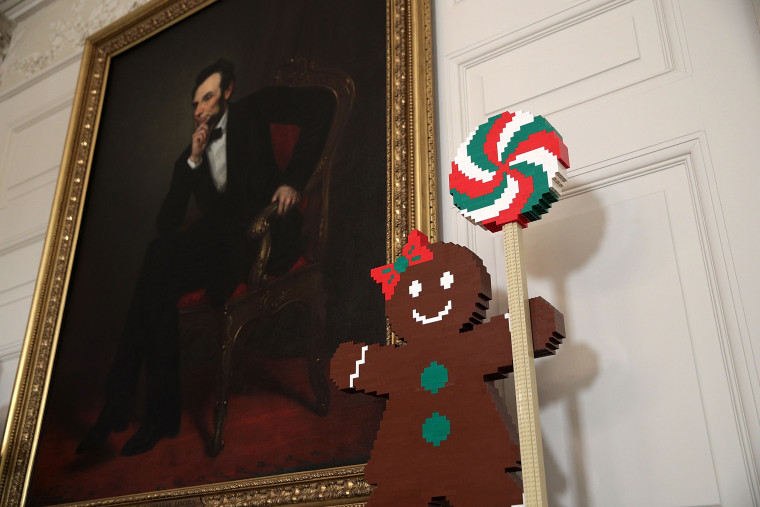 Whether it's a giant stuffed version of your family pooch like the ones here featuring the likeness of first dogs Bo and Sunny or just a favorite toy, don't hesitate to set it up among the more traditional holiday decor. After all, the magic of Christmas begins in childhood, and what better a way to bring that out than with playful touches?
3. The gingerbread masterpieces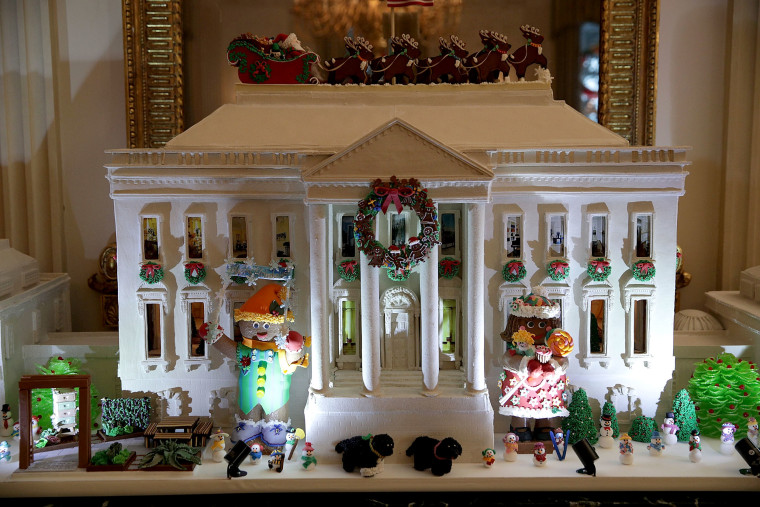 Sure, not everyone has access to some of the best culinary artists in the world like the President and First Lady do, but this sweet version of the White House makes us want to attempt our own home in gingerbread goodness. So when you're decorating gingerbread houses this holiday season, challenge yourself to design it to look like your own address. And worse case scenario if it doesn't turn out well? You can just eat it. Win-win.
Also, just for reference as you're making yours, keep in mind the White House pastry chef used 150 pounds of gingerbread, 100 pounds of bread dough, 20 pounds of gum paste, 20 pounds of icing, and 20 pounds of sculpted sugar pieces.
RELATED: 11 holiday decorating ideas to steal from Joanna Gaines
4. A celebration of patriotism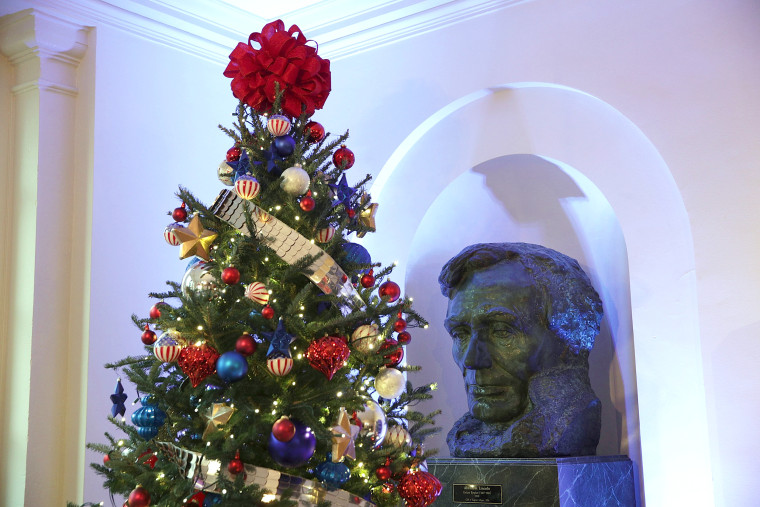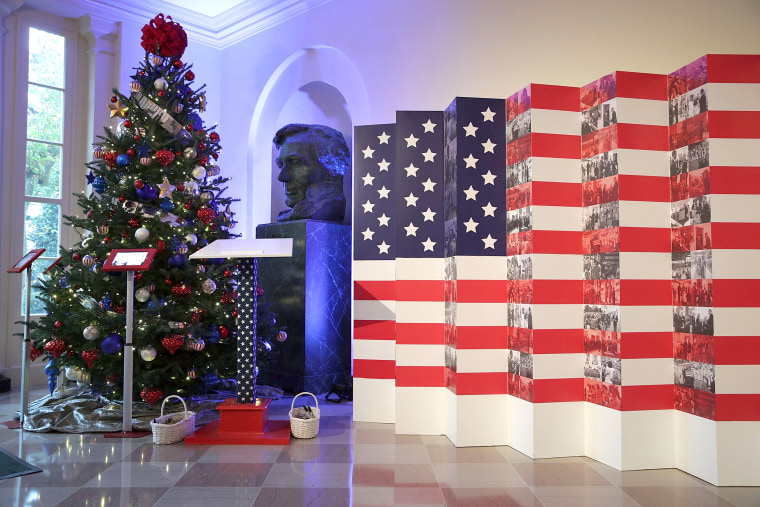 Can't decide on a decor theme this year? We love this red, white and blue look on the White House tree. And consider swapping out the star for a big red bow — it's elegant and festive all at once.
5. Stacks and stacks of presents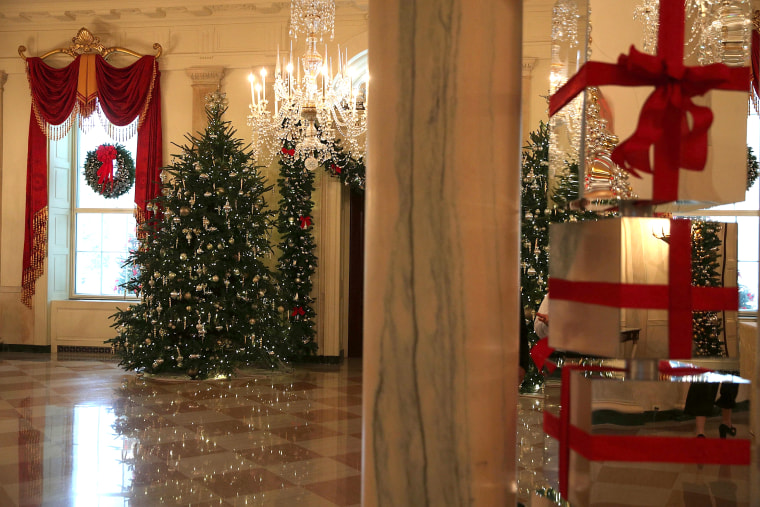 In the Grand Foyer of the White House, you'll notice stacked mirror boxes tied in red bows, giving the appearance of gifts. You can get a similar look in your own home by wrapping boxes in pretty paper and ribbon and stacking them to flank a doorway.