There's nothing quite like waking up to a freshly vacuumed living room rug, which Jesse Newton of Little Rock, Arkansas enjoyed each morning thanks to his family's beloved self-propelled Roomba vacuum.
Touted as a "partner for a cleaner home," designed to help busy families "stay ahead of daily dust and dirt by vacuuming for you," this robotic wonder features multiple sensors to nimbly navigate across rooms and around furniture with ease.
Unfortunately, the Roomba isn't yet equipped to detect when it has run over a fresh pile of dog poop.
Newton learned this lesson the hard way recently on a night in early August, when his young 4-year-old son crawled into bed with him and his wife, Kelly, reeking of dog feces.
"Our Roomba runs at 1:30 a.m. every night, while we sleep. And it found the poop left by our puppy Evie," says Newton in a Facebook post that now boasts over 326,000 shares.
After he leaped out of bed and flipped on the lights, Newton came face-to-face with what he described as a "war zone of poop" as well as a "Pooptastrophe and the Poopocalypse."
RELATED: Is this dog great or terrible at hula-hooping? We can't tell, but we love it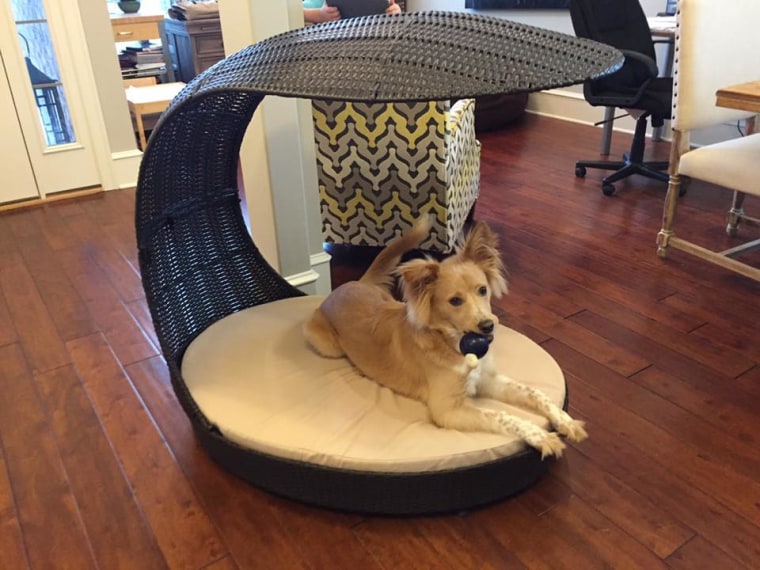 So how bad was it?
Bad enough, Newton says, that the robotic vacuum had spread "dog poop over every conceivable surface within its reach, resulting in a home that closely resembles a Jackson Pollock poop painting."
He continues to explain that the vacuum, with its deep cleaning cycles, had expertly mashed feces across floorboards, furniture legs, carpets, rugs and even on the kids' toy boxes. Others have had similar experiences, and have posted videos of their own crap-driven catastrophes on the web.
RELATED: Watch man reunite with family's dog after she survived 10 days in the woods
Newton continues: "Those awesome (Roomba) wheels, which have a checkered surface for better traction, left 25-foot poop trails all over the house. Our lovable Roomba looked like it had been mudding. Yes, mudding — like what you do with a Jeep on a pipeline road. But in poop."
To accompany his hilarious story on Facebook, Newton created a hand-drawn picture of the crappy chaos caused by the Roomba.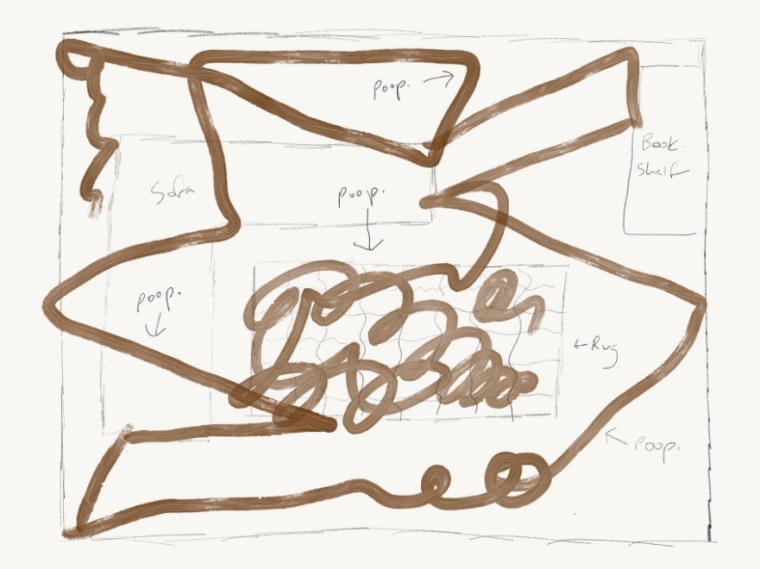 Without waking his wife, Newton carefully started the lengthy and difficult process of cleaning house. He began by cleaning his son, then tackling the room by himself with various tools and pieces of equipment, including multiple rolls of paper towels, bleach water, carpet shampooer and a steam mop. He returned to bed — smelling of various cleaning agents — hours later.
Unfortunately, the rug couldn't be saved and had to be trashed.
RELATED: How one house cleaner uses only 3 products
Surprisingly, Newton attempted to later clean and repair the Roomba because, well, he just loves the machine that much. Alas, it was no more. He had tossed it in the bathtub to let it soak, but had failed to remove the battery beforehand, which rendered it DOA.
On a positive note, Hammacher Schlemmer, the company where Newton purchased the Roomba, heard his excruciating tale of woe, and is replacing the broken vacuum. Other companies, including Merry Maids and Clorox, have also connected with the Newtons with offers to help.
And as for Evie and her poop party: "This is the only time she's done this, so it's probably just because we forgot to let her out before we went to bed that night."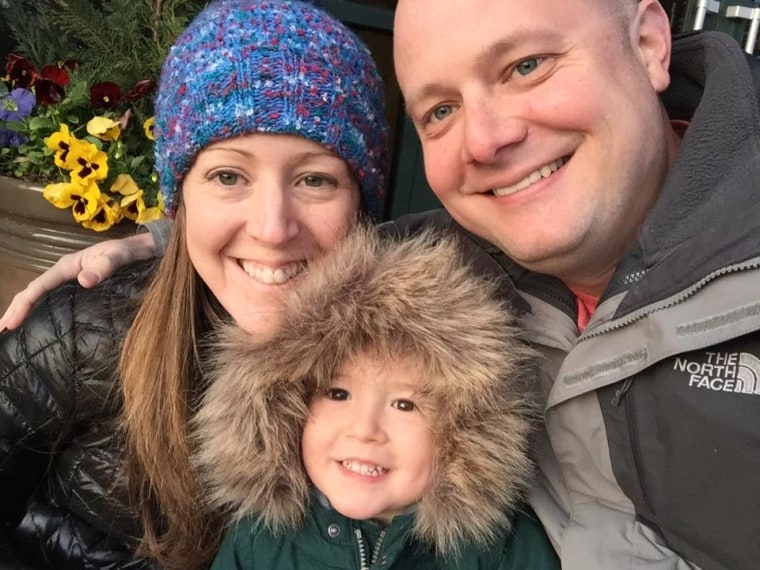 We doubt the Newtons will ever forget to let Evie outside before bed ever again.