If you've been looking for a reason to do some online shopping, you finally have it. Amazon Prime Day is almost here, and with it comes what we anticipate to be some of the retailer's best deals yet.
Last year's Amazon Prime Day was reportedly the biggest in the company's history, with over 100 million products sold during the 36-hour sale. Most customers scored great deals on TVs and other home devices like the Amazon Echo and the Kindle Fire TV Stick.
We've gathered a few tips to navigate one of the year's biggest sales. Read on for all you need to know.
To shop all the best deals in one place, try our Amazon Prime Day Deals finder.
For all of TODAY's Prime Day coverage, visit our Prime Day landing page, where you'll find the best deals happening across the internet today.
When is Amazon Prime Day 2019?
Prime Day officially begins at midnight PT on Monday, July 15, and will last for 48 hours — compared to last year's 36 hours. Twelve more hours of deals!
When does Amazon Prime Day end?
The sales extravaganza draws to a close at 11:59 p.m. PT on Tuesday, July 16, so there are only a few hours left to score some amazing Prime Day deals. If you won't be able to shop in time, stay tuned for our post-prime day deals to see which products were a hit this year.
Is Prime Day for everyone?
In order to take advantage of these rare savings, make sure to sign up for an Amazon Prime membership. Amazon offers a free 30-day trial to all customers upon their first sign-up, so if you're just looking to take advantage of Prime Day deals, it's the best way to go. If you're looking for more, Amazon offers a Prime monthly subscription for just $13 a month. For the avid online shopper who wants to save all year long, purchase the annual membership for $119 and save almost $40!
How does Amazon Prime Day work?
Many products will be on sale throughout the duration of Prime Day, but if you're keen on savings, you will be able to catch a few flash deals before they slip away. On any given day, there are Gold Box deals available on Amazon, which are essentially deals of the day. On APD, merchants can set windows where a flash sale is available on a certain product, and once it sells out, it's gone. To make sure that you won't blink and miss a deal, download the Amazon app to create a notification for the deals and products that you want to purchase.
What Prime Services are discounted?
Along with deals on physical items, Amazon's offering discounts on their many Prime services. For example, Prime members can get access to millions of books via KindleUnlimited for three months at the low price of $0.
How is Whole Foods involved?
Whole Foods — which is owned by Amazon — is participating in the APD frenzy this year by offering its customers a Spend $10, Get $10 deal, which gives participants credits to use toward the event as early as five days before the official start.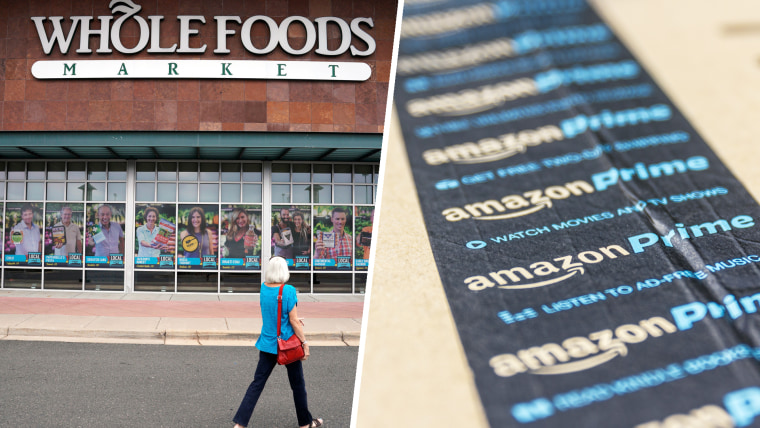 Prime members can also take advantage of Daily Deals at Whole Foods from Wednesday, July 10, through Tuesday, July 16, and save on some of their favorite eats. Savings include BOGO on Abe's Vegan Mini Muffins on July 10 and 20% off per pound sliced-in-house deli meats and cheese on July 14.
While you count down the minutes until Amazon Prime Day, keep an eye on Amazon's Prime Day page and TODAY's Amazon hub for trending gifts and deals.
When do Amazon Prime Day deals start?
If you're looking to snag some savings, you're in luck.. We've put together a comprehensive list of the best Amazon Prime Day 2019 deals and we'll continue to update this page all day long.
This electric toothbrush is essentially the queen of toothbrushes. It has five brushing modes (clean, white, sensitive, gum care and deep clean) and a smart timer. Now, at over 40% off, it's the perfect time to invest in beautiful teeth.
It's a great day for dental hygiene. First the Sonicare toothbrush, now the popular Waterpik flosser is marked down by 57%. It was the first flosser to be awarded the American Dental Association Seal of Acceptance and it features 10 pressure settings and a 90-second timer. More than 14,000 positive Amazon reviews tout the gadget's effectiveness.
A favorite of Vern Yip from 'Trading Spaces', this vacuum is easy to maneuver thanks to the ball design and the manufacturer has the strongest suction of any vacuum out there. It's also a fan-favorite for cleaning up pet hair.
This robotic vacuum allows you to clean and schedule from anywhere with the iRobot home app, which is compatible with Amazon Alexa and the Google assistant. It also has a three-stage cleaning system and dual multisurface brushes to pick up everything from small particles to large debris, according to the manufacturer.
This Dyson gadget is so much more than just an ordinary fan. The patented technology creates a stream of cool air without blades — meaning it's incredibly quiet and safe for kids. This one even has a sleep timer so it can turn off automatically while you sleep.
This kit provides a detailed look into your family's ancestry, using the company's database of family information. If you ever have questions about your family tree or ethnicity, it's worth a look! This also makes an excellent gift!
The Duo Plus is one of the latest and greatest Instant Pots. It has more custom features, improved usability and a large LCD screen, according to Amazon. In addition to all of the basic Instant Pot functions, it can also cook eggs, sterilize and make cake too.
The Best Amazon Prime Day Tech Deals
The days of getting tangled in headphone wires are over. Sweat and weather-resistant, the headphones stay put through every step, lunge or push-up. And, oh yeah, the crisp sound is pretty fantastic, too.
This device works best for video calls. Connect it to any Facebook account to start chatting with friends. The smart camera follows you around to keep you in the frame during a video call. The product claims that Facebook doesn't listen to, view or record your portal video calls. And it also comes with a camera cover, making it easy to disable the camera and microphone with a single tap.
Want to try out a smart display device, but don't want to make a big commitment? This new, compact version of the standard 10-inch Echo Show has a 5.5 inch display screen to help manage your day, entertain at a glance, and connect you to friends and family. Just ask it to show you a recipe, watch live TV, stream from Hulu, see the front door security camera and make video calls.
This may be the smallest version of the Apple iPad, but it comes with tons of space for photos, books and music. It also has a 10-hour battery life, making it perfect for trips or sliding it into your bag on the way to the beach.
Over the past two years, Ring alarms have become increasingly popular for homeowners who want to bring extra security to their doorstep. This doorbell works with Alexa to illuminate and send announcements to your Echo Dot when motion is detected or the doorbell is pressed. You can also use it to communicate with visitors.
The Best Amazon Prime Day Laptop Deals
This sleek laptop has a 14-inch display screen and lay flat capability. Users describe it as the 'perfect laptop for your everyday needs'. It only weighs three pounds, so go ahead and throw it in your bag and head right out the door.
For something a little more heavy-duty, this laptop comes with Google Drive, 4 GB of storage and 11 hours and 30 minutes of battery life. Extra bonus: it connects to all your Android apps.
For more Prime Day stories, check out:
To discover more deals, shopping tips and budget-friendly product recommendations, download the new TODAY app and subscribe to our Stuff We Love newsletter!